Real Estate Agent Interests
04/30/2019
How to Drive Your Real Estate Sales to the Next Level
By Harry J. Lew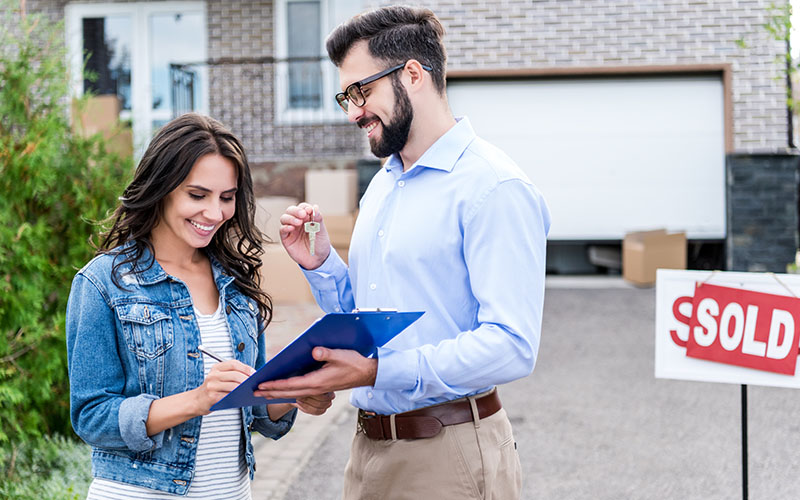 Technology has revolutionized how real estate agents and brokers sell residential and commercial properties. But it's important not to lose sight of traditional practices such as asking for referrals. The tried-and-true methods still have a lot of power to drive your business forward.
Despite technology's advance, real estate remains a high-touch people-oriented business. Even today, there's no better way to generate opportunities than to ask for referrals from those you've served in the past or from industry professionals with whom you've worked. Here's why referrals should continue to be a major focus of your marketing efforts:
According to the National Association of REALTORS® 2018 Member Profile, REALTORS® on average earned 17 percent of their business through referrals from past clients or current customers. Although this might not sound impressive, it's significant because referrals are a form of passive marketing. In other words, once you establish and occasionally touch base with your referral sources, you can just sit back and watch the system work for you. This makes referral business almost pure gravy.
Referral marketing is also a low-cost marketing method. Asking for referrals is less expensive than paying for a Facebook ad or doing Google search marketing.
It's also a self-renewing method—i.e., you don't have to keep buying ads or leads in order to generate sales. You just have to occasionally do something nice for your referral sources to keep those leads coming.
Finally, referral marketing tends to build steadily over time. A client who comes to you via a referral source will likely give you referral leads who may become referral sources themselves. In time, the process will become self-reinforcing. Many real estate agents with decades of experience report that more of their new business comes from referred leads than from any other source. In fact, according to NAR's 2017 Member Profile, 36 percent of agents with 16 or more years of experience get more than 50 percent of their closed deals from referrals.
But to leverage referrals, you need to get back to basics. This involves learning which referral activities work and then integrating them into your marketing plan. Read on to learn how to do this.
Tap the Three Main Referral Channels
According to Julie Gurner, a real estate expert with Fit Small Business, there are three main types of real estate referrals:
Those that come from your former customers and from people in your business and social circles
Those that other real estate agents and brokers send you
Those that matchmaking or real estate referral networks provide
Customer referrals may be the easiest, least expensive, and most effective leads you can get. That's because they come from people who are highly satisfied with your work and/or who know you well. In either case, they will be more likely to provide more and better referrals than will other sources. However, to get such leads, you have to make a point to ask for them, either at the close of the deal or at some later point at which you provide a thank-you gift.
Referrals from circles of influence aren't hard to get, either. But since these people might not be as familiar with your work as former clients are, you will need to educate them about what you do, your specialties, and your ideal client profile.
Gurner says that referrals from other real estate professionals will be your next best source of leads. However, the closing ratio will be lower than with former clients and circles of influence. Plus, you'll generally have to pay about 25 percent of the compensation for your side of the transaction to the broker who originates the lead.
Referrals from other real estate professionals also create legal complexities that you don't have with client or acquaintance referrals. You have to make sure the referral transaction involves your broker (if you're an agent, not a broker) and the other agent's broker. Both the giving and receiving broker must be properly licensed.
The third referral channel consists of matchmaking or referral networks. These arrangements also involve paying a 25 percent commission, but have the lowest closing ratios of the three channels, Gurner notes. Matchmaking sites such as Google's HomeLightTM match you with buyers and sellers based on a review of your prior MLS data. The referral exchanges provide a platform for brokers to submit and secure leads for future real estate transactions. For example, after you pay a one-time fee of $995, ReferralExchange will allow you to both submit and take qualified referrals. If you submit one and the deal closes, you'll get 25 percent of the commission (one side). If you take a lead and you close the sale, you pay 25 percent.
So which channel or channels should you pursue? You may want to pursue all three, but with more emphasis on the first two. However, don't work the channels ad hoc. Consider building a marketing system for referral marketing, documented in writing. Your plan should define the following elements:
Goals: how many referrals will you try to generate each month?
Activities: how exactly will you reach your goals? For instance, how will you integrate asking for referrals into your client work? How will you stay in touch with prior customers so they will remember you when one of their friends or family members needs to buy or sell a home? Who exactly are your circles of influence and how will you stay top of mind with them? Finally, how will you use a matchmaking or referral network to generate leads? Which ones and to what extent will you deploy them?
Tracking: This involves deciding how to measure your referral marketing and evaluate your performance.
Adjustments: After you've worked your referral plan for six months or a year, evaluate how things are going. Is it time to try new methods? Which old methods might you consider dropping?
The point is, referral marketing is a powerful approach to building your business. But you can't leave things to chance. You need to manage it as an integral part of your business, with goals, activities, tracking, and adjustments geared to achieving optimum performance.
Having a plan is just the beginning, though. The key is to put referral solicitations at the core of your business. For example, to increase results, here are the major activities you'll need to do consistently:
Ask for X number of referrals each week from clients and spheres of influence.
Tell referrers the types of people you want to serve and what your track record is in working with them.
Develop a database of prior customers, current clients, and colleagues in the industry to whom you can periodically send direct mailers or emails.
Integrate your referral appeal into your communications materials (brochures, email signatures, website, etc.)
Recognize the people who give you referrals by thanking them and sending them a thoughtful gift.
Do your referrers the courtesy of keeping them updated on the status of their referrals.
Take advantage of technology to automate the process of staying in touch with your referral sources.
Make sure that the quality of your work remains top-notch. Being an excellent real estate agent or broker will always be the catalyst for achieving a high volume of referrals.
Also crucial is mastering two verbal tracks or scripts:
one with potential referral sources
one with referred prospects
In the former case, you need to be able to smoothly and confidently request referrals from prior clients, current customers, and industry colleagues. You might say something like:
"As you know, getting referrals from people who know and respect me is a big part of how I grow my businesses. Based on your knowledge of my quality work, who do you know in (insert agent's market niche) who might currently or in the future need a real estate agent?"
You can also ask the person for a sit-down meeting over coffee or lunch to build a referral relationship. This has the benefit of you learning more about the person and potentially being able to reciprocate with your own referrals.
When you first approach referred prospects, you need to leverage your relationship with the referrer when you first speak to the referred lead. Consider making a personal phone or email approach in which you say something like:
"Hello, ______. I'm calling (or emailing you) at the recommendation of ______. He or she thought you might be in the real estate market currently or in the future. I've been an agent in your area for (insert time) and have also worked extensively with people like yourself. Would you be open to meeting me over coffee to discuss your real estate needs?"
If people don't have an interest in or need for your services, don't write them off. Ask if you can touch base again in three or six months and also see if they'd like to receive your newsletter or other mailings.
Traditionally, real estate agents have received the majority of their referrals from prior or current clients. But with the advent of agent referral networks, they have begun to receive more leads from other brokers. In fact, according to a survey from ReferralExchange, 25 percent of agents surveyed received six to 10 referrals from other agents in 2018, with another 19 percent getting between getting between 11 to 25 referrals. This translated into significant revenue, the survey found, with 20 percent of agents earning between $20,000 and $50,000 in referral fees that year.
Although formal referral networks produce a large share of all customer referrals (28 percent), agents also rely on many other sources of referred leads, including their own brokerage network, professional associations, Zillow reviews, and LinkedIn.
If you're not currently generating a lot of referral business and want to, your focus should be on implementing the back-to-basics items we just discussed. If you're already getting a reasonable number of referrals but want more, here are some advanced tips to consider implementing:
Set up cross-referral programs with other local small businesses. You probably know a lot of firms in your community, particularly the ones with whom you do business. Since they need referrals just as much as you do, consider approaching them with an offer to supply them with referrals as long as they reciprocate. Setting up just a handful of these relationships might produce more than enough referrals to keep you busy.
Work on becoming an even better real estate professional. As we mentioned earlier, to earn referrals you need to have the reputation of doing excellent work. Want to take your referral volume to the next level? Build your real estate knowledge and skills so you can do an even better job for your clients.
Establish a classification scheme for referrers. Take a look at the referrals you've received over the last year to see from which referrers they originated. Also look at what happened to the referrals: which generated closed deals, which are still in process, and which are dead. Then using the prior data, sort your referrals sources into three groups: Level 1 (your very best sources; prolific producers of good leads with modest effort on your part). Level 2 (good sources, but require additional work from you to solidify their output. Level 3 (average sources requiring substantial effort to elevate to Level 2 or 1). This will allow you to focus your time on maintaining your Level 1 referrers, investing time in your Level 2's to increase their productivity, and then potentially scaling back on those Level 3s unlikely to move to a higher level.
Adopt a content-based approach to your marketing. When you send out periodic emails or direct mailers, don't just tout your business. Provide something of value and of interest to your contact. Educate them about some aspect of home ownership. Give them a valuable piece of advice. Tell a story or share an article that impressed you in the media. The point us, you want to impress them with your content, sending the underlying message that you are a top-notch real estate professional to whom sending referrals is a no-risk proposition.
In conclusion, let us leave you with one key point. In a technology driven real estate industry, never forget that connecting with people still reigns supreme. When you do a good job of staying in front of your prior clients and your industry colleagues, many good things will result. Perhaps the most important is that you will likely receive more referrals than you know what to do with.
Paying too much for your E&O insurance? Then consider buying Real Estate Agent & Broker E&O Insurance from 360 Coverage Pros.