Business Development
05/13/2020
How to Make Authentic Client Connections Virtually
By Jason Rogers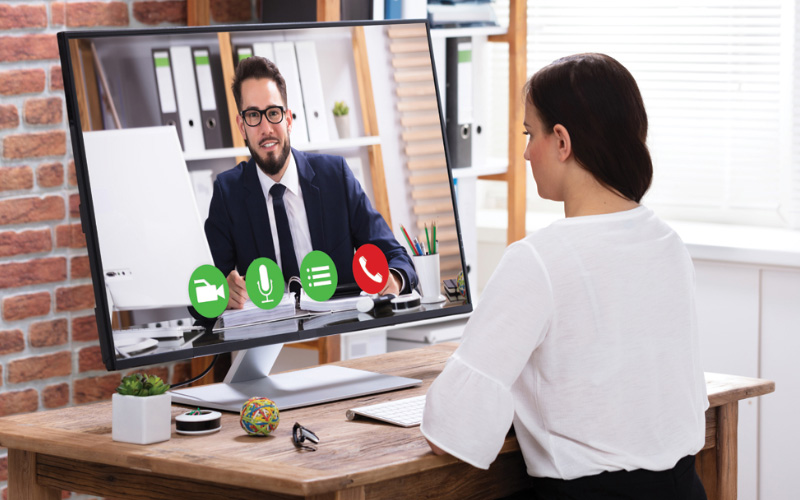 Selling virtually is becoming increasingly popular in the insurance industry. But to build trust and close sales on video chat, you have to know what you're doing.
With the United States largely in a pandemic lockdown, face-to-face client meetings are now off the table and are likely going to remain limited for the foreseeable future. Insurance agents who relied on them to generate new clients and to service existing ones may find the transition to virtual selling to be difficult. Especially challenging is building trust and authentic relationships with clients through phone calls, video chats and other substitutes for face-to-face interaction.
If you're used to selling in person, using video chat instead can be hard to pull off. That's because it's tough to read prospects' emotions and body language on a screen. Making matters worse, prospects often multi-task while you're sharing a document or presentation. It's no fun trying to close a sale with someone who's hardly paying attention.
For consumers, deciding on whether to buy from an agent over the phone or during a computer chat is difficult, as well. Without environmental and behavioral context, it can be daunting to assess an agent's competence during a brief phone call or videoconference. If prospects can't decide on your trustworthiness by the end of the meeting, your sale will likely stall. So, to build trust and close sales virtually, you have to know what you're doing.
Virtual selling advances
Long before the pandemic struck, virtual selling has steadily gained ground in the insurance industry. Younger customers like its efficiency and insurers value its ability to reduce costs. Sixty percent of sales reps said they were doing more virtual meetings today than they were three years ago (Salesforce survey of 2,900 global sales professionals).
Furthermore, the pandemic crisis has given virtual selling an added boost. According to a March 2020 LIMRA survey of 47 U.S. life insurers, 24 percent of the firms saw more applications coming in from virtual channels than traditional agent face-to-face meetings, and 35 percent of the insurers experienced fewer applications from face-to-face meetings. This suggests that the transition to virtual selling and e-applications in the life insurance sector has accelerated during the pandemic and will likely continue to grow in the future. This trend should hold for other insurance sectors, too.
So what is the implication for insurance agents? That virtual selling is here to stay and will likely become even more common in the future. That being the case, the challenge now is learning how to best transition to a virtual sales environment. We see the process as having two main elements:
Master the communication technology
Master the communication skills involved, especially the need to build trust and authenticity
Communication technology refers to the hardware and software that connect you and a prospect or client, allowing you to share words and images. In some cases, you might opt to engage with a customer over the phone. This is fine for service-related transactions with someone you already know. But for an initial sales conversation or in-depth fact-finding, a video chat will typically be better since it allows you to read people's facial expressions. This helps you to determine whether they're ready to buy.
At the moment, Zoom.us has become a popular application for selling insurance remotely. It's intuitive to use and allows for easy screen sharing. It also avoids common conferencing issues such as bad connections, lagging video and audio and complicated setup. If you're worried that your senior clientele will balk at using Zoom or other video conferencing apps such as GoToMeeting or WebEx, relax. Seniors have adapted well to this technology since they like engaging with their distant children and grandchildren. Plus, according to the Pew Research Center, 59 percent of people aged 65 to 69 have a smartphone, while 49 percent of those ages 70 to 74 use one. So don't worry about your older clients not being able to video chat with you. Even more have a desktop, laptop or tablet computer that allows for video meetings.
Zoom is free for one-on-one meetings with no time limit. However, if you want to meet with more than two other people, your free chat will be limited to 40 minutes. For longer group chats, you'll need to upgrade to a premium plan with monthly fees. Another advantage of Zoom is that system requirements are minimal. Your prospect or client just needs to have access to:
An Internet connection
Speakers and a microphone
A webcam
This means a standard laptop, iPad or smartphone will provide everything the person needs to connect virtually with you. What's more, people don't need their account. They simply click on a meeting link (a Zoom Room) that you provide via email or text. Or they can join via a meeting ID number.
Keep in mind, though, that Zoom isn't the only game in town. GoToMeeting and WebEx also compete in this space, along with the apps join.me and Vidyo. Compare them to see which video chat service fits you better. And search the Internet for tutorials on how to set up your videoconference and invite your prospects or clients to participate.
Selling authentically on video chat
Once you select the right platform, begin learning how to use video conferencing to build trust and to establish authenticity. This can be challenging because video-chat technology imposes a buffer between you and your client. You have to work hard to penetrate it to create and maintain a strong human connection.
For example, poor lighting can make it more difficult to make a positive first impression. If you're sitting in a room with light behind you, the camera will tend to expose for the bright background and to underexpose your face. This makes you look indistinct at best or threatening at worst. Similarly, direct overhead lights will darken your eye sockets, giving you a zombie-like appearance. To fix both of these problems, position a light behind your computer to illuminate your face. This will even out the light, making you look much more approachable and less threatening.
Furthermore, you want to train yourself to address the camera lens directly rather than shifting your gaze repeatedly around the room. The latter will make you look suspicious. Locking your eyes on the camera will give clients the sense you wish to establish a strong relationship. And since eyes are "the window to the soul," letting your customers get a strong, unwavering look at them will help them bond with you sooner as a fellow human being, not just as an insurance agent. This is an essential step toward creating authenticity.
You also want to be highly engaging and interactive. Address the person directly, ask a lot of open-ended questions and maintain an informal conversational tone. To the latter point, avoid lapsing into lecture mode, in which you robotically recite PowerPoint bullets. The minute you begin talking at them vs. with them is the moment authenticity will break down. Without it, you'll find it much more difficult to close a sale using video chat.
Speaking of authenticity, one way to have a genuine virtual relationship with your customers is to reveal yourself to them. For example, you might display hobby items within camera range to show what you do for fun. Or you might speak about where you like to go on vacation or what you like to read in your spare time. The point is, don't be an insurance sales machine. Rather, be a living, breathing person with a unique personality who also sells insurance. This will go a long way toward establishing your authentic persona with your prospect or client. In turn, this will help you close more sales and successfully retain and grow your existing client relationships.
Being an authentic insurance agent not only involves opening up with your clients as a human being, but also striving to understand who they are. To this end, encourage them to speak freely. Work through your fact-finding form, but also probe their feelings about the risks they worry about most. Probing their financial concerns and then listening to their answers without judgment will accelerate your ability to build trust and authenticity. Depending on your license type and specialties, there are countless opportunities to have meaningful virtual conversations with clients.
This is especially true during the COVID-19 pandemic, which has led to massive economic uncertainty, job losses and declining financial asset values. Many insurance agents are finding this to be an excellent time to reach out to their clients to address their worries and to make sure their insurance and financial arrangements are up to date.
For instance, a recent American College of Financial Services survey of Retirement Income Certified Professionals (RICP®) found that over six in ten insurance agents said their clients were more concerned about their retirement prospects now than they were a month ago, while nearly 93 percent said their clients have already reached out to them with worries about their retirement plans due to COVID-19-related investment volatility. This was an increase of 27 percentage points over the prior month. Conducting a virtual meeting about whether a client's retirement plan is still on track or whether its asset allocation is still appropriate will go a long way toward enhancing trust and strengthening your client relationship.
When you discuss topics like shrinking retirement plans or others such as making Roth IRA conversions, assessing emergency reserves, augmenting life insurance to mitigate mortality risk, or learning why business-interruption insurance doesn't typically cover pandemic losses, compassion is the key. Even though you're speaking to clients on a video chat, you can show them you care and that you sincerely want to help. That's how authentic relationships begin in the real world and how they can bear fruit virtually for years to come.
Contact:
Jason Rogers, Senior Vice President
Phone: (941) 757-1443
Jason has been with Gallagher Affinity since 2014. He is responsible for both the business development team as well as new program development for Gallagher Affinity. Current scope of program responsibilities includes Professional Liability, Cyber Liability, Association Benefits and Affinity Programs. Jason began his career with Hartford Financial Products underwriting public company D&O liability risks. He then went on to Zurich Insurance Group where he had management responsibility for a diverse portfolio of financial institution risks. Jason holds a Bachelor's Degree in Business Administration from Villanova University where he was a four-year scholarship student-athlete and also a Master's degree in Real Estate Development from Columbia University.