Charter Captain Interests
03/17/2023
How Long Does It Take to Become a Marine Captain?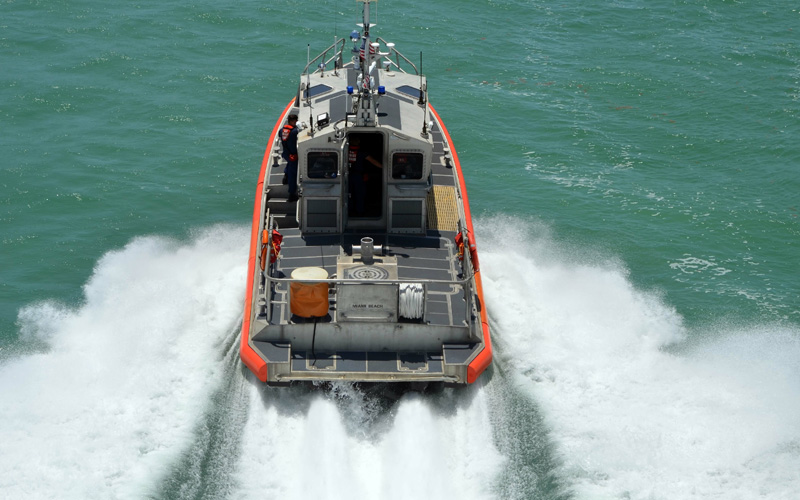 Many people wonder how to become a captain of a ship. The joy of being on the water, making a good living and mastering the maritime craft lead many to pursue a captain's license. The downside? Time…it can take a lot of it to qualify for your UCSG credential. In reality, though, if you put your mind to it, you can earn your license in a reasonably short period. Let's see how the process works for four license types:
6-Pack/OUPV
Master
Pilot
Tug Captain
Getting Your USCG OUPV/6-Pack License
Earning a USCG license to operate uninspected passenger vessels (OUPV) allows you to carry up to six paying clients on vessels that weigh up to 100 gross tons. This works out to be about 75-90 feet long. If your goal is to become captain of a charter fishing or tour excursion boat, this is your license.
There are three types of OUPV credentials: inland, Great Lakes and inland and near coastal. The requirements for each are identical.
According to Mariners Learning System, a USCG-approved provider of captain's license training, to earn your OUPV, you need at least 360 days of boating experience (starting on your 16th birthday). Three months of this experience must have occurred during the last three years.
In addition to meeting the USCG's recency requirement, you also must tick off the following items:
Be at least 18 years old
Earn a Transportation Worker Identification Card (TWIC), a Homeland Security background check
Have a negative drug test
Pass a physical exam
Have a valid CPR/First Aid card
Ability to work legally in the United States
Ninety days of experience on the ocean or near coastal waters; your license will be limited to inland waters if you have less
Experience on an uninspected vessel of less than 100 gross tons
After meeting the above requirements, you must take a USCG training course and licensing test. You can either do this independently, by finding your own learning materials and taking the exam at a USCG Regional Exam Center. Or, you can complete a license preparation course at a commercial captain's school and pass its USCG-approved exam.
How long does the process just described take? It depends on you. If you have no experience on the water, you'll need at least a year to fulfill that requirement. Then you must meet the other prerequisites, such as getting a drug test, qualifying for your TWIC and other items, which could take a month or more. Then you'll need to budget a significant amount of study time.
Sami Collura, vice president, operations, with Mariners Learning Systems, says the average student preparing to take the OUPV/6-Pack exam takes about 25 to 30 hours to complete her company's program. "We have had students take as little as three days, three weeks or three months," Collura said. "It's at your own pace, on your own time."
At her company, students have one year from course activation to complete the course and pass the final exam online. They have one more year year to submit their application packet to the USCG. Once submitted, she says the USCG will process it and send your license in about four to six weeks. Other commercial license preparation firms will likely have different requirements.
Bottom line: The amount of time required to complete an OUPV/6-Pack license depends on your situation. Factors include whether you want to study independently or with a school, how quickly you pull together your USCG application package and how much free time you devote to studying and testing.
Getting Your USCG 25/50 or 100 Ton Masters Captain's License
Earning a master's license allows you to pursue a career as a ship captain. Vessels can carry seven or more paying customers, as well as crewmembers. A master must qualify for a 25-, 50- or 100-ton license, depending on the weight of the operated vessel. Once you earn this credential, you can operate ferries, harbor excursion vessels and whale watch ships, among other boat types.
There are four ship captain job licenses: inland, inland with an OUPV endorsement, inland/mate near coastal and near coastal.
The requirements for a master license are comparable to a 6-pack/OUPV license, but some details vary. And, although the boating experience for each version of the master's license varies, the minimum requirements are identical. You must:
Be 19 years old or older
Be a U.S. citizen
Have at least 360 days of boating experience, 90 of which must have occurred during the last three years
Pass a medical exam and a drug screen
Have a valid adult CPR and Basic First Aid card
Secure a TWIC, which involves passing a Homeland security background check
Finally, you must take the appropriate USCG exam at a USCG Regional Exam Center. Or, you can take a USCG-approved 25/50/100-ton masters course.
At Mariners Learning Systems, the average student takes 50 to 55 hours to complete a masters course, says Sami Collura. Your total will depend on the same factors cited in the OUPV/6-Pack section of this article. Other commercial training programs may take less or more time.
Getting Your USCG Pilot's License
After earning a USCG pilot's license, you can guide ships through certain waters and harbors and dock them in their assigned berths. A pilot's credential is highly advanced and coveted in the industry. People with this license can earn $250,000 or more per year.
All pilots must obtain a TWIC from the Department of Homeland Security and a Merchant Mariner license from the USCG. Depending on the ships you'd like to pilot, you need between 12 and 36 months of experience on a boat weighing more than 1,600 gross tons. You must spend at least 12 months working on deck, steering the vessel and standing watch. Also, you must have completed 12 to 20 round trips through the waters you wish to work on, one-quarter of which needs to be at night. Your last trip must have been no more than six months before your exam date.
Application and Paperwork
To receive a USCG First Class Pilot license, complete and submit CG-Form 719B. Supporting paperwork includes:
Three references speaking to your good character
CG-Form 719K, a physician's statement testifying to your good health
Department of Transportation (DOT) drug-test results, which can be no more than six months old
Employer references confirming your experience in the industry and on the waters through which you wish to pilot ships
Completion certificate for a USCG-approved radar observation course
Documentation of successful completion of first aid and CPR courses
Taking the Test
Pilot candidates must pass the USCG's navigation rules examination with a score of 90% or more.
Once you earn your USCG pilot credential, you must also satisfy state-level pilotage license requirements.
Given the complexity of a pilot's job, and its necessarily extensive knowledgebase and compliance requirements, earning a credential can take years. How long it takes depends on your experience, available time, learning style and ambition to attain the license.
Getting Your USCG Tugboat Captain's License
Tugboat captains pursue a variety of maritime career paths, including:
Serving as a tugboat captain or mate.
Operating a ferry or other harbor boats.
Engaging in maritime rescue and relief tasks.
Docking and undocking commercial container ships.
As with the other credentials discussed in this article, attaining a tugboat captain's license isn't easy. However, the financial rewards can be substantial once you attain your credential.
Prerequisites for Becoming Licensed as a Tugboat Captain
Becoming a tugboat captain requires significant prior experience: You must be able to document 540 days of work as a towing mate, and at least three months of this time must have occurred on a single route.
You must also have a valid Merchant Marine License Documentation (MMLD with the "Y" designation), which means you recently passed a Safety and Security Evaluation Branch (SSEB) assessment.
To become a tugboat captain, you must be at least 21 years old and have passed a drug screen and medical exam within the last six months. You must also provide proof of U.S. citizenship.
Finally, tugboat captains must have emergency medical certificates for first aid and CPR.
Taking Your Tugboat Captain's Test
Once you meet the prerequisites, you must complete a USCG-approved tugboat captain's training course. You can either complete your course at the U.S. Merchant Marine Academy or an approved regional or state training program. Both paths end in taking the Towing Officer Assessment Record (TOAR) exam. This will permit you to operate tugboats for ocean and near-coastal ships.
As with a pilot's credential, becoming a licensed tugboat captain is a challenging goal. Depending on the factors we've discussed earlier, it can take many months or years.
Becoming a licensed mariner is a major time and financial commitment. Are you concerned about your professional risks as a mariner? Then consider buying convenient, affordable license and liability protection from 360 Coverage Pros. Protection is available for as little as $25.83 per month.