Charter Captain Interests
01/23/2023
How to Avoid Mariner License Suspension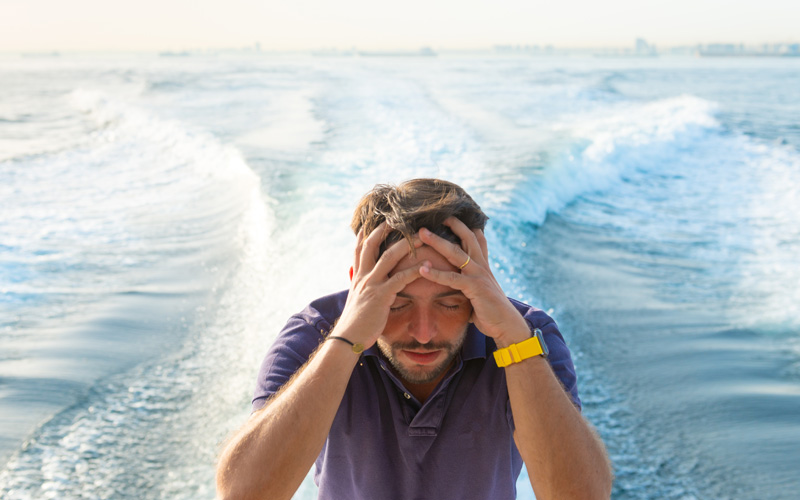 Professional mariners may face harsh legal consequences after a maritime disaster. However, skilled legal representation can mitigate severe professional and personal costs.
When an unpredictable maritime event occurs at work, a professional mariner's career often hangs in the balance. Fortunately, having professional liability insurance will help preserve your reputation and marine livelihood. How? As an insured with 360 Coverage Pros, you'll have access to a 24-hour legal hotline when you need guidance.
Even though most of your workdays unfold uneventfully, accidents— casualties, in insurance parlance— are always possible. According to the U.S. Coast Guard (USCG) Annual Performance Report, 895 maritime accidents occurred in U.S. waters in 2020, resulting in 246 mariner and passenger deaths and critical injuries. The incidents produced 2,880 USCG investigations.
The reporting incidents ranged from groundings and bridge strikes to loss of vessel control and environmental harm. Of course, any time an accident produces injuries, property damage or loss of life, USCG scrutiny soon follows. Other marine incidents, such as first- and third-party falls, injuries, vessel allisions and collisions, also can threaten your mariner license and personal finances.
According to Attorney Raul J. Chacon, Jr., partner with MG+M The Law Firm, the key to preserving your maritime livelihood is controlling the narrative. "Failing to do so might result in false or misleading accusations," advised Chacon during a 360 Coverage Pros webinar. However, when attorneys intervene, they can help shape how the USCG views the accident. This can determine whether mariners get exonerated, receive a minor infraction or lose their license, not to mention face criminal charges. What's more, a USCG disciplinary action can make additional civil or criminal proceedings more likely.
The Power of Narrative: Case Studies 
Accidents and the stories told about them are distinct entities in the mariner world. After a major incident, narratives can quickly turn negative, creating a legal minefield for mariners. However, skilled defense attorneys promote less-damaging narratives, preventing or reducing legal penalties for their licensed mariner clients. Let's review several cases where attorneys engaged in successful "reframing."
Exxon Valdez oil spill: Authorities almost immediately suspected the ship's captain of intoxication, but his attorneys successfully reframed the narrative. They offered witnesses at trial who testified that he was sober at the time of the incident. Legal outcome: A jury acquitted the captain of the alcohol charges. However, one year after the spill, the court found him guilty of negligent discharge of oil and fined him $50,000 and 1,000 hours of community service. The captain still holds his mariner license to this day.
The Cosco Busan bridge allusion: On November 7, 2007, a bay pilot guided the Cosco Busan when it struck the San Francisco Bay Bridge, spilling 53,000 gallons of oil. Authorities suspected the pilot of being under the influence of prescription drugs. His attorneys offered an alternative narrative that persuaded authorities to reduce the charges. The pilot eventually pleaded guilty to a misdemeanor drug offense.
The Ridgeway Alexander Z oily bilge water discharge: The vessel was under a foreign flag and had no U.S.-licensed crewmembers. Authorities detained the captain and crew in South Louisiana, ultimately charging the captain with six counts, including allegations of circumvention of pollution prevention equipment, falsified records, obstruction of justice, making false statements and conspiracy. At trial, the prosecution presented whistleblower testimony and video documenting the illegal discharge. 
According to Chacon, the captain's attorney bent the narrative in his client's favor, suggesting the captain didn't know about the incident. Moreover, he successfully argued that the ship's crew negligently improperly handled the bilge water. When they realized they made a mistake, they tried to hide it from their captain. The ship's chief engineer and chief officer later plead guilty; the court cleared the captain of all charges.
The "M/V Watch-Out" harbor collision: This case involved two motor vessels in Baltimore's Inner Harbor. The captain of one, carrying six passengers, departed the dock. He noticed another, the "Watch-Out" (not a real name) also leaving at the same time. The first boat's acting mate saw the Watch-Out, but didn't maintain lookout because he was collecting money from passengers. The captain saw the Watch-Out, but assumed the other captain was coming toward him to "tell him something." After several last-minute avoidance maneuvers, the two vessels crashed, injuring one passenger and damaging the boats. 
The first captain's attorneys framed the narrative to stress his extensive experience navigating Baltimore's Inner Harbor, as well as the fact he had no prior license suspensions or revocations. They also stressed his exemplary character. Thanks to their efforts, the captain received a two-month license suspension, on the low end of possible sentences.
"Quick action in all of these matters was of utmost importance," said Chacon. Thanks to attorneys presenting strong counter-narratives, they spared their clients substantial reputational and financial losses.   
Protect Yourself
Marine casualties happen even to diligent captains and crewmembers. Those who can't afford to hire a skilled admiralty attorney may find themselves at the mercy of the USCG and criminal and civil courts. However, those with the foresight to purchase maritime liability insurance protection from 360 Coverage Pros, underwritten by Berkley Offshore, will receive immediate access to a highly experienced defense attorney. Being properly represented can spell the difference between a reasonable legal outcome and a punishing— potentially career-ending— result. Which would you prefer?
Concerned about your professional liability risks as a mariner? Then invest in marine liability insurance from 360 Coverage Pros.