Dentist Interests
10/02/2019
6 Ways to Make Your Dental Office Comfortable
By Olga Fawcett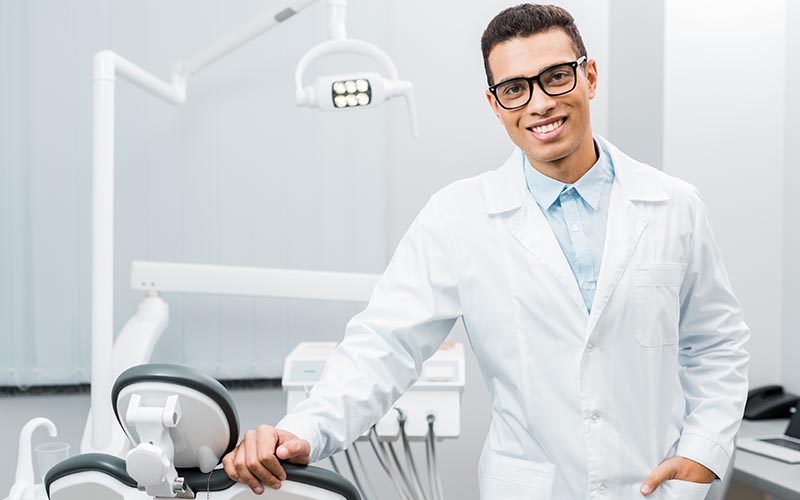 An impending visit to a dental office can make many people nervous, and some outright scared. In fact, a large number of individuals postpone their visits until there is an apparent problem such as a toothache or a long-overdue cleaning appointment.
Many dental practices emphasize the expertise of their dentists, which is undoubtedly important. However, that alone is not enough to put your patients at ease. When dealing with something that scares us, our fight or flight instinct kicks in. It doesn't matter how knowledgeable the dentist is if the patient is not comfortable in the office they may not return to that practice.
Did you know that dental practices have one of the highest attrition rates in the healthcare industry? On average, you can expect 10-20% patient turnover, depending on how established your practice is. Studies attribute such a high attrition rate to the lack of distinctive services and a high concentration of dental practices in small geographical areas.
Do you want to be just like the dental practice down the street or do you want to stand out amongst your fellow dentists?
Make your office a comfortable space, ease your patient's anxiety, and you will take a big step towards reducing your patient turnover rates.
Making your patient comfortable
There are a few common complaints patients voice time and time again when it comes to what increases their anxiety in a dentist's office. Address those, and you stand a much bigger chance to gain a lifelong loyal patient (and their family!).
Overhead TV and Noise Cancelling Headphones: Kids and adults tolerate procedures much better when they have an overhead TV as a distraction. However, along with the TV, one of the most requested items on the patient's wish list are noise-canceling headphones. The dental handpiece may be an effective tool for removing tooth decay and preparing the tooth for the restoration, but it is also the one people fear the most. The sound alone is enough to make the bravest person feel panic. Headphones will go a long way in making your patient comfortable and reduce the effect of this nervewracking sound.
Zen waiting room: Many doctors make the mistake of not paying a lot of attention to the vibe that their waiting room exudes. Take a look around yours – uncomfortable looking couch in a neutral color, a few chairs, a side table with old magazines directed at dentists, a few stock pictures on the walls. Any of that sounds familiar?

Picture a different type of waiting room – plush, comfortable chairs, and couch; live plants and other greenery; the calming sound of a water fountain; a stack of magazines appealing to the interests of your community; a coffee/tea station. All the elements mentioned above would help put an anxious person at ease. Of course, welcoming, friendly staff is a must at any office.
Chapstick: This is one of the most common complaints by female patients. When you sit with your mouth open for an extended time, lips tend to dry and crack. Offering a chapstick or a lip balm may seem like a small thing, but it will go a long way in making you stand out in the minds of your patients.
Relaxing music: This idea speaks for itself. Soothing, relaxing music in a waiting room and/or the treatment room.
Toys: You likely see your fair share of kids in your practice's waiting room. The parents often have no other choice but to bring the children with them to an appointment due to a lack of childcare options or other reasons. If you see small kids run around and be generally disruptive, well, chances are they are bored. Unless you are a pediatric dentist, you have likely not designed your waiting list with kids in mind. Yet, parents with kids are often a big part of any practice's clients. Having just a few toys in your waiting room would make a massive impact on reducing the stress levels of an already anxious parent.
Stress Ball: consider offering a stress ball for your patients to squeeze during anesthetic injections or during any time the procedure may cause anxiety.
Many of these ideas do not cost much, however, this small investment may make a big impact on your bottom line.
Another critical aspect of making your practice comfortable for everyone is providing peace of mind to yourself and your staff. One way to do it is to purchase Malpractice Insurance policy as it protects the financial security of your practice.
What is Malpractice Insurance?
Malpractice insurance was designed to protect your practice from the financial consequences of a patient's lawsuit alleging that your negligent actions caused injury or death. The policy typically covers the cost to defend your claim such as attorney and legal fees as well as any payouts to the plaintiff up to the policy limits. It is important to note that the policy will provide legal defense even if the case is later thrown out or if you are not found guilty.
The Importance of Malpractice Insurance
As a dentist, you come to work every day and treat each patient with the utmost care and provide them the best possible professional treatment that you can. Unfortunately, not all procedures turn out well and result in happy customers. Sometimes procedures don't go as we expect them to (we are all human after all) which may result in an injury. A lawsuit is likely to be filed against you. Even if the customer incorrectly assumes negligence on your part, you can still be sued. After all, the lawsuit can be baseless and still need to be defended.
Malpractice insurance gives you and your staff peace of mind that if any treatment was to go awry, you are covered.
Did you know that the average cost of defending a malpractice claim is around $47,000 according to the data compiled by Gilman and Bigidian? It can be a devastating financial blow for a small dental practice to have to come up with that kind of money.
Malpractice Claim Examples
In this claim, a patient went in for a wisdom tooth removal procedure. The dentist drilled past the tooth causing nerve damage. This caused the patient incredible pain and required follow-up surgery to mitigate the damage. The defendant alleged that nerve damage was a known risk of the procedure, however, the jury disagreed. They awarded the plaintiff $633,000 in this case.
A patient who was receiving treatment for periodontal disease was also seeking full-mouth restoration. After being told by one dentist that he won't be able to continue treating his gum disease if the plaintiff pursued full-mouth restoration, another dentist said it was not a problem. The plaintiff decided to go ahead with a full-mouth restoration procedure, which resulted in uneven biting surface. This contributed to the necessity to continually replace the crowns as well as inability to complete his gum disease treatment despite being told otherwise. The jury found for the plaintiff, awarding him $38,000 for past and future dental bills.
A patient who felt extreme toothache went to the dentist who found an abscess. The dentist extracted the tooth; however, a few days later, the plaintiff felt pain, suffered from drooling that he could not control. He sued the dentist for negligent extraction and nerve damage and for failure to provide clear post-op care instructions. The jury found against the dentist, awarding the plaintiff $337,000 for past and future medical bills as well as pain and suffering.
Creating a calm and nurturing environment in your practice is just as important as being a top-notch dentist. These are the two pieces of the puzzle that go hand in hand to create a well rounded dental practice which your customer will remain loyal to.
As we mentioned, in addition to taking care of your patients' comfort it is also essential to protect your practice's financial future. The financial consequences of a lawsuit can be devastating, and you need to be prepared to deal with the chaos and business disruption that the lawsuit brings.
360 Coverage Pros gives you access to a comprehensive malpractice insurance program for dentists. Our multi-functional website allows you to easily quote and issue your policy online in a few simple steps. Of course, if you have any questions about the coverage, we are only a phone call away.