Dentist Interests
10/15/2018
Associate Dentists and Malpractice Insurance
By Harry J. Lew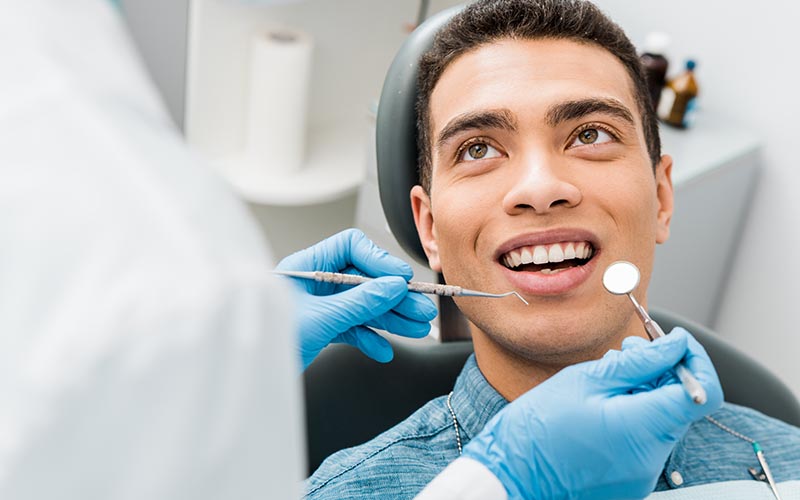 When student dentists graduate from dental school and become licensed, they face a big choice: start their own practice or go to work for an existing one. Both options have a lot going for them. Hanging your own shingle gives you the ultimate in control and autonomy, while giving you full ownership of the financial upside of your practice. On the other hand, going to work as an associate dentist offers an attractive compensation package, with fewer management headaches and the ability to focus more on patient care. Which path did you take?
If you decided to forego dental entrepreneurship to pursue a lower-pressure job as an associate dentist, congratulations! Clearly, you value helping your patients achieve and maintain their oral health in a setting that provides appealing financial rewards, but without the headaches of business ownership. Some of the associate-dentistry advantages may include:
Little or no out-of-pocket financial investment compared with the many costs of establishing a new dental practice.
Faster payoff of dental-school student loans.
No business headaches in terms of managing staff, filing insurance claims, dealing with patient complaints, etc.
More predictable hours
Stable income vs. ebbs and flows of practice income due to national economic cycles (from patients losing their jobs and ultimately their dental insurance).
No hassling with dental health insurers over getting paid.
No worries about practice bookkeeping, employee benefits, and other financial matters.
No issues regarding leasing medical-office space or buying and maintaining your own building.
In short, as an associate dentist, you have the freedom to focus primarily on doing what you love most about dentistry—taking care of your patients. However, even though you're an associate instead of an owner of a dental practice, you share something important with your boss—the risk of committing an error or of failing to do something important and then getting sued for dental malpractice. Since you're human and liable to make mistakes (as we all are), there's no avoiding this risk. Which means you need to protect yourself against it by purchasing dental malpractice insurance, also known as professional liability insurance. Having insurance is essential because the risks of getting sued can be considerable.
Consider this: according to the Medical Professional Liability Association (MPLA) Data Sharing Project, the average malpractice insurance payout from 2006 to 2015 was $71,000. Now, most associate dentists would prefer not to pay such a claim out of pocket. But conceivably they could use their personal savings to do so if they lacked dental malpractice insurance.
But what if the settlement (or court judgment) reached six or seven figures. For instance, according to Medical Malpractice Verdicts, Settlements & Experts, dental insurers recently paid claims of $1.7 million in the case of a dentist failing to diagnose oral cancer, $875,000 for a dentist who injured a patient's lingual nerve during a molar extraction, and $510,000 for one who overfilled a root canal causing inferior alveolar nerve damage. Could you find the money to make good on claims this large if you didn't have malpractice insurance? Unlikely.
Now, you may be saying, "But I get insurance from the owner of my dental practice. Aren't I fully covered through the practice's insurance policy?"  That may be true. But before you assume you're protected, do your research. For example, study your Employment Agreement to review your rights and responsibilities regarding any malpractice insurance available through your practice. This means knowing the limits (maximum coverage available) and the deductibles (if any) of the practice policy. You should also know who is responsible for paying for the premium. Will your employer pick up the full tab or are you responsible for paying for a portion? Also, check out the language that spells out what happens to your insurance should you resign or get terminated.
Enter the important issue of "tail coverage." With claims-made malpractice insurance policies, your insurance pays for claims that arise during the time you had malpractice insurance. But once you leave the practice, your practice-provided insurance will presumably end, leaving you unprotected if a patient sues you over an incident sustained while you were still employed there. To guarantee continuous coverage, you would need so-called "tail" protection, which costs more. As an associate dentist, check your Employment Agreement to see whether your employer provides for this.
Assuming you've resolved the issues just raised, don't assume everything's fine with your current malpractice insurance. Here are some other things to consider:
Your malpractice insurance policy will have a coverage limit that puts a ceiling on future claim payouts. For example, if the policy's limit is $3 million and one dentist loses a $2 million suit and another loses a $1 million case, that will leave $0 to pay for future claims. If you get sued at some future point, you will be out of luck. To prevent such a scenario, many associate dentists purchase their own malpractice insurance with large enough limits to handle just about any contingency.
Or what if the owner of your practice determines that your malpractice case was solely due to your professional negligence. He (or she) might try to fire you before the case is adjudicated, leaving you uninsured. Or if he doesn't fire you, he might sue you to recover the payment made on your behalf, leaving you bankrupt if you lacked sufficient personal resources to meet his demands for reimbursement.
What if a patient injury resulted from errors that both you and the practice made? Whose interests do you think the insurer and defense attorney will primarily serve?
Or what if you take issue with the insurer-provided attorney's defense strategy? Will you just have to take it or leave it?
And what happens if the practice hits a rough patch and is unable to make future payments on its malpractice insurance policy? Will its financial difficulties end up jeopardizing your financial security, too?
Or what if you and the practice owner get into a professional or personal dispute? Are you confident he wouldn't throw you off the practice's malpractice policy in revenge?
What if you switch practices or decide to go into business for yourself? Your new malpractice insurance policy might have so-called "prior acts" coverage. That means it will cover you if a mistake you made while working at your old practice generated a lawsuit. But for prior acts coverage to apply, you must have maintained continuous insurance coverage from today all the way back to the beginning of your prior job. If the prior practice owner allowed his (and your) malpractice coverage to lapse, your prior acts protection would not apply to any loss that occurred before the gap.
And what if the practice owner decides to merge with another practice or to simply shut the business down? Once again, you might be facing a "prior-acts" problem, leaving you with malpractice exposure during a coverage gap.
At the end of the day, as an associate dentist, you need to think hard about the following question: Are you willing to put your financial destiny in the hands of your boss? Or would you appreciate greater peace of mind knowing that you fully control your current and future malpractice insurance? If you prefer peace of mind, then consider purchasing your own policy. It will probably cost less than you think!
To learn more about our dental malpractice insurance options, please visit https://wwww.360coveragepros.com/dentists