Dentist Interests
04/16/2018
Dental Students and Professional Liability Insurance
By Harry J. Lew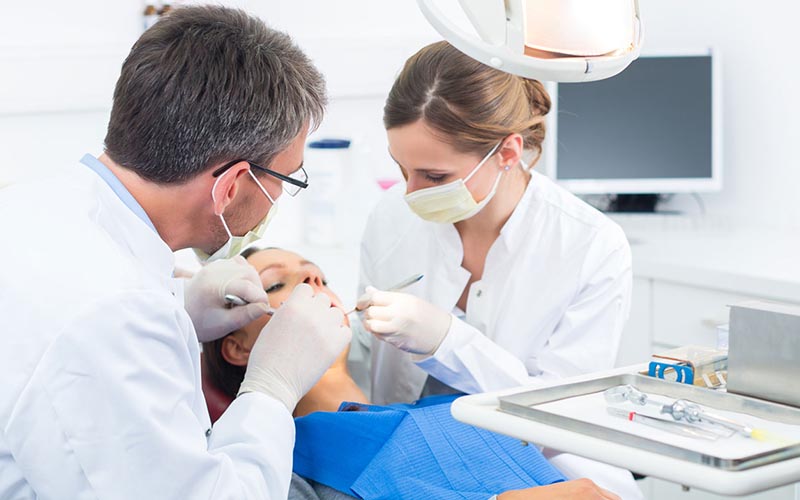 By almost any measure, dentistry is one of the most attractive careers in America. Currently, 153,500 dentists work in the field, with nearly 30,000 new positions expected through 2026 (a 19 percent growth rate over 2016). Not only are there plentiful jobs, but the pay is great, too (a median of $159,770 per year or $76.81 per hour).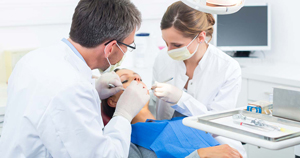 With numbers like these, it's no surprise U.S. News & World Report ranks dentistry as the #1 health-care job in America and #2 in its "100 Best Jobs" ranking.
Not surprisingly, many people would like to enter the field, making it hard to gain admittance to dental school and to get licensed after graduation. But your grind doesn't just start in dental school; it begins in your high school biology and chemistry classes, accelerates as you study for your Dental Admission Test (DAT), gets more challenging in your college pre-dental academics, and then gets even more intense during your dental-school science and clinical courses.
Throughout this process, it's easy to focus exclusively on the hurdles ahead. If you don't, you may not survive your coursework, let alone pass your boards. But immersing yourself in your studies may distract you from another key aspect of dentistry: managing your legal liabilities. It's never too early to begin thinking about how to protect your own financial interests while also meeting your patient's oral-health needs.
Now, you might ask, "What legal liabilities? I'm a dental student, not a full-fledged dentist." This is true. However, as your dental knowledge and clinical skills increase, you will have greater contact with patients. This will create more legal risks. Let's see how this process plays out over time:
According to the American Dental Education Association (ADEA), you'll spend your first two years of dental school taking general science courses such as anatomy, physiology, and biochemistry, as well as dental science classes such as oral pathology and oral histology. When not learning about science, you'll also delve into the dental needs of diverse human populations and practice dental procedures on replicas of the mouth and teeth.
During this period, you will have limited contact with actual patients. But if something goes awry in one of these interactions, your school's liability insurance policy will protect you.
In your third and fourth years of dental school, you will receive more hands-on clinical training. You will also take courses in how to manage a dental practice. As part of your patient-care curriculum, you will rotate through various settings (clinics, hospitals, private practices, etc.), where you'll learn how to care for different types of people—the old, the young, the chronically ill or disabled, geriatric patients, or those with special needs. During these experiences, a dental clinical instructor will supervise your progress.
As you can imagine, the more hands-on you get with patients, the greater your risk of making a mistake. And the more serious your mistake, the more likely you'll get sued. However, as in your first two years, your school will provide you with insurance coverage as long as the problem occurs during one of its clinical rotations. If you decide to pursue a third or fourth-year externship at an unaffiliated healthcare agency, you will need to secure your own liability insurance. Many insurers provide such policies at a reasonable cost.
As you may know, you can't work as a dentist unless you fulfill your state dental board's requirements. Typically, this involves passing two National Board Dental Examinations and a clinical examination. Here's how this testing unfolds:
NBDE, Part I: Tests science knowledge. Administered after first or second year of dental school (after you complete the basic science curriculum).
NBDE, Part II: Tests knowledge of clinical dentistry. Administered during third or fourth year of dental school.
Your State Board of Dentistry: Tests clinical knowledge and ability to perform diagnostic and restorative procedures. Involves working on both manikins and on live patients.
Since the last exam requires you to work with actual patients, it poses some liability risk, for which you will need to purchase malpractice insurance. As with externships, your exposure during a clinical exam will be quite modest, which means your insurance cost should be low, as well.
Once you complete your Doctor of Dental Surgery (DDS) or Doctor of Dental Medicine (DDM) degree requirements and pass your three board examinations, you will officially be a dentist! At this point, you may decide to pursue your first job in the field or continue your education as a post-doctoral resident. In the latter case, you may decide to also moonlight as a dentist. Your risk exposure now will be much greater, since you will be treating a higher volume of patients and performing a wider range of procedures.  To protect yourself, you'll need to buy a malpractice policy for moonlighting dentists.
For the risk exposures just discussed (dental board and moonlighting), the good news is insurance solutions are highly affordable. Given the choice between insuring themselves or constantly worrying about getting sued, most student dentists and new graduates choose the former option. Plus, in the unlikely event you get sued and lose in court, your insurer will pay for your court judgment and attorney fees. This will prevent a lawsuit from ending your dental career before it even starts.
You made an excellent choice when you decided to become a dentist. Now you're doing the hard work of mastering the knowledge and skills required to be one, but scientific knowledge and clinical skills are just the beginning. You must also learn how to identify the risks of working as a dentist and how to mitigate them using insurance and risk-management techniques. 360 Coverage Pros Dentist Professional Liability Program can help you in both regards.
Sources:
American Dental Education Association
Bureau of Labor Statistics
Joint Commission on National Dental Examinations
U.S. News & World Report