Dentist Interests
06/20/2019
Joining the Movement Against DIY Dentistry
By Harry J. Lew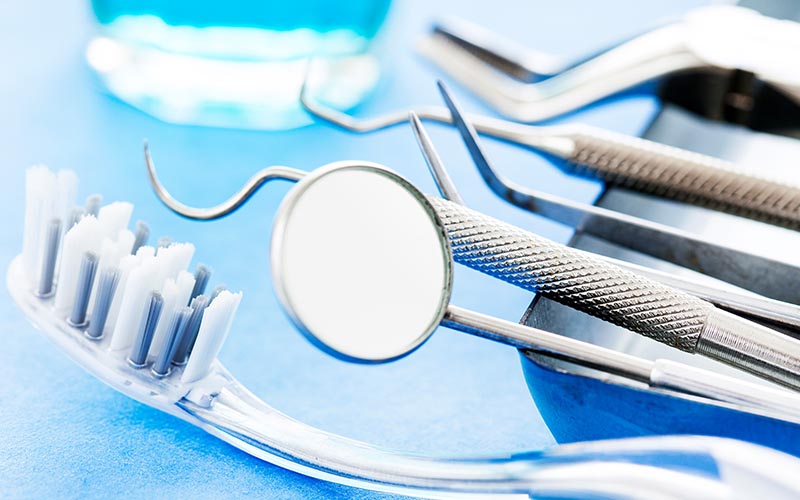 Do consumers who believe in—and practice—DIY dentistry, alarm you? Then it may be time to speak out.
America, if not the world, has adopted a do-it-yourself (DIY) mentality. When faced with doing something new, people of all ages flock to YouTube for instructions. This is fine when it comes to changing your car's oil or putting a new roof on your tool shed. But when it involves fixing your own teeth, it's a bad idea.
Dentists confront the horrors of DIY dentistry every day. They—you—watch people with no dental training demonstrate how to use rubber bands to move teeth. Or how to extract infected teeth or whiten stained ones with unproven methods, instruments, and materials. But when DIY procedures go bad, you also have to deal with the aftermath, hoping your patient's self-inflicted injuries do not have permanent consequences.
For dentists, it's confounding to see people engage in self-destructive oral care. And it must be equally frustrating for those with extensive scientific and clinical training to see consumers fall prey to magical thinking, conspiracy theories, and anti-scientific nonsense. But as a 21st century dental professional, that's the world you live in today, with which you must deal for better or for worse.
How we got here
How do patients end up becoming their own dentists? Experts suggest it's a complex process.  Part of it results from the impact of the internet on all fields of knowledge. When "solutions" to many problems are just an online click away, enterprising consumers flock to them rather than consult with traditional experts. The desire to save money is another powerful motivator. With dental treatments growing in cost, consumers often struggle to afford routine care and treatments, especially when they lack insurance.
Younger patients fall prey to the same herd mentality that afflicts fans of YouTube fashion and travel videologs (AKA, vlogs). When they see a video posted online, they can't wait to try out its recommendations, not because what they've watched is true or relevant to their situation, but because they want to connect with the vlogger and copy what his or her followers are doing. Even worse, people seem to place more faith in uneducated strangers than in their own highly trained dentist with whom they've dealt for years.
Another factor is that consumers are busy and have better things to do than to visit their dentist every six months for prophylactic care. If scraping their own teeth saves time and money, they will gladly do so, even though they might hurt themselves.
Fear of dentists compounds all of the above factors, enveloping patients with paralyzing anxiety and stress. This leads them to do anything to avoid sitting in a dental chair, even if postponing needed care requires aggressive and potentially more painful treatments later, with no guarantee their self-induced complications can be fixed.
Finally, sensing an opportunity, dental entrepreneurs have built companies that provide DIY solutions direct to consumers at a lower cost than conventional dentists charge. Involved in everything from teeth whitening to orthodontics, the DIY marketers often skate on thin ice when it comes to dental board regulations, but deliver patient-friendly products and services that are stealing market share from traditional dental practices and the emerging DSOs.
So what should you do as a concerned dentist in this environment? Experts suggest you should raise your game as a dental educator, targeting both your own patients and the community at large. Educating public officials, including members of your state dental board, is also a good idea. A good starting point is to make sure your patients know where you stand when it comes to DIY dentistry. You owe it to them to make sure they comprehend the dangers of self-treating.
The DIY culprits
For instance, have you sounded off about the five common DIY treatments patients see every day on YouTube and other online sites? If you want to neutralize Internet influencers with dubious or non-existent credentials, then it's important to start (or ramp up) your patient education now. For example, do your patients know the dangers of . . .
DIY cavity filing? When most people lose a filling, they immediately make an appointment to see their dentist. But apparently not all Many turn to YouTube videos and websites that show how to replace fillings (and even crowns) with wax, caulking, and other household materials. According to Solstice, a dental benefit provider, one web page even advises patients to use potentially harmful materials such as sodium hydroxide and nitric acid, but can't spell dental terms correctly. Sadly, using these "treatments" can end up masking problems and causing infections and/or tooth loss. Even using relatively safe, over-the-counter tooth filling kits can lead to problems if they're viewed as permanent, not stopgap, solutions.
DIY braces and aligners? YouTube tutorials on how to straighten your own teeth have drawn hundreds of thousands of viewers and persuaded gullible consumers to use rubber bands to move their own teeth. Direct-to-consumer companies such as SmileDirect

TM

provide a more polished solution that involves consumers making their own impressions, which their dentists review before providing customized aligners. The problem is, orthodontics is highly complex, and lack of dental supervision both before and during treatment can lead to improper movements, inflammation, infection, gum injuries, and worse.
DIY tooth extractions? Search YouTube and you'll find videos of people extracting their own teeth with crude instruments. In what alternative universe does a sane person do this? Yet thousands do, at the urging of so-called online "experts." Yet any tooth extraction is a form of complex surgery, potentially leading to serious and potentially fatal side effects. Botch a self-extraction and patients may be looking at thousands of dollars of remediation or worse.
DIY whitening? Although reasonably safe over-the-counter solutions exist, whitening one's teeth with home ingredients is a dubious proposition. Consumers who use lemon juice, hydrogen peroxide, or baking soda run the risk of giving their teeth a translucent appearance, producing gum irritation, causing loss of tooth enamel, and generating increased tooth sensitivity.
DIY cosmetic veneers? Patients who want more attractive teeth often turn to one-size-fits-all or clip-on veneers. But there is no such thing as a one-size-fits-all dental appliance. By using incorrectly sized veneers, consumers may save money, but run the risk of gum or jaw damage or tooth loss.
Although none of this may be news to you, you may not have taken your concerns directly to your patients. Or if you have, you might not have done so as part of a continuous and aggressive campaign. If you fall into either camp, communicating with your patients (and your community) about the dangers of DIY dentistry is now more crucial than ever.
How to help
Where to begin? Here are some potential strategies to consider:
Support the American Dental Association's (ADA) efforts to get the federal government to limit unsupervised orthodontics. With direct-to-consumer clear aligner therapy becoming a big business, the ADA recently filed a petition with the Food and Drug Administration (FDA) to change federal policy regarding DIY orthodontics. It also encouraged its member dentists to file complaints regarding the practice using the FDA's MedWatch Voluntary Reporting Form. If you're concerned about the dangers of patients receiving orthodontic services without the direct supervision of a dentist, then consider adding your voice to this national debate.
Share the American Association of Orthodontists "Questions to Consider" flier with your patients. The AAO for years has watched with alarm as direct-to-consumer orthodontic providers have captured increasing market share. This includes firms such as SmileDirectClub, Candid Co., Smilelove, SnapCorrect, and Orthly. AAO has now gone public with its concerns by developing a detailed question list for patients considering orthodontic care. "Consider this question," it asks consumers. "What other transforming medical treatment would you undergo without an in-person, pre-treatment evaluation or ongoing in-person supervision from a medical professional?" To help patients carefully evaluate prospective providers, AAO developed a list of 18 questions to consider before selecting a non-traditional service.
Provide more assistance to fearful patients. Since 9 percent to 20 percent of patients avoid going to the dentist because of fear or anxiety, it's likely a big contributing factor to the growth of DIY treatments. How to respond? Consider adding no-fear services to your practice. This includes moving consultations to your office instead of the dental chair in order to remove "painful" connotations, providing patients with access to therapists or coaches who deal with dental phobias, putting on workshops for fearful patients, and using the latest technologies and medications to distract patients and manage their pain.
Refine your arguments against the DIY dental providers. Dr. Chris Salierno, chief editor of Dental Economics and the editorial director of the Principles of Practice Management e-newsletter, urges his colleagues to refine their rhetorical strategies when competing with DIY dental competitors. For example, he says the "they took our jobs" defense is a terrible argument. "First, no one has any sympathy for dentists losing business. Second, progress leaves outdated jobs in its wake. We should be arguing that DIY aligner therapy doesn't make traditional orthodontics obsolete and is potentially dangerous and ineffective." He also believes dentists are placing too much emphasis on DIY impressions. Since at least one DIY aligner company is now providing intraoral scans, it's possible DIY impressions may have a limited lifespan. "Let's not cling to this argument too tightly," Salierno warns. "There are other clinical concerns (to) be raised."
Redirect the DIY conversation. Sadly, too many consumers have stopped relying on dentists for their oral-health needs. "The general public has lost sight of why they need a trained, qualified professional in their corner and why (a dentist's) experience trumps potentially cheaper and more convenient alternatives," says Graig Presti, CEO of Local Search for Dentists. To fight back, he recommends dentists deploy a contemporary, multi-channel marketing program, featuring high-quality content, which persuades consumers of the importance of the traditional dentist-patient relationship. The program should involve photos, YouTube advice videos, and a robust library of Google reviews. Such a program will help traditional dentists "evolve into a modern practice that answers the needs of today's dental patient," Presti says.
In conclusion, whatever your approach to battling the DIY dentistry trend, it's important to get involved. Without the advice of highly trained and caring dentists, consumers will continue to fall prey to the perils of DIY treatments. If their own dentists won't inform them of the dangers of self-dentistry, who will?
To learn more about 360 Coverage Pros' dental malpractice insurance, please visit https://www.360coveragepros.com/dentists