Top Causes of Agent Errors and Omissions Claims
Why do insurance agents get sued? Typically, it's because they do or say the wrong things, creating a financial loss for their clients. However, "wrong" can result from many different actions or statements and can vary based on an agent's license type.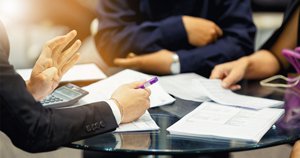 For example, if you're a P&C insurance agent, studies suggest the one thing you don't want to do is fail to procure coverage for your clients. According to research on members of the Independent Insurance Agents & Brokers of America (IIABA), failure to procure coverage accounts for nearly one in five E&O insurance claims against P&C insurance agents...or 24 percent to be precise.
The reasons insurance agents "drop this ball" are complicated. Perhaps they failed to do a careful risk analysis and glossed over an important insurance need. Or maybe they shopped risks to their markets, but failed to find an insurer with a sufficient underwriting appetite. But then they never documented it or kept clients informed. Or perhaps they secured an insurance binder, but because of an administrative glitch, never locked down permanent coverage.
Whatever the reason, failure to provide insurance is the single largest lawsuit trigger for P&C insurance agents. Now that you know this, you can avoid making this mistake yourself. How?  By always . . .
Doing a thorough risk analysis for your clients,
Diligently shopping for needed insurance, and
Competently quoting, selling, and installing suitable insurance solutions.
But what about life and health insurance agents? Apparently, failure to provide isn't as big an E&O deal for them as it is with property and casualty agents. Instead, according to a survey of agents belonging to a major life industry trade group, misrepresentation accounted for 25 percent of claims, making it the largest single source of claims for life/health insurance agents.
Misrepresentation doesn't always refer to lying about a life product's features and benefits. It also can involve misstating how it works. As long as you create a misperception about a product's features and benefits and the client's purchase results in a financial loss, you may be guilty of misrepresentation.
Why does it appear to be a more common E&O insurance claim trigger for life and health insurance agents than for property and casualty agents? The research doesn't say. However, perhaps it has to do with the greater complexity of certain life products vs. property and casualty insurance. With the latter, you simply need to identify the risk, quantify the loss potential, shop the coverage, and then work with clients to get the insurance issued.
Life insurance, on the other hand, may be more intangible and complex. For example, policies sold for estate-planning or business buy-sell purposes can be extremely complicated. Giving a client the mistaken impression that a life policy will generate certain tax benefits when it fact it doesn't can have damaging consequences later. Even botching your explanation of annuity surrender penalties might lead a client to believe he can get his money out of his policy penalty free instead of having to wait seven or eight years. Having to pay thousands of dollars in unexpected fees will often result in complaints, lawsuits, and E&O insurance claims.
If you're a life or health insurance agent, how can you avoid misrepresenting your products? Start by mastering your portfolio. Then during your presentation meetings, spend sufficient time explaining how your proposed solution works and encouraging your prospects to ask questions. Also, be sure to carefully review contract provisions at the time of policy delivery. By giving your customers multiple opportunities to learn about what they bought, you will largely immunize yourself against misrepresentation-related lawsuits.
Failing to provide insurance and misrepresenting one's products cause big E&O headaches for P&C and life and health agents, respectively. However, even though they each account for roughly a quarter of all Errors and Omissions insurance claims, there are many other claim triggers. Here are the main ones in order of frequency for each agent type.
Top causes of claims for P&C insurance agents:
Failure to carefully explain policy provisions (7 percent of claims).
Failure to adequately identify exposures (6 percent).
Failure to recommend coverage (5 percent).
Sending inaccurate or incomplete client information to an insurer (5 percent).
Failing to provide timely notice of a claim to the insurer (4 percent).
Top causes of claims for Life and Health insurance agents:
Failure to provide insurance (13 percent of claims).
Failure to explain coverage effectively (11 percent).
Making an administrative error (11 percent).
Failure to make a requested policy change correctly (9 percent).
Calculating a premium incorrectly (6 percent).
Regardless of whether you're a P&C agent or a life and health agent, the key to preventing E&O insurance claims is education, focus, and follow through. Specifically, strive to . . .
Work hard to uncover client needs and make suitable product recommendations that fulfill those needs.
Educate your clients about their insurance options.
Make sure your customers understand the insurance policies they've purchased.
Adhere to fact-based sales practices and comply with all industry regulations.
Avoid making promises to clients you can't keep.
Execute all client service requests promptly and accurately.
Establish good will with all your prospects and customers and work hard to maintain cordial relations with everyone you deal with.
It's not glamorous, but excelling at the basics of selling and servicing your P&C and life and health insurance clientele will nearly always prevent lawsuits. We can't promise you that doing your job correctly will keep you out of court every time. But we can assure you it will keep your legal problems to an absolute minimum. And as long as you keep your E&O insurance in force, you will have a financial backstop in case you do get sued and lose your case in court. Good luck!