Insurance Agent Interests
08/17/2017
Five Emerging Risks for Global Insurers
By Harry J. Lew
Insurers are in the business of assessing, pricing, and mitigating risks. But sometimes risks are so new and difficult to quantify they pose dangers to the industry as well as to society overall. A recent Swiss Re report paints a troubling picture of the many ways evolving risks can undermine not only today's insurance business, but also the world people live in tomorrow.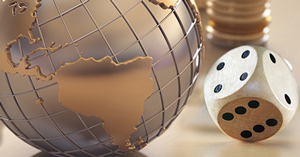 "To look at today's risk landscape is really important since we see many imminent and remarkable game changers like the return of nationalism or protectionism, says Patrick Raaflaub, Swiss Re's Group Chief Risk Officer. "At the same time, we should not lose sight of the subtle underlying developments that can be of major importance to the insurance industry, its customers and to society at large."
A comprehensive look at the many risks on the horizon is available in the Swiss Re SONAR report, released in June 2017. Here are five of the major ones.
Reduced market access. Western nations have witnesses a surge in right-wing nationalism and protectionism. The logical outgrowth of such attitudes is the erection of trade barriers, which will reduce access to foreign markets. This in turn will likely result in slower economic growth and headwinds for large insurance companies. Ultimately, insurance products may become more expensive, hampering the industry's ability to bridge the protection gap, and making it more difficult for agents to make a living.
Insurer asset confiscation. As European nations confront persistent low growth and crippling amounts of public-sector debt, burgeoning entitlements, and other future liabilities, they may succumb to partial confiscation of insurer assets, which would likely trigger doubt about the industry's ability to meet their claim liabilities. Such doubt would seriously undermine public faith in the industry and create headwinds for agents trying to generate new business.
The death of cash. A small but growing interest in repressing or even banning the use of cash could pose ominous risks to insurers in the future. Among those is an inability to store cash physically, creating even lower negative interest rates; less faith in government, institutions, and the insurance industry; and mounting cyber-threats to digital payment networks. Anything that erodes trust in the insurance and financial-services business may create unwanted friction for agents in the sales process.
A perfect storm in the cloud. Not only is more and more data stored in the cloud today, we're also seeing the emergence of "clouds-of-clouds," which give individual clouds more capacity to serve users by accessing the resources of other cloud providers. But the larger and more complex the cloud gets, the more susceptible it comes to cyber-attacks, technical failures, and natural disasters. Any disruption of cloud-based data systems can result in agents becoming unable to serve their clients, which may lead to E&O liabilities.
Return of inflation. If inflation returns to significant levels, the impact on insurers will be pervasive, especially on their investment returns, asset values, and property-casualty long-tail claim costs. The ultimate impact will be on their profitability, which has already taken hits from more regulation and mounting competition. Inflation will also affect customers, who may have less financial resources available to buy insurance, potentially depressing agent income.
Sources: