Insurance Agent Interests
07/27/2022
Insurance Agent Customer Care After the Sale
By Joe Peters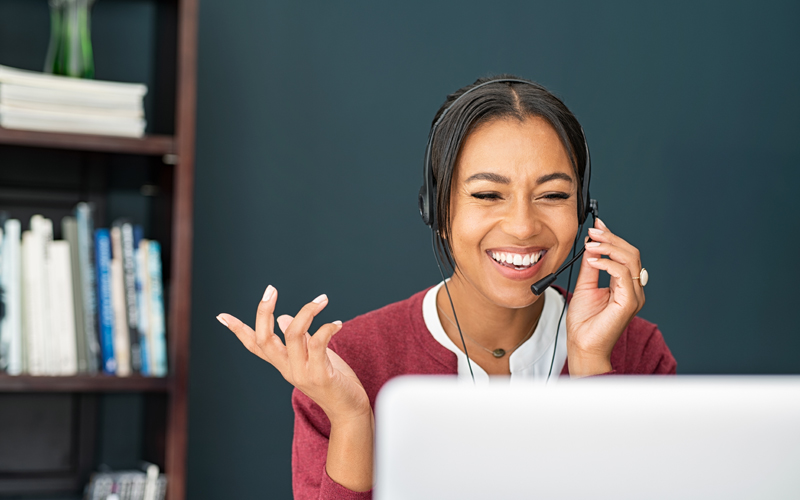 Taking good care of your clients after the sale will unlock years of future revenue. Learn how to do it here.
Insurance agents used to view sales and customer service as distinct activities. Since selling directly generates commissions, producers often gave it priority over customer service, which they viewed as a secondary task. Fortunately, most agents have changed their opinions about the relative importance of sales and service. Today, they view them as two equal parts of the same process: getting and keeping customers.
Customer service—or customer care as it's often known—is everything that happens from the time a prospect agrees to buy an insurance policy to the point of policy cancellation. This is a large swath of activities that involves making sure clients are "onboarded" properly and making coverage adjustments as their needs evolve. It also consists of performing annual client reviews and assisting clients with filing claims after losses occur.
You'll produce a satisfied customer when you perform these and other service tasks correctly. Happy clients will increase their coverage in the future, buy different types of insurance from you and refer you to friends and family—not just once but many times over the coming years.
Most importantly, by providing high-quality customer care, you will establish trust with clients, grow your reputation, and make them much more likely to remain as clients. For this reason, customer care might be considered the ultimate sales strategy. It typically costs less than acquiring a new customer yet generates positive returns for decades to come.
The takeaway is plain to see. You should invest as much effort in planning and executing your customer care strategy as you do in marketing and sales. By doing your best to perform your marketing, sales and customer care responsibilities, you will assure the creation of a successful—and sustainable—insurance business. Assuming you do your job effectively, you may even be able to sell your business to a successor, funding your retirement. Viewed in this light, doing customer care isn't a nice-to-have activity; it's a must-have!
Planning Your Customer Care Effort
Customer care involves many different activities, some proactive and others reactive. For example, many agents conduct annual client reviews, which include preparing for and conducting client meetings to review current needs. They are proactive because you'll take the lead in making them happen. But when a client calls asking for help with a claim, you'll play a reactive role. You can't predict when clients will need such help, but you must be ready to spring into action when the phone call or email arrives.
Whether a customer care task is proactive or reactive, plan your response carefully. Here are some of the tasks you'll need to prepare for:
Delivering new policies to clients, so they fully understand what they purchased.
Onboarding new clients (i.e., acclimating new customers to how your agency does business and making them feel like valued members of your agency "family").
Follow up with referred leads from existing clients and then report results back to the referrer.
Conducting annual review meetings and determining what to do about clients' evolving insurance needs.
Reaching out to clients at renewal to see if they have any concerns about their current insurance.
Helping clients file claims and addressing issues that may arise during claims processing.
Answering client-billing questions.
Changing premium payment modes when client finances change.
Updating beneficiary designations (for life insurance).
Running policy illustrations to update clients on the values in their life insurance policies or annuities.
Administering customer satisfaction surveys and analyzing the results.
Responding to policy owner feedback (both positive and negative).
Publishing content that educates clients about insurance and financial matters.
Providing periodic branded gifts.
Executing several personal touchpoints during the year to show clients you care.
Responding to all client phone calls and emails within a certain time period.
Conducting client appreciation events for your top-tier customers.
Once you've defined all of the individual elements of your customer-care program, prepare yourself to execute each item. Discussing these steps in detail is beyond the scope of this article. However, in general, do the following for each item:
Describe the task to be completed.
Define who is accountable for executing it.
Establish deadlines.
Identify tools and systems that will be needed to perform the activity.
Determine the criteria for successful completion of the task.
Identify the financial implications of performing the activity.
Identity how the individual customer-care element relates to other elements.
Paint a picture of what a successful (and unsuccessful) performance looks like.
Train agency staff to perform their role.
Rehearse scripts or presentation tracks when personal client interaction is involved.
Get feedback from clients on how well (or poorly) you performed.
The Chronology of Successful Customer Care
In the prior section, we discussed how insurance agents deliver customer care and how they should prepare to do so. The client education provided at various times is another lens through which to view customer care.
For example, right after you close the sale, new clients will often share concerns such as:
How long will the underwriting/approval process take?
What specific medical tests or phone interviews must be completed (for life insurance)?
When will they have to write a check for the full premium?
What's involved in the process of canceling prior insurance and replacing it with new coverage?
Once their coverage is approved, clients want reassurance that they bought the right policy and aren't paying too much. You'll typically answer these questions at policy delivery, either in person, over the phone or via email.
After policy delivery, clients in their first year might have several episodes of buyer's remorse or questions about how their policy works. To address these, make sure to
Send new clients a card congratulating them for buying insurance.
Remind them to contact you or your team if they have any questions or concerns about their new insurance policy.
Make regular personal touchpoints to confirm that everything is going well.
In a person's second year, shift focus from preventing an early policy lapse to increasing the goodwill you established during the first twelve months. To this end, make sure to:
Execute the touchpoints defined in your customer care plan.
Do something nice for your clients (giving them branded merchandise, taking them to lunch or inviting them to a customer appreciation event).
Conduct a formal annual review meeting to short circuit problems in the making and cross-sell more insurance.
After the second year and beyond, the longer clients remain with you—and the more policies they buy—the more likely they will become long-term customers. Achieving this distinction is what customer care is all about. When you build a loyal cadre of clients who appreciate your work, they will reward you with cross sales and referrals for many years.
Customer Care Success Strategies
As you raise your customer care game, here are some techniques you might find useful:
Nurture new clients in their first year: The goal is to show them how easy it is to do business with your agency and that you appreciate their business. If you establish a strong relationship with them now, you will likely be rewarded with more sales later.
Execute your moments of truth (MOT): If you or a colleague flubs the response to a client's first service request, you will have failed to capitalize on a MOT. This is a problem. You do not want to drop the ball on your first interaction, but you also want to over-deliver on every request clients make. This will strengthen your reputation for competence and trustworthiness and significantly increase client loyalty.
Think through your communication touchpoints: Define a minimum number of "touches" based on your clients' preferred communication channels and position in your customer-ranking system. Then strive to exceed the minimum number required. Frequency is important, of course. But it's not the only target to achieve. So is giving clients helpful information. Don't just win a client's business and disappear. Become a constant and valuable presence in their lives by feeding them practical tips for mitigating their business and personal risks.
Make your relationship personal: Your clients aren't just policy numbers and commission checks. They are flesh-and-blood individuals who prefer to do business with people they like. One way to get customers to like you is to get to know them personally. Ask about their family members, personal anniversaries, professional milestones and hobbies. Then record what you hear in your customer-relationship-management (CRM) system or other database. But don't just store this data; use it! Send clients notes, cards and emails recognizing their birthdays and other milestones. When you meet with them, ask about their family members by name. The beauty of engaging personally with clients is that over time, you will become part of their families and they will become part of your agency family. Result: They will be much less likely to defect because a competitor undercuts your price.
Consider their comfort with technology: We just mentioned the importance of asking clients about their preferred communication channels. Their answers will depend on their comfort level with technology. Clients who prefer traditional face-to-face meetings will also value hard-copy communications over email. But those comfortable with virtual interactions will likely prefer hearing from you via emails and texts. In any event, don't guess about their wishes. Ask them directly about how they'd like to communicate with you going forward.
Never skip an annual review meeting. Most, if not all, of your clients, must receive an annual policy review. The reason isn't hard to see. People's needs change over time. If their insurance policies don't respond to those changes, they might lack sufficient protection after a major loss. How to keep their coverage current? Review their policy provisions at least once a year. Even though the importance of this meeting may be self-evident to you, it might not be to them. So don't hesitate to persuade them to participate. The amount of persuasion should depend on where clients fit in your ranking scheme. Make a solid push to schedule annual reviews for all major clients (#1's or A's). Since they will likely have significant business and personal assets, they will lose a lot if they suffer an uninsured loss. Furthermore, you will lose out on cross-selling opportunities if you don't review their insurance regularly.
Manage the Details of Your Business
The customer care process is based on correct and timely execution. But don't also forget to sweat the details of your business. This means making sure your insurance licenses and continuing education credits are current. Also, ensure you're up to date on knowledge of current industry trends. Finally, don't forget to have your insurance agent review your E&O insurance at least once a year to prevent the same kind of coverage gaps we discussed earlier from happening to you. Not only will this keep your assets safe, but it will also allow you to model desired behavior for your clients regarding the importance of doing annual policy reviews.
Finally, ensure your business has the right equipment and supplies to deliver on its client service commitments.
In conclusion, when you come through for your clients year after year, they will come through for you. They will be more likely to keep their existing insurance in force and come to you first when new needs arise. In short, you'll become their agent of choice for the indefinite future. That's a profitable place to be in and one that years of customer care made possible.
Having E&O insurance is an essential element of an insurance agent's or broker's long-term success. Learn more about the 360 Coverage Pros Errors and Omissions (E&O) insurance program