Insurance Agent Interests
05/12/2022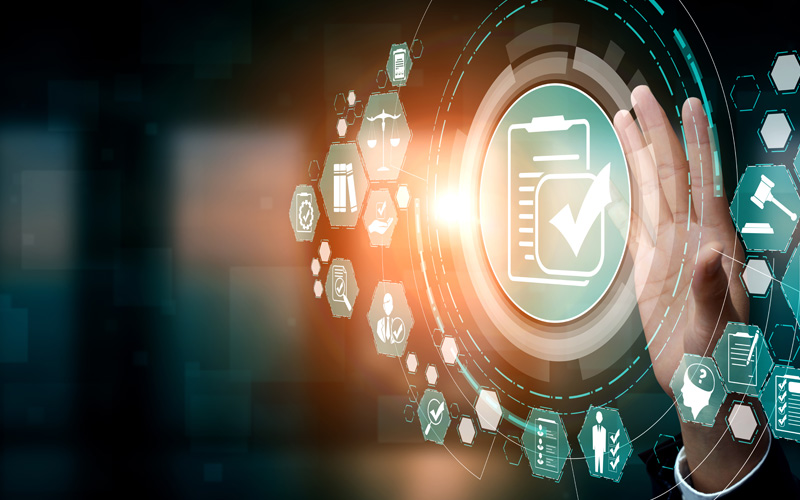 Do you plan to continue selling virtually in 2022 or increase your activity? Then here are some ways to get ready.
The global pandemic ushered in a brave new world of virtual insurance selling. Since early 2020, agents have learned how to approach prospects, assess needs and close sales without face-to-face interaction.
By most reports, the transition has gone remarkably well. A survey from Clearcover, an auto insurtech, found that 73% of agents switched to at least partial remote work. Most anticipated a gradual return to the office, while some never expected to return. In terms of results, 68% of independent agents said customer acquisition had returned to pre-COVID levels, while 75% said customer retention had fully bounced back.
Still, the transition to virtual sales has not been entirely smooth. Using unfamiliar video conferencing applications was initially difficult for many agents. They also learned that prospects found it easier to refuse a virtual-meeting invite than a request to meet face-to-face. They also didn't hesitate to ghost agents after their meeting if they didn't intend to buy anything.
Agents also learned that virtual selling had financial advantages. Because they didn't have to commute to an office, they had more time for work. That meant sales productivity—approach calls or emails, booked appointments and sales—generally increased. Plus, there were also cost savings from not driving as much or paying for client lunches and dinners. Finally, virtual sales put agents totally in charge of their schedules. Together with not having to commute, this reduced personal stress and improved their career satisfaction over the traditional sales model.
Given the experience of the last two years, where do you stand when it comes to virtual selling? Did you try it, but are now ready to go back to face-to-face meetings? Or are you happy with how things worked out and are willing to go 100% virtual in 2022? Your answer may depend on how ready you are to deal with the disadvantages of screen-based sales.
Virtual Sales in 2022
At least in the short term, the insurance industry will likely see a continuation of a hybrid system in which virtual sales combine with face-to-face interactions. To make this work, agents and insurers will have to address three challenges from now on:
Elevating the Technology of Virtual Selling
Embracing the Technology of Digital Marketing
Adapting Traditional Sales Skills to a Virtual Format
Let's take a closer look at each of these topics.
Elevating the Technology of Virtual Selling
The core technology in virtual selling is video conferencing. By now, most agents have learned how to use an application such as Zoom and can easily accomplish tasks that were difficult at the outset, including sharing screens and muting/unmuting.
In 2022, the challenge now is to build on early successes and get better at presenting insurance in a conferencing app. For example, you may want to give more thought to curating an appropriate background, especially one that synchs with your agency's branding.
Another potential upgrade is to purchase a higher-quality USB microphone so your voice sounds more pleasing to prospects. 
Investing in professional studio lighting will reduce the "amateur hour" of many agent Zoom interviews. Agents should emulate YouTube vloggers in this regard. Many of them have remade their home offices into well-lit television studios. Another upgrade is making sure your web camera conveys an accurate color temperature. If your face still resembles a cooked lobster, it's time to take a video white-balance tutorial on YouTube, Skillshare or other learning platforms.
Further, investing in other new essential technology, such as a laptop, will help ease the transition to virtual selling and possibly even replace some of the additional technology mentioned above.
Embracing the Technology of Digital Marketing
It's possible to use digital technology only to replace in-person sales meetings. Possible, but probably shortsighted. As a virtual insurance agent, it makes sense to migrate most, if not all, of your marketing and administrative work to digital. This will make you more efficient than if you continued working solely with analog tools.
Job one is building a content-rich lead-generation website. However, being able to source your own leads may take some time. Creating a potent website that can generate your appointments and provide customer quotes has a lot of moving parts. For now, we'll stress the importance of using content to attract prospects to your site, persuading them to leave their information and enticing them to request a meeting or insurance quote. If you can't write robust, informative consumer content, pay someone to do it for you. Whatever that person charges will be less than the value of the leads and sales your website will soon produce.
Once you've stocked your website with helpful content, turn your attention to search engine optimization (SEO). This includes on-page code and other techniques to increase your website's Google search engine ranking. If your site lands on the first search engine results page (SERP), you did your job well. However, since your real job is selling insurance and not becoming an SEO consultant, you may want to farm out this project to a freelance SEO expert or an SEO marketing firm. Don't stress about spending money on it, as having a highly SEO-optimized site will pay off by generating a constant stream of high-quality leads with little out-of-pocket expense. A website that prospects 24/7 and keeps your sales funnel stocked with high-value prospects is an essential 2022 technology upgrade.
Also important is automating as much of your operation as possible. Applications that help with this objective include:
A customer-relationship-management system: A CMS application will organize customer information in one place and then track all of your prospect and client touchpoints, regardless of type. With a CRM, you'll be able to manage your leads, make your workflow more efficient and generate more sales opportunities. Marketing automation systems such as Hubspot achieve some of the same goals. However, these systems revolve around efforts to attract prospects to your website.
Automation apps: These are applications that allow you to "drip" emails to clients who reach a personal milestone such as a birthday or anniversary or download a white paper from your website. Or you can develop email sequences pegged to sales campaigns. For example, if you're in the Medicare insurance business, you can send an email series that reminds prospects that enrollment season is about to begin. The application lets you develop the email content and then schedule them in one pass, so you don't have to deal with them later. Social media automation apps also let you preschedule future posts in advance.
Referral software: Referrals are vital for organically growing your business. Referrals often lead to quality leads, sales and returning clients. Best yet, they're one of the most affordable ways to gain sales. But, sometimes, getting caught up in growing your business in other ways leads you to not put your best foot forward with the referral process. Embracing technology in this area can be a quality, affordable investment. With an automated referral software technology at your disposal, you can reach new quality clients to sell and service to.
Quote and enrollment software: Technology is rapidly approaching the point where prospects can learn about various types of insurance, select the type they need, request a quote and then apply for coverage, all online. Agents can also install web bots that guide prospects through the insurance application process and answer basic questions.
Other applications: Electronic applications, electronic funds transfer (ETF), policy e-delivery and more can round out the digital toolkit of virtual agents. With thousands of insurance carriers and insurtech providers applying the power of digital technology to enhance the insurance value chain, the sky is the limit for insurance agents wishing to make more virtual sales in 2022.
Adapting Traditional Sales Skills to a Virtual Format
Virtual selling is still selling. You still have to establish rapport, build trust, pre-qualify prospects, establish your value proposition, ask for the sale and address objections. The only difference is it's harder to detect the behavioral cues that people transmit when they're happy, annoyed or impatient. It's also harder to send your signals, which are essential to establishing trust.
As a result, since you can't be in the same room with prospects, train yourself to be more observant of body language, voice tone, where eyes are pointed and other visual and auditory cues that signal how someone is feeling about you and your products.
Voice quality is paramount in virtual selling. If you speak in a monotone, you will quickly put your prospect to sleep. If you don't vary your pace, you will lose your prospect well before making your first closing attempt. If you never change the emphasis and volume of your speech, you will fail to pull your prospects through to the end of your meeting.
In addition to these techniques, the content of your words takes on greater importance during online selling. Since prospects will pay greater attention to your voice, you'll have a better opportunity to win them through emotional stories. To build trust, feel free to share your own background and history of helping people achieve financial security with insurance.
So how do you make sure your virtual selling is as effective online as in person? Here are some tips to consider:
Prepare carefully for all your virtual sales calls. Review what you know about the prospect and study your presentation before giving it.
Send the prospect a pre-meeting email. It should define the goals of the meeting, provide conferencing and login instructions and set expectations about what you hope to accomplish.
Prior to the meeting, review your technology. Make sure everything is working properly before you initiate the session.
Have a strong opening. Within the first minute, make an effort to connect with the person, tell a story, and encourage participation.
Avoid verbose lectures. Don't just talk at people. Encourage them to speak, ask them questions and always check for understanding.
Make a trial close. See if the person has a need and interest in what you're selling. If not, ask questions to see where the objections or concerns lie.
Close with a thank you and a next step. Make sure to provide a follow-up path. If you failed to close the sale in the first meeting, you could try again later.
Virtual selling techniques are essential. But the focus and self-management skills that distinguish successful agents from also-rans are equally important. To make sure you're ready to sell virtually in 2022, follow these tips:
Be focused, disciplined, diligent and consistent. In other words, be a true professional when you sell virtually. Do the right things in the right amounts and at the right time to consistently grow your business through strong execution.
Consider adapting your schedule to prospect availability. If people can meet with you during the day (since they may be working at home, too), great! If not, be flexible about meeting with them in the evening or on weekends.
Align yourself with digitally savvy insurers. Try to work with insurance companies committed to digital marketing and sales. Look for those who have been doing it for many years, not just since the pandemic. This will make your current virtual sales efforts easier and give you a future technology upgrade path.
Set targets for acquiring virtual appointments. Once you know your sales objectives, follow through by making or sending out the required number of approach calls or emails. Selling virtually is the same numbers game as traditional selling. Keeping your activity level high and consistent will likely generate the sales you need to thrive in the new virtual environment.
Risks of Selling Virtually
As an insurance agent, you always run the risk of getting sued. Virtually selling increases that risk. For instance, because communicating is more challenging using a screen, the potential for prospect misunderstanding is more significant. Any time a person fails to understand the product you're selling—for example, believing it provides a benefit it doesn't offer—you're looking at a potential E&O claim. Or, if a person thinks you made a commitment you didn't really make, dashed expectations might lead to future litigation.
To deal with the E&O risks of virtual selling, insurance agents must assess their risks and implement mitigation steps to limit their future liability. Purchasing E&O insurance is the essential first step in this process.
360 Coverage Pros provides insurance agents access to comprehensive and affordable Errors & Omissions Insurance.
Having E&O insurance is essential for an insurance agent or broker risk-management program. Learn more about the 360 Coverage Pros Errors and Omissions (E&O) insurance program.