Insurance Agent Interests
08/21/2017
The Life Insurance Gap
By Harry J. Lew
The 2017 National Insurance Awareness Day (6/28) has come and gone. But awareness of life insurance could still use strengthening, according to LIMRA, a life insurer trade association. But agents who speak with prospects and clients about their life insurance needs stand to benefit tremendously from filling the awareness gap.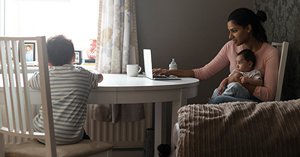 The core problem? That a lower percentage of U.S. households have life insurance today compared with in the past.  According to LIMRA's 2016 Life Insurance Ownership Study, the household ownership rate has fallen from 83 percent in 1960 to 70 percent in 2016. This means that even though the number of households grew from 43.8 million to 87.2 million over that period, life insurance penetration failed to keep pace. Today, of the roughly 125 million U.S. households, some 38 million have no life insurance at all, and about 50 million realize they need more (40 percent of households).
Also problematic is the fact that adequacy of life coverage is falling short. LIMRA's Life Insurance Needs Model suggests that most households need 5.25 years of income replacement. However, on average, households have only 3.0 years of income replacement from their life insurance policy or policies.
Now, it's not hard to see why the life insurance coverage gap continues despite no lack of industry effort to fill it. For one thing, consumers are reluctant to confront their mortality, so they often avoid talking about life insurance with their agents.
What's more, even those who admit they need more life insurance (80 percent of households) say they haven't bought it because of other financial priorities or because they can't afford it.
In addition, six in 10 says they don't know what to buy or how much they need, with one of the biggest cited obstacles being lack of information. And a great percentage of consumers who recognize their need for life insurance have never been approached to buy it (25 percent in 2010 vs. 35 percent in 2016, according to LIMRA).
Yet these barriers are far from insurmountable, LIMRA suggests. For example, one of the reasons people think they can't afford life insurance is because they tend to over-estimate its costs. LIMRA research reveals that people think it costs three times more than it actually does. The confusion about what to buy and in what quantities is also a paper tiger because there are so many information outlets on the Internet about life insurance, including many online calculators. Even the decline in agents approaching consumers to buy life insurance can be offset by the emergence of online shopping platforms, although the jury is still out on whether such platforms can help consumers with complex life insurance needs.
Add several other factors to the mix and the conclusion for agents is obvious: the life insurance sales opportunity is tremendous. For example, according to LIMRA . . .
Almost half (45 percent) of U.S. households say they're likely to buy life insurance in the next 12 months, an 80 percent increase from 2010.
More than one-third (35 percent) of married couples with dependent children want to speak with a financial professional about their life insurance needs.
Current life insurance customers of all ages and income levels say they want to review their coverage needs annually.
And the majority of households say they were more likely to buy if a trusted financial professional provided advice on the purchase (56 percent).
Based on the above data, how would you assess your future life insurance sales opportunities? Are you discussing this important need with prospects on a regular basis? Are you revisiting current clients to make sure their needs haven't changed? Are you staying on top of new-product developments that better meet the needs of today's customers?
If not, your opportunity to render an important service and to be rewarded handsomely for doing so, are immense. Good luck!
Sources: