Insurance Agent Interests
07/18/2019
The Stress Impact on Financial Professionals
By Harry J. Lew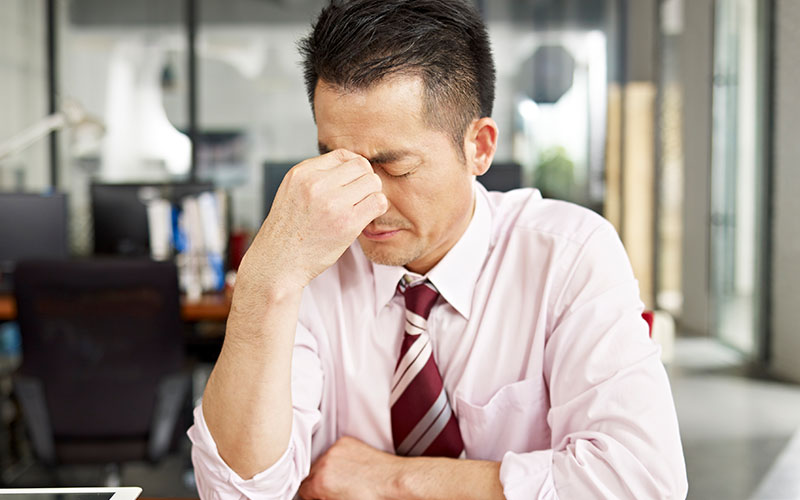 It's impossible to avoid stress in everyday life. It's even more difficult if you're a financial professional. Given the ubiquity of stress, it's crucial to manage it so you can remain productive at work.
Unless you're living in a dark, padded room, it's impossible to avoid stress in everyday life. It's even more difficult if you're an insurance agent, investment advisor, or related financial professional. Given the ubiquity of stress, it's crucial to find ways to better manage it so you can remain productive at work. Enter The War on Stress, a new report from the Financial Planning Association (FPA), Janus Henderson Investors, and Investopedia.
The report confirms what most agents and advisors already know. Working in insurance and/or financial services can be highly stressful. According to the study, released in May 2019, 71 percent of agents and advisors reported having moderate or high levels of stress. This compares with 63 percent of the investors surveyed.
What's more, the survey revealed that 28 percent and 44 percent of financial professionals said they were more stressed than they were a year ago or five years ago, respectively. Both figures were lower than what investors reported (22 percent and 34 percent).
The study raises red flags for advisors and financial-product firms. It shows that negative stress (compared with normal motivating stress) is a significant issue that affects agent and advisor health, their ability to make effective decisions, and the progress they make toward their goals.
"Stress is a factor that will never be completely eradicated from our lives, but we certainly can and should take the necessary steps to cope with it personally and professionally," says 2019 FPA President Evelyn Zohlen, CFP®. "As a financial advisor who operates a financial planning practice, I personally cope with stress and the impact it has on me and my business, but I also see the impact stress has on my clients―especially stress caused by financial concerns. This research highlights the importance of our work as advisors as we help our clients address that stress while also taking the necessary steps to overcome stress in our personal lives."
"Every day in our work with advisors, we see how stress permeated their personal and professional lives," adds Michael Futterman, head of Janus Henderson Knowledge Labs. "We have found that increased stress is getting in the way of advisors doing what they do best: taking care of their clients."
Joetta Gobell, vice president of research and insights at Dotdash, parent company of Investopedia, concurs. "Chronic stress impacts risk-based decision-making, impairing complex, flexible reasoning, and pushing us toward more rigid and habit based actions. For both financial advisors and investors, this kind of cognitive impact can potentially lead to sub-optimal decisions around investing that unfortunately only further compound or extend the stress."
The impact of stress
As an insurance agent, you're probably nodding your head now in agreement, especially if you've ever worked a Medicare annual enrollment. Agents and advisors in the study spoke of the aftermath of experiencing high stress for long periods:
Lower motivation
Tough time making decisions
Being distracted
Feeling irritable
Unable to focus
Trouble sleeping
Eating unhealthy food
Gaining weight
And as they discussed stress, they used charged language suggesting its burden was heavy, upsetting, and debilitating. For example, here's how some financial professionals described coping with stress:
" Causes me to sometimes not think things through clearly enough and therefore make less informed or intelligent decisions/choices."
"Affects me physically and mentally, including procrastination, 'analysis paralysis,' and overwhelming feelings."
"I don't sleep, and that causes me to exercise less and (have) thoughts (that) are not as sharp."
"Negative stress causes me to make irrational decisions about finances and block out my family and fun."
"Prevents me from moving forward . . . with the inability to do anything (to) overcome my challenges."
With reactions such as these, it's not surprising financial professionals in the study believed stress has a substantial impact on them. Specifically, many said the effect was great in multiple life areas. For example, here are the percentages of respondents who said stress had either a moderate or significant impact on a specific life domain:
Mood: 62 percent
Health: 56 percent
Personal relationships: 55 percent
Success: 48 percent
Work relationships: 40 percent
Knowing that agents and advisors are stressed out and knowing why are two separate issues. The War on Stress report reveals that the top three drivers of financial professional stress were:
Personal health
Personal financial situation
Personal fulfillment in their work
Other factors included:
Whether their business was growing
The quality of client experience being delivered
Health of family and friends
Profitability of their business
The quality of their work team
Goals and stress
Perhaps even more significant is agent or advisor ability to achieve their professional goals. Highly stressed respondents were much less likely to have accomplished their key goals. For example, only 17 percent of them hit their asset growth target; 21 percent, their revenue target; and 19 percent, their goal for average assets under management (AUM). This compares with the percentages of low-stress professionals who accomplished those targets: 24 percent, 35 percent, and 29 percent, respectively. Clearly, when you're carrying a high burden of stress, it becomes harder to focus on and achieve your goals. This exacerbates your stress, producing a nasty self-reinforcing process.
Maintaining a reasonable balance between work and life is also a stress factor, with 65 percent of financial professionals saying it's either somewhat or very stressful. Marketing and business development was challenging, as well, with 56 percent finding it either somewhat or very stressful. Effectively managing client relationships and meeting their expectations was just a couple points less stressful at 53 percent.
Analyzing the causes of agent/advisor stress is helpful, and The War on Stress report does that in spades. However, finding ways to reduce stress is where the rubber meets the road. The study sponsors recommend five action strategies:
Take stock: Try to evaluate the amount of stress in your professional life and come to grips with its consequences. Unless you come to terms with stress, you will forever be its captive.
Embrace stress-reduction solutions: Experiment with techniques that can lower your stress levels such as prioritizing tasks, exercising more, doing yoga, taking more small breaks, meditating, and writing or journaling. But you have to stick with them for a while to determine their effectiveness.
Get help: Don't labor alone with toxic stress. Reach out to colleagues, friends, family, and mental-health professionals to get support as you work to reduce it.
Manage your neurological responses: Psychological studies have shown that people facing a perceived social threat are less able to think rationally and respond productively. Meditation can help to short circuit one's threat responses.
Take breaks from stress: Don't battle stress incessantly. It will wear you down and out. Instead, inject stress breaks such as exercising, socializing, relaxing, and standing up instead of sitting for hours on end. By withdrawing from stress, you'll give you body and mind a chance to recover and replenish its resources for your next high-stress episode.
Finally, as you try to learn more about your own personal stress levels and to adopt coping mechanisms, don't forget to focus only on things you control. John Anderson, managing director of Practice Management Solutions for the SEI Advisor Network, reminds agents and advisors they don't control . . .
Markets or the economy.
Political announcements such as tariffs that can spark big swings in the market or when large companies adjust their forward earnings projections.
Who will be the next president of the United States and what that person will do in terms of regulations and policies?
But Anderson says they can:
Craft their own business plans and set realistic goals. This means knowing your key deliverables, what your clients want, how you plan to grow, and what specific actions you'll take to produce that growth.
Define a niche for their firm, along with a unique value proposition that can inform their marketing and sales strategies.
Outsource non-core client services to skilled third parties, allowing them to focus on true value-added services.
Develop their own personal financial plan, which will likely reduce stress just as it does with clients.
Revisit their technology resources, weeding out those that have failed to improve application integration.
"I'm not suggesting the environment will get any easier or that outside influences will lower advisors' stress level," says SEI Advisor Network's John Anderson. "But I do think that controlling the internal symptoms of stress can only help. Controlling what you can control is a great start."
Nurture your health
So is doing a better job of nurturing basic health, says Dr. Jack Singer, psychologist and author of the Financial Advisor's Ultimate Stress Mastery Guide."  He cites The Mayo Clinic's guidelines for maintaining one's energy and immune system. The clinic prescribes . . .
10 to 20 minutes of daily reflection
Half an hour of exercise
At least seven hours sleep
A balanced diet that includes vegetables, fruit, and whole grains
Singer says that once you have these basics covered, you can delve more deeply into understanding and managing your own stress. A key part of this is trying not to talk negatively to your self—i.e., not over-reacting to temporary setbacks or blaming yourself for honest mistakes. Instead, practice the American Heart Association's positive self-talk techniques. Here are some examples of "reframing":
Don't say: "I can't do this."
Say: "I'll do the best I can."
Don't say: "Everything is going wrong."
Say: "I can handle this if I take one step at a time."
Don't say: "I hate it when this happens."
Say: "I know how to deal with this; I've done it before."
Don't say: "I feel helpless and alone."
Say: "I can reach out and get help if I need it."
Don't say: "I can't believe I screwed up."
Say: "I'm human, and we all make mistakes. I can fix it."
Finally, at the end of the day, The War on Stress report challenges agents and advisors to tackle the challenge of reducing stress before stress reduces them. "Whether it's how you plan your day, construct your life, or react to events around you, never forget that you are in control," the report concludes. "Begin developing a strategy for maintaining a healthy balance today."