Insurance Agent Interests
04/20/2021
Top Risks Agents Face and How to Mitigate Them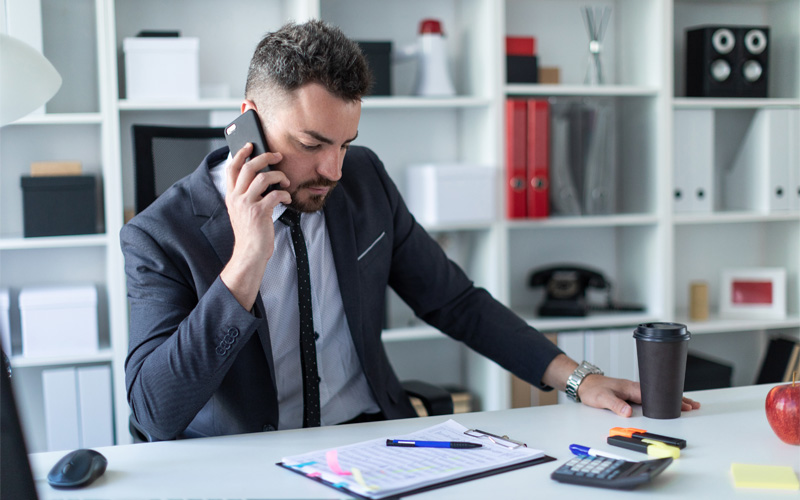 Disappointed clients often look to the legal system for relief. Fortunately, as an agent or broker, you can mitigate your risks through E&O insurance and sound business practices.
In life, when expectations don't sync with reality, problems often ensue. This is especially true in the world of insurance. For instance, when insureds don't receive a benefit they thought they purchased, the gap between what they expected and what they received can spark frustration, anger and a desire for revenge.
Even more upsetting is when they have insurance coverage, but their insurer denies their claim for some reason. In these and other scenarios, agents and/or brokers may bear the brunt of their clients' frustration, becoming litigation targets.
What are the odds you'll get sued at some point in your career? Insurance agent or broker liability is normally framed quite narrowly (more on this later). But if you're unlucky enough to get sued and lose your case, the financial impact can be devastating. For this reason, going without E&O insurance is ill-advised.
What's more, even though state insurance law makes it challenging for clients to allege malpractice against insurance producers, you still have to defend yourself against every lawsuit filed against you, even nuisance allegations. That can be expensive if you don't have E&O insurance to pay for a defense attorney.
Agent Risks vs. Broker Risks
Your liability risks will depend on which hat you wear when working in a sales capacity: agent or broker.
Insurance agents, as the name suggests, act on behalf of the insurers they represent. They collect information from prospects and then match an apparent need with an appropriate insurance product from their employer's portfolio. As a carrier representative, agents can bind their company to provide insurance to a consumer.  They also can work with multiple insurers. But again, they represent the companies, not the consumers in the transaction.
Unlike agents, Insurance brokers represent consumers in their search for suitable insurance protection. They may have appointments with different carriers, but they work for their clients, not for the companies. In addition, their actions do not bind coverage to their carriers and are not imputed to their firms.
So what are the risks borne by insurance agents and brokers, respectively? According to Scott C. Glovsky, a Pasadena, California trial attorney, insurance agents will normally not be held liable for negligence in discharging their duties on behalf of their insurance employers. That's because their exposure flows upstream to the carrier, which bears responsibility for their agents' marketplace conduct. So if you're an exclusive agent for Farmer's or State Farm, among other companies, you can breathe a small sigh of relief.
Moreover, insurance agents aren't liable for failing to advise their clients to buy the right type or amount of insurance. Legal experts call this the "order-taker standard." Aaron M. Simon, an attorney with Meagher & Geer, PLLP, in Minneapolis, Minnesota, describes it this way:
"An insurance agent owes clients a duty of reasonable care and diligence. But absent a special relationship, that duty does not include an affirmative, continuing obligation to inform or advise an insured regarding the availability or sufficiency of insurance coverage...(Furthermore), insurance agents...are not personal financial counselors and risk managers, approaching guarantor status...It is well settled that agents have no continuing duty to advise, guide or direct a client to obtain additional coverage."
Now, this doesn't mean if you're an insurance agent, you have carte blanche to do whatever you like. According to Glovsky, agents can be held personally liable if they:
Misrepresent the nature, extent or scope of the products they offer
Fail to disclose material information about the insurance coverage a client requests
Fail to provide the insurance a client explicitly requested
Represent themselves as having expertise in a specific insurance risk or product, thereby bearing a "special duty" to the insured
Glovsky goes on to explain that insurance broker liability is similar to agent liability. Brokers will have liability exposure when:
They misrepresent the nature, extent or scope of insurance protection
They fail to obtain the insurance coverage their clients specifically requested
They presented themselves as an expert in a certain type of insurance risk or product
They reduce coverage limits without their clients' permission
As with insurance agents, brokers aren't liable for not recommending adequate coverage, since their clients will normally be assumed to have a better understanding of their insurance needs than their brokers do. Also, brokers can't be held liable for not notifying their customers when their policies terminate. "A broker's duties only relate to the procurement of insurance, not the termination (of it)," says Glovsky.
A key difference between insurance agents and brokers is that the latter's actions can't be imputed to an insurance company. Since they are not agents of insurers, they fully "own" their negligence, lacking the ability to "kick it upstairs" to their employer.
Four Litigation Scenarios
Given the distinctions between insurance agents and brokers, what are the most likely litigation scenarios you face? According to Michael L. Cohen and Heather M. McKeon, principals at Cohen McKeon, LLP, in Los Angeles, California, there are four common ones:
Clients give their brokers a check to pay for their insurance premium. The brokers never remit it to the insurer.
Clients request coverage, but brokers fail to respond.
Clients select brokers based on them holding themselves out as experts in a certain type of insurance or market segment. They request coverage from the brokers, who then fail to provide it.
Clients successfully buy the insurance their brokers recommended. But when a loss occurs, they discover their policy fails to completely cover the full scope of the loss.
Cohen and McKeon say the first and second scenarios are clear examples of broker negligence. The fourth one will probably not result in strong cases against brokers, as most jurisdictions will find that policyholders responsible for choosing the amount of insurance they need. The third situation will likely generate the most negligence lawsuits. "These cases turn on whether the plaintiff's attorney can develop the evidence necessary to establish that the broker had a duty to procure insurance the insured had not specifically requested," Cohen and McKeon note.
The attorneys reiterate that insurance brokers have only limited duties to their clients—i.e., the duty to exercise reasonable care in securing the consumer's desired insurance protection. However, in three cases, courts will sometimes treat brokers as more than just order takers:
When they misrepresent the insurance being provided
When they assume additional duties by express agreement with the insured or by holding themselves out as having special expertise
When they have a long-term relationship with a client
Enter Insurance Agent E&O Insurance
Even though courts often view insurance agents and brokers as order takers, it's common for their behavior during the sales process and afterward to nudge them into a higher standard of care. In such cases, if their mistakes harm a client, resulting in litigation, it will be crucial to have E&O insurance to cover their legal costs.
What is E&O insurance? It's an agreement between you and an insurance company in which the insurer agrees to cover your professional liability claim costs in return for you paying an insurance premium. If you get into a client dispute and get sued, the insurer will cover your legal expenses, preserving your business and personal assets.
How does E&O insurance work? It will cover you in case you make a mistake or forget to do something important that financially harms a client. Based on the policy's insuring clause, the insurer will:
Provide you with a vetted defense attorney at no expense to you
Assign an E&O claims adjuster to investigate your case and manage the process of resolving your claim
Pay for your attorney's retainer fee and administrative expenses related to your case
Pay for expert witness to strengthen your legal defense
Cover arbitration, mediation or other alternative dispute resolution services
Pay for court administrative expenses
Against what types of losses does an E&O insurance policy safeguard you? The possibilities are endless, but here are some of the major ones:
For life and health agents, possible claims you will be protected for include:
Failing to provide insurance
Not explaining product features and benefits effectively, resulting in misplaced expectations
Making an administrative error that costs a client money
Failing to make a requested policy change correctly or on time
Not correctly calculating a policy premium
For P&C insurance agents, common allegations include:
Not carefully explaining policy provisions
Failing to adequately identify risk exposures
Failing to recommend needed insurance coverage
Communicating inaccurate or incomplete client information to an insurer
Failing to provide timely notice of a claim
Preventing E&O Lawsuits is Your Best Policy
Despite the limited legal care standard for insurance agents and brokers, it's still possible to get sued under the theory that you developed a special relationship with your client. Having E&O insurance will be essential in such cases. An even better route is not getting sued in the first place. Here are some useful risk-mitigation strategies that will hopefully keep you out of court:
Use checklists to discuss risks to mitigate with insurance
Explain policy declarations pages to clients – then have them sign and date those pages
Conduct periodic needs assessments with all clients
Use agency-management and customer-relationship-management (CRM) software to document and track all policy changes and client conversations and meetings
Confirm all coverage decisions in writing
Ask clients periodically to review their policies and to advise you of needed changes and document this request in writing
Identify potentially litigious clients and take steps to provide extra education and communications to nip problems in the bud
In short, having insurance and doing business defensively will be a robust defense against client litigation. Whatever your insurance license, the possibility of getting sued is ever present. Transferring the financial impact of these risks to an insurer will preserve your assets, greatly reduce stress and help you sleep well at night.
Having E&O insurance is an essential element of an insurance agent or broker risk-management program. 360 Coverage Pros offers Errors and Omissions (E&O) insurance programs for insurance agents and agencies. Coverage is available for as low as $27.42 per month. To learn more, visit our website.