Investment Advisor Interests
10/13/2022
Convert Prospects to Clients with Your RIA Business's Website
By Jon Talamas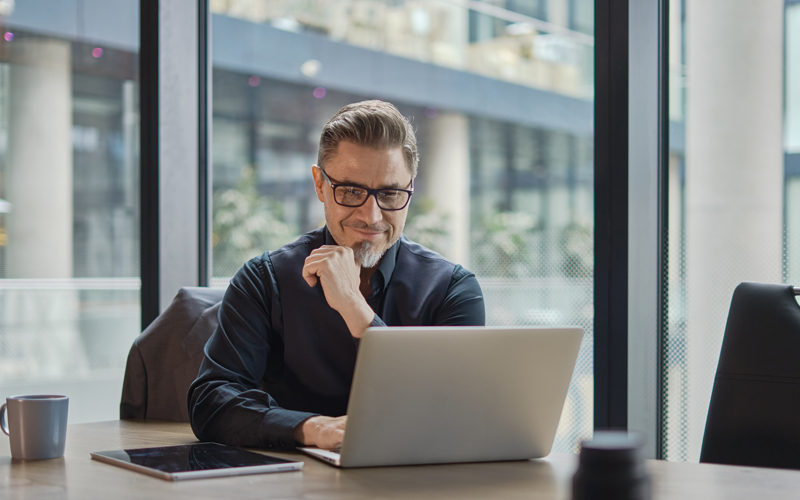 Is your website converting prospects into clients? If not, this article is for you.
Websites in the registered investment advisor (RIA) business are no longer just a cool tech toy. They have become essential engines for business growth. Is your firm's website attracting prospects and converting them into clients? If not, read on for tips to jumpstart its performance.
Envision Your Website Results
Your RIA website is an opportunity engine. It should attract the people you'd like to do business with, build trust and spark engagement. It will ultimately help to transform their mild interest into profitable long-term relationships.
That's a lot of work for one marketing tool to achieve. But, if you design your website correctly, it will deliver new clients and higher revenue and profits. Let's be clear: Reaching those objectives can take months, if not years, of hard work. If you stick with it and make the right choices, your website will likely become the most effective resource in your business development toolkit.
Where to start? By breaking website enhancements into three phases:
Creating a basic site
Evolving a midlevel site
Showcasing a high-end site
Let's take a closer look at each.
Creating a Basic Website
Don't try to create a high-end website all at once. Start by creating a basic one first. Make sure it reflects well on your firm, but expect that it may adapt in the future. This is essential since 98% of prospects say an RIA website is a somewhat or very important factor in selecting an investment advisor.
From a marketing standpoint, your first contact with a prospect is about creating a positive first impression. What creates it?
A web design that communicates strength, dependability and quality
A description of your value proposition (who you are, what you do, for whom you do it and why)
Full transparency regarding where you're located and how prospects should contact you
An explanation of your ideal client (or clients)
Your compensation approach
A helpful FAQ page
A quick-loading site
A menu structure that facilitates site navigation
A contact page
A basic site must also lay the groundwork for long-term trust-building. You don't want anything on it— design, graphics or words— to lead prospects to question your professionalism or ethics. This means it's important to avoid high-pressure sales language, false claims, spelling and grammar mistakes, antique web designs and garish graphics and colors. Understand that building trust takes time, but destroying trust takes just a few seconds or minutes.
If your starter site achieves these objectives, you're ready to advance to a more robust site.
Building a Midlevel Site
A basic site is a defensive site. It tries to initiate prospect relationships without giving people any reason to flee your home page. A midlevel site is where you go on offense to build prospect engagement.
The first thing you should do is provide full transparency into your fee structure. Prospects want their advisors to be people of integrity. This starts by being open about what you do, including how you charge for your services. Posting details about your billing methods and fee levels is essential for building long-term trust.
Another feature of a midlevel site is rich content. This content shouldn't be about you per se but rather should feature your insights about investment planning and portfolio management. Through content marketing or thought-leadership publishing, this information gives prospects a taste of the expertise you'd give them if they were paying clients.
There are two main ways to implement content marketing on an RIA website:
Develop a blog and publish self-authored articles that deal with timely investment, financial planning or other money topics. Post the full article on your blog and highlight a brief snippet on your social media accounts, which link back to the blog on your website.
Film and publish short videos. The marketing objective here is identical to blogging, except you now deal with moving images and audio. Since investment topics can be hard for prospects and clients to understand, explaining them on video— with charts, graphs, flipcharts or other educational tools— gets great traction. Your videos can live on YouTube, Vimeo and TikTok, but you can link to them from your blog and social media accounts.
Additionally, hosting unique, self-published content on your website will increase your search engine optimization (SEO)— the key to attracting new prospects to your website via organic search ("Googling"). The basic premise of SEO is that the more relevant, searchable text available on your website, the higher your search ranking will be. Therefore, it is more likely someone will come across your website early in their research process.
Credibility doesn't just come from the design and content of your site. It also comes from the people and organizations you have relationships with and what others have said about you. Displaying logos from your professional groups or credential badges is an excellent way to grow trust. So is publishing client testimonials, which has become less problematic from a compliance perspective in recent years.
Educating your clients while simultaneously promoting your credibility will greatly increase what prospects know about you and encourage them to reach out to you with questions or for an appointment.
Finally, a midlevel site will have more calls to action (CTA). This will allow you to capture prospect information to "drip" emails on them, each ending with a strong CTA.
Building a High-End Site
High-end sites make great use of "content magnets." These are longer content assets that provide invaluable prospect/client education, so valuable that people will give up their personal information to receive a copy. Think white papers and planning guides. Once prospects have requested a content magnet, they should receive special marketing attention to convert them to an initial advisor meeting.
High-end sites also conduct much more content marketing by segmenting content by prospect/client type and publishing content that solves prospect information needs based on where they are in their customer journey.
All being said, your advanced site should not be too content-heavy or complex to use. Nor should it thump its chest to attract prospect attention. Instead, it should deliver the goods for everyone visiting your site, converting dubious "tire kickers" into booked appointments on a 24/7 basis.
Are you ready to begin your journey to having a high-end website that converts prospects into clients while you sleep? Then you'd better learn more about RIA marketing and the conversion process.
Paying too much for your RIA errors and omissions (E&O) insurance? Then compare your current policy with those available from 360 Coverage Pros. Our affordable E&O insurance for RIAs, investment advisor representatives (IARs) and financial planners starts at $141.75 per month.