Investment Advisor Interests
02/03/2022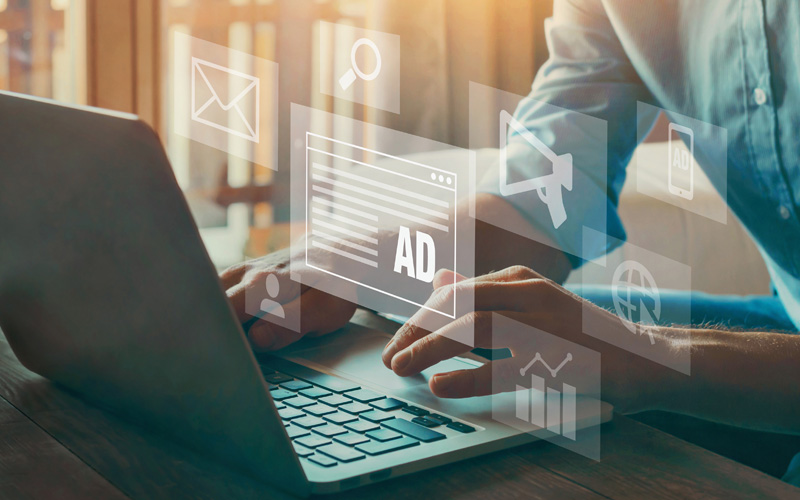 Are you looking to grow your RIA firm's client base? Then make sure you're taking full advantage of digital marketing techniques, along with the traditional method of asking for referrals.
Registered investment advisors (RIAs) typically grow through some combination of advertising, direct mail and cold calls. But these methods can be time-consuming and hard to measure.
Today, digital marketing has transformed the task of growing an RIA business.
The Lure of Traditional Marketing
Maintaining the status quo is seductive. It keeps you in your comfort zone and doesn't require new investments. It also works - to a degree. Today, many RIAs still make cold calls and ask for referrals. They also commonly expand their firms through acquisition and outbound marketing techniques—i.e., interruptive, transactional methods such as direct mail and advertising.
Even though traditional marketing is familiar and easily executed, it fails to leverage synergies or harness the power of the internet. Is there a better way? Experts suggest adopting a mix of approaches, including transactional (outbound marketing), expertise-driven (inbound using content magnets), and relational (harvesting personal relationships, primarily through referral marketing).
Over time, a contemporary RIA firm should consider downplaying transactional marketing and increasing its expertise and relational tactics. As digital marketing gains traction, it might make sense to move exclusively to relational and digital techniques.
Get Ready for Digital
However, you can't just dive into digital. You have to prepare your business first by achieving six key milestones:
Understand your client base
Define your client personas
Craft your value proposition
Create a marketing plan
Establish a digital foundation
Build engagement
Fully understand your client base: Understand the composition of your current book of business. This involves knowing its demographics (age, marital status, employment situation, children, and more), the nature of your client relationships (assets under management, services used and communication preferences) and their future financial needs. Also, describe your Tier 1 client—someone who fits your ideal customer profile.
Define your client personas: In addition to demographics, determine how your target clients think and behave. Discover things like family life, career, hobbies and interests, financial fears and concerns, and what type of financial advisor they'd like to work with.
Craft your value proposition: Once you understand your client base and have prospect personas figured out, develop (or refine) your value proposition. This value proposition is a statement of what you do, for whom and how; framed to highlight what distinguishes you from other RIAs. It also describes how your work benefits clients. Unless you document your value proposition, it will be difficult to ramp up your digital marketing since it will be impossible to target your efforts at specific market segments.
Create a digital marketing plan: As a subset of your overall marketing plan, it should define the market segments you'd like to target, the digital methods you plan to use, the timing of your efforts and how you'll evaluate results. Fortunately, one of the advantages of digital marketing is that it allows for precise measurement. After a few weeks or months, you'll be able to determine who's responding to which tactic and to what degree.
Establish a digital foundation: The two pillars of digital marketing are your firm's website and social media accounts. Most RIAs already have those resources in place. If you don't, launch them as soon as possible. If you already have them, make sure they target your current and desired clients and powerfully convey your value proposition.
Build engagement: With a digital foundation in place, you're now ready to begin building client and prospect engagement (see next section). The critical success factor is getting people to click on and respond to your social media posts, request and read educational content on your website, and volunteer information about themselves to share content resources with them going forward.
Building engagement is all about driving web traffic to your website. There are four main ways to do this:
By direct visits (Users enter your website address into their browser.)
Create links to and from your site and other 3rd party sites that feature your content.
Search engine positions, that is, users type your firm's name or your name into a search engine such as Google and then click the resulting link to visit your website.
Online advertising
The four traffic-building strategies just mentioned are also known as direct, referred, organic, or paid lead generation, respectively.
With a strong foundation in place, you'll be ready to execute the six major digital marketing strategies RIAs use today. Using them will give a strong shot in the arm to your firm's expansion effort.
Websites
Social media
Content marketing
Search engine optimization (SEO)
Online advertising
Email
Websites
Your website is the core—the hub—of your digital marketing effort. It's where prospects research your firm and decide whether they want to speak with you in person. Thus, your website must be on brand, appear professional and showcase your expertise.
After spending a few minutes on your site, prospects should know what you do, what makes you unique and how you can help them. They should also have several opportunities to sample your investment-management insights by reading or downloading articles or white papers.
To build an effective website, consider adopting these best practices:
Tell your story clearly and succinctly.
Fully describe what clients experience at your firm.
Provide convenient and straightforward site navigation.
Give visitors multiple ways to engage with your content.
In addition to these practices, ensure that your website provides the following to your prospects and clients:
Current information, with new posts uploaded every week or two or sooner.
Frequent reminders of your social media accounts and links to access them.
The ability to ask questions and make an appointment with you online.
Social Media
If your website is your digital marketing hub, your social media accounts are your spokes. Having multiple accounts linked to your website will generate opportunities to notify prospects and clients about your new content and entice them to your website where they can read it or engage with you in other ways.
Here are some best practices for effectively deploying social media in digital marketing:
Join the right social media platforms based on your target market's social media usage and your preferences.
Craft a social-media profile for each account that describes your value proposition and shares contact information for interested readers.
Integrate your firm's branding, tagline and banner image on all social media accounts.
Develop a social media strategy, which involves committing to a posting frequency, content tone, and consistent format.
Post relevant educational content, not just self-promotional information.
Use relevant keywords and your firm's URLs in posts to increase your visibility online.
Post at least weekly, preferably more often.
Encourage visitor engagement and respond quickly to people's comments and questions.
Use graphics and photos to make your posts more appealing.
Content Marketing
Content marketing is the creation and dissemination of digital assets that inform prospects and encourage them to interact with you. Excellent content marketing hinges on having a well-developed content marketing strategy. It should detail the following elements:
The information your prospects and clients need and want
The topics you plan to write about
How you plan to format and deliver this information
How you'll use the content as an incentive for prospects to upload their contact information or to request a meeting
Once you have a content marketing plan, the challenge becomes creating high-quality content assets that perform strongly. To achieve that benchmark, your content should:
Align with your firm's marketing objectives
Provide significant value to your prospects and clients
Spark customer engagement
Articulate your point of view
To hit these targets, be sure to:
Publish content frequently
Use professional graphics
Analyze engagement metrics to assess current content and to generate ideas for future content enhancements
Use the same content in different ways and on other platforms to maximize its impact
Search Engine Optimization (SEO)
SEO is everything you do to ensure your firm appears at the top of a search engine results page. The higher up it appears, the more web traffic you'll get. The more traffic you get, the more new clients you'll be able to attract.
Having said this, SEO is a technical discipline that is usually best left to the experts. However, here are some general best practices to get you started:
Use strong headlines and copy that accurately describe your business.
Integrate strategic keywords that reflect the searcher's intentions.
Use long keyword phrases to appeal to people with detailed, non-generic searches.
Use primary keywords in page meta-titles, as well as in page headings and body copy.
Include appropriate titles, captions and descriptions in your page metadata.
Online Advertising
Online ads feature a high degree of customer interactivity and allow you to target highly narrow market segments. It also depends on the ability to assess results. They are more cost-effective than traditional offline ads and are suitable for cross-platform promotions.
As with the other techniques mentioned so far, you should adhere to best practices to leverage online advertising fully. Here are some of them:
Advertise where your prospects are likely to spend time online
Time your ad to coincide with when your prospects are online
Test message versions against each other
Respond quickly to leads that emerge after running an online ad
Evaluate key metrics to determine if your online ads are successful: traffic, time spent on the page, pages viewed, number of impressions, and number of leads captured
Email Marketing
Email is an evergreen marketing tactic. That's because it's cost-effective, flexible and versatile.
Best practices for email promotions include:
Send prospects email content they want to read
Time your messages to when they'll likely want to engage with them
Create content prospects will want to share
Use strong calls to action in your content
Personalize your emails with prospect/client names
Don't send too many emails in a given time frame
Track your email metrics: deliverability, open rates, click-through rates, conversion rates, bounce rates, list growth rates and unsubscribe rates
Use an enticing subject line to increase the open rate
Keep Asking for Referrals
Although RIAs have come to rely on digital marketing to expand their firms, they haven't abandoned asking for referrals. Research indicates that advisors use referrals more often than any other online or offline expansion strategy. Following closely behind is prospecting through centers of influence, referral marketing with a twist.
Not only is referral marketing highly popular with RIAs, but it's also practical and involves no material cash outlay. So, if you're looking to grow your RIA firm's client base, go digital, but also optimize your referral-generation activities by incentivizing your clients and networking contacts to provide leads. The best way to do that is to communicate regularly with them. You also want to meet with clients in the office or remotely to stay on top of their evolving investment and service needs. In other words, the stronger your relationships with customers are, the more referrals you'll be able to generate through them.
E&O: Essential for growing RIA firms
After you complete the online and offline marketing steps just discussed, you'll be on your way to growing your RIA business. But there's one more crucial step: buying errors and omissions (E&O) insurance (or updating your existing coverage). Without E&O insurance, you'll leave yourself unprotected against client lawsuits. This is unwise, especially during the early years of a growing RIA when cash may be tight and liability risks run high due to rapid business expansion.
If you're planning to expand your business, mitigating your E&O risks should be a high priority. With so many marketing challenges ahead, the last thing you'll want is an uninsured E&O settlement or judgment flattening your growth curve.
Are you paying too much for your RIA E&O insurance? Then compare your current policy with those available from 360 Coverage Pros. Our insurance for RIAs, investment advisor representatives, registered representatives and financial planners starts at $141.75 per month. To learn more, visit our website.