Investment Advisor Interests
10/05/2017
Third Party RIA Audits Bite Dust at SEC
By Harry J. Lew
In a further indication of the Trump Administration's regulatory philosophy, the Securities and Exchange Commission (SEC) has opted to shelve its controversial third-party advisor audit proposal, according to ThinkAdvisor magazine.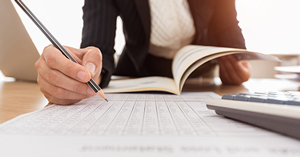 The proposal, which was promoted by Mary Jo White, the former SEC Chairwoman, was designed to increase the number of RIAs audited above the current 10 percent figure. David Grim, head of the agency's Division of Investment Management, which was charged with implementing a third-party rule, has reportedly announced his departure from the agency.
Not surprisingly, Karen Barr, president and CEO of the Investment Advisor Association, told ThinkAdvisor that the SEC had already made great progress upping the examination rate. In fact, over the past year, the SEC transferred 100 staff from the unit responsible for broker-dealer exams to the one that does advisor exams. SEC Chairman Jay Clayton has also said he's looking to increase the advisor exam rate by an additional 5 percent in 2018.
The latest move comes despite White's urging the next SEC chair and commission to advance the rule, which would have allowed for "independent compliance reviews" as a complement to traditional SEC exams.
Joining the third-party audit rule as a former agenda item is the development of an SEC-sponsored fiduciary rule, on which the current chairman had said he wanted to collaborate with the Department of Labor, stress tests for large investment advisors, and target date fund disclosure updates.
RIAs wishing to review the SEC's current regulatory agenda should go here.
Sources: