Ten Ways Lawyer Malpractice Insurance Adds Value
---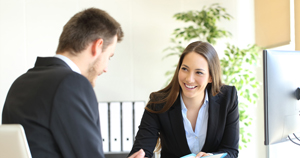 As an attorney, you know how damaging malpractice litigation can be. Depending on the scope of a case, the personal, financial, and reputational costs to the losing party can be immense. However, lawyers sometimes assume getting sued for malpractice only happens to other people, that somehow attorneys are immune because they know more about the law. Wrong!
The truth is, lawyers are subject to the same level of risk that professionals in other industries are. It's just that they sometimes downplay those risks because they think they're too smart to get sued.  Do you underestimate your malpractice exposure? Have you taken appropriate steps to mitigate those risks with malpractice insurance? If not, read on to learn about the 10 ways malpractice insurance can add value to your business.
The first way it adds value relates to your firm's finances. That's because the most important benefit of malpractice insurance is mitigating the financial risk of getting sued. With insurance in force, you can relax knowing your insurer will cover your legal fees, court costs, and legal judgments should you lose your case, while preserving your business and personal assets.
A second value of malpractice insurance is access to third-party expertise and advice. Yes, you are an lawyer yourself. But if you don't practice in the professional liability arena yet insist on handling your own malpractice case, you may harm your cause more than help it. Having objective, skilled third parties—an experienced malpractice claims adjuster and an insurer-appointed attorney—in your corner to defend your interests is invaluable in today's high-stakes business environment.
A third value of malpractice insurance is having an attorney on board to quarterback your case. In other words, without someone to run it, it's easy to imagine your case languishing for months or even years in the judicial system. The longer it persists unresolved, the potentially messier and more expensive it can get. However, with a professional malpractice attorney working on your behalf, you are more likely to receive a prompt and reasonable disposition of your case.
A fourth benefit to your business of having malpractice insurance is being able to tap into your insurer's risk-management resources. Most insurers provide robust educational content in the form of websites, newsletters, webinars, and the like to help you maintain low-risk business practices. Because your insurer has likely processed thousands of lawyer malpractice claims, it knows which risk-reduction practices are most effective and can help you adhere to them. Reviewing your insurer's educational resources might well be your most powerful de-risking strategy.
A fifth value of having malpractice insurance is having someone in your corner to evaluate and dispose of nuisance lawsuits. All attorneys have seen their fair share of bogus claims. And they know how time consuming it can be to evaluate and hopefully quickly dispense with such matters. By effectively "delegating" these cases to your insurer-appointed attorney, you will be able to apply yourself to more productive job activities.
A sixth value is protecting your professional reputation. Think about it. If you try to represent yourself along with working all your other cases, it's likely that progress will slow on all your work. That being the case, the longer your malpractice litigation persists, the greater the possible damage to your reputation. Ideally, putting such matters to bed quickly is the optimal way to limit the damage. Having an insurer-appointed lawyer running your case will be the quickest path to resolving it with minimal reputational blowback.
Clearly, as we've just seen, the total value to your business of having lawyer malpractice insurance is considerable. But the business frame isn't the only one through which to consider malpractice insurance. Another—seventh in our list—is the external environment. Here we're talking about things like cyber-breaches, the economy, the political climate, and technology. As with other industries, law firms have tremendous cyber-exposures because of the volume of sensitive client information stored in their offices and on their computers. If a hacker were to engineer a data breach of your firm, anyone harmed by it might sue you for malpractice for not maintaining adequate network security.
The economy plays a large part, too. As we saw during the 2008 economic meltdown, the more people hurt by an economic downturn, the more will try to recover their financial losses in the courts. Having malpractice insurance gives you greater ability to defend yourself against economic claims that have little or nothing to do with a professional error or omission on your part and everything to do with a bad economy. That's the eighth fundamental value of malpractice insurance.
The ninth lives in the realm of politics. When regulations change and clients suffer deleterious effects, they may blame you for not recommending preventive actions to mitigate the new regulations.
Tenth and finally, the rapid evolution of e-mail and social-media platforms has changed how you communicate with clients. Because there are so many more ways to communicate to many more people, the possibility of divulging confidential information is exponentially greater today. Plus, due to the constant flood of communication, clients may confuse routine messages as legal advice and vice versa, leading to miscommunications and mistakes.
Given all of the threats just discussed, installing an insurance safety net around your firm makes tremendous sense. And it makes even more sense if you work in a high-risk practice area. According to a major insurer's claim study, lawyers who practice in real estate, personal injury (plaintiff), family law, estate, trust, and probate, and collection and bankruptcy were much more likely to get sued than those who worked in legal areas such as corporation/business organization, business transactions/commercial law, worker's compensation, taxation, or labor law, among others.
Similarly, lawyers who work as sole practitioners or in firms of two to five lawyers had a substantial greater malpractice risk than did attorneys who worked in larger settings. For example, according to a recent American Bar Association study, solo and small legal practices accounted for 66.24 percent of all malpractice claims filed against attorneys between 2011 and 2015.
Perhaps the strongest case for having legal malpractice insurance applies when there is a mandate to buy insurance or to disclose its existence to clients. For example, attorneys who are licensed to practice in Oregon are required to carry malpractice insurance. Seven other jurisdictions (including Ohio) require lawyers to disclose to clients if they do not have malpractice insurance. Seventeen other jurisdictions require them to disclose on their state registration documents whether or not they have insurance. The point is, being required to buy malpractice insurance or to disclose that you have (or don't have) it is a powerful incentive to buy insurance.
At the end of the day, the value of malpractice insurance is sufficiently great that it shouldn't take a state regulation to force you to buy it. When you consider the ten value-adds just reviewed, it's rational to conclude that having malpractice insurance protection is not only a sensible, but also an essential element of practicing law today.