Savings & Discounts
Savings from Thousands of Local and National Retailers
360 Coverage Pros customers enjoy complimentary access to our exclusive savings and discounts program. Take advantage of offers from thousands of local and national retailers and save on all the things you love to buy including NFL tickets, Walt Disney World, Costco, Target, movie tickets, hotels, cruises and much more.
Start Saving Now!
Try the New Vacation Planner

Save big on theme park tickets nationwide, including Disneyland, Universal Orlando, and other major destinations through Abenity's Vacation Planner!

Click on the Start Saving Now! button
Click on Perks in the upper right hand corner and select Vacation Planner

Access To Over 100,000 Discounts And More Than $4,500 In Savings Including:

Costco
Firestone
DirecTV
T-Mobile
Dell
Target.com
Bally Total Fitness
Overstock.com
Brooks Brothers
PODS
Olive Garden
Red Lobster
Outback Steakhouse
And much more!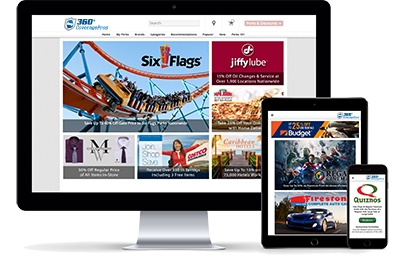 Offers are also available from over 150 national attractions and theme parks including the Walt Disney World® Resort, Universal Studios®, SeaWorld, Cirque du Soleil, and Six Flags! Discount offers are redeemable in-store through printable and mobile coupons, online, and over the phone.
Please note: Benefit offerings change on a frequent basis so please log in to the Abenity website to see current availability.