Professional Mariner Interests
05/19/2020
360 Coverage Pros Bridges Mariner Gaps
By Chris Buseman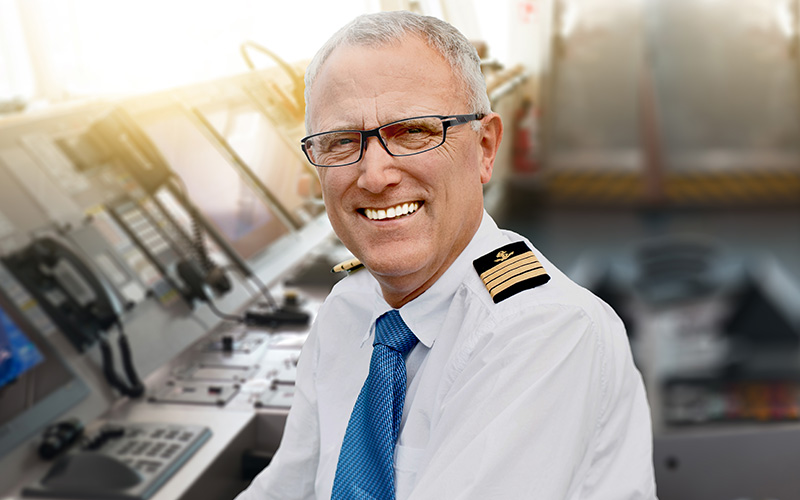 Concerned about potentially losing your mariner license after an accident? Worried about getting sued after making a mistake on the water? It's time to consider Marine License Insurance.
It is no surprise that mariners face a sea of risk every time they report for work. At the forefront of those risks are collisions and allisions, the latter of which accounts for roughly one third of all shipping casualties according to the 2019 U.S. Coast Guard – American Waterways Operators Annual Safety Report. Other common marine navigational exposures include incidents or damage stemming from groundings, vessel maneuvers, towing operations, or fires. Being involved in a shipping casualty can devastate a mariner's career and ultimately their personal finances if they are not properly safeguarded.
Shipping casualties tend to have secondary and even tertiary impacts. Injuries or death to crew members, damage to other vessels, piers and property, or environmental pollution are commonly connected to negligence in the maritime world. During the initial phases of such incidents, it is the U.S. Coast Guard's (USCG) duty to investigate the circumstances which led to causation and/or negligence on behalf of the credentialed mariner(s) involved. During the period of an investigation the USCG can temporarily suspend or lower the grade of a mariner's licensure. If negligence or gross negligence is determined the USCG can then levy fines and penalties and temporarily or permanently suspend a mariner's license as they deem fit. In addition to license implications, the possibility of civil or criminal lawsuits is an added worriment for anyone who operates or maintains a vessel.
With so much on the line, protecting your livelihood, career, and future is more important than ever. One of the best ways to be proactive and safeguard your career is to purchase marine license insurance from an insurer who understands the risks you face.
Robust insurance protection
What should you look for when choosing your marine license insurance? First and foremost it should cover the costs associated with a USCG investigation; this includes but is not limited to attorney's fees and other defense costs along with imposed penalties and fines. This foundational coverage helps to provide peace of mind so that you will not have to pay out of pocket in the event you are involved in a covered incident. In addition to protecting your license and livelihood from USCG investigations, it is important to have the option to shield yourself against allegations arising from civil or criminal charges, and an additional option to pay for liabilities if judgement is made against you.
If your license is suspended during a USCG investigation you will also need an income safety net. Depending on the length of the investigation, license suspensions can be financially debilitating. Marine license insurance provides that safety net through a loss of income option while also supplying a daily subsistence allowance.
In addition to these comprehensive protections, foreign jurisdiction coverage and loss of personal property coverage assist the insured mariner with supplemental coverage considerations.  Foreign jurisdiction coverage protects insureds in the event they become compelled to attend a judicial proceeding as a party or witness arising from an incident outside of the United States or Canada. While coverage for loss of personal property reimburses damaged or loss property from perils aboard vessels.
Traditionally, Marine License Insurance has not been easy to find or purchase. Fortunately, there's a new and contemporary option for this essential protection: 360 Coverage Pros.
360 Coverage Pros is an online insurance platform which provides liability protection to a wide range of business professionals, including mariners. It features online shopping technology that simplifies the process of buying insurance and coverage is underwritten by A.M Best A+ (Superior), Berkley Offshore Underwriting Managers. By combining a seamless application process with strong, stable insurance coverage, 360 Coverage Pros has reshaped how professional mariners will buy insurance from now on.
Developed by mariners, for mariners, 360 Coverage Pro's Marine License Insurance Program launched in November 2019. Its mission: to streamline and enhance the license protection and defense coverage available to mariners. In an industry as complex and dynamic as maritime operations, it is important for an insurance provider to remain flexible, develop and expand with the industry, and provide the coverages needed for the professionals it serves on the front lines. The coverage available through the 360 Coverage Pro's online platform has recently been extended to those who operate under OUPV or 6-pack captain's licenses.
Immediate access to marine license insurance
In the past, mariners were forced to shop for their insurance the old-fashioned way: fill out a lengthy application and wait for an insurance quote before binding coverage and obtaining a certificate of insurance. From the time of application to receipt of the policy, mariners had to wait days or even weeks. The 360 Coverage Pros online platform has bridged the convenience gap by automating the purchase process. Now you can be covered in minutes.
By visiting 360 Coverage Pros, you can benefit from straight-through processing. This means you can complete the application, receive a qoute and bind coverage online in just minutes.
Another advantage of the 360 Coverage Pros approach: underwriting flexibility. If prospective insureds have experienced a minor incident on the water or answered "yes" to one of the application attestation questions they are not immediately disqualified from coverage. At 360 Coverage Pros we believe in second chances and have established a referral process for insureds who may be struggling to find the coverage they need. If a prospective insured has questions, 360 Coverage Pros has a dedicated account management team and fully licensed customer support team which can be reached over the phone (866-807-3822) or online via chat. You can even set up a consultation and speak with an insurance advisor if you wish.
360 Coverage Pros also has marine license insurance solutions for larger marine companies, fleets, unions, associations or other groups to provide liability coverage for their employees or members at preferred rates. This allows the employer or entity to offer insurance as a value-added benefit to their crew or those joining or considering joining their organization. Employers and groups also have the option to receive custom-built webpages which allow employees or members to self-enroll at the group's directive.
Ballast for your mariner career
360 Coverage Pros is committed to bringing mariners new coverage options and a better way to shop for—and buy—their marine license insurance in an ever-changing marine world and litigious society. Program carrier and underwriter, Berkley Offshore has extensive experience insuring the marine industry with staff who have spent time at sea and truly understand the risks mariners face.  If you are involved in a shipping casualty, Berkley Offshore provides a 24/7 emergency hotline for claim reporting. 360 Coverage Pros is administered by Arthur J. Gallagher & Co. who is the third largest insurance broker in the world with a vast network of brokers, consultants, and capabilities. Together, both companies are well equipped to provide secure ballast for your maritime career for many years to come.
As a professional mariner, you navigate an ocean (or river) of risk every time you report for duty. Transferring the risks you face to an insurance program that understands the perils of your job will not only grant you peace of mind, it will safeguard your career. 360 Coverage Pros Marine License Insurance is the protection you deserve; built by mariners, for mariners.
Concerned about your professional risks as a mariner? Then consider buying convenient, affordable license and liability protection from 360 Coverage Pros.
Contact:
Chris Buseman, Account Executive
Phone: (215) 351-4702
Chris joined Gallagher Affinity in November 2019 as an Account Executive within Gallagher's Specialty Insurance Programs division. He currently serves as the Program Manager for the Marine License Insurance Professional Liability Program as well as the Travel Agents Errors & Omissions Program. Before Gallagher, Chris spent five years within Aon Affinity's Healthcare Division, specializing in medical malpractice insurance coverage for dentists and allied healthcare professionals. During his tenure at Aon, he undertook a critical role in program development and managing partnerships with national, state, and specialty healthcare associations. Chris has presented many risk education and insurance-related seminars at various universities and industry conferences and holds a Property and Casualty Insurance License.