Professional Mariner Interests
08/11/2020
How the USCG Classifies Marine Incidents
By Chris Buseman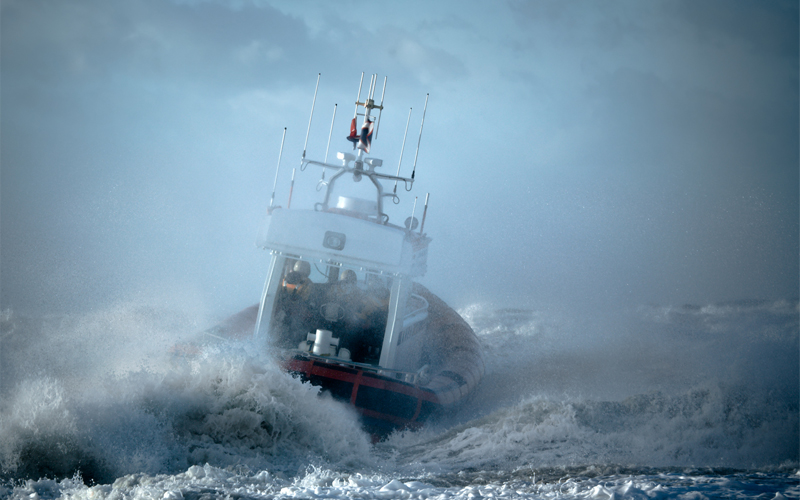 The objective of the United States Coast Guard (USCG) is to secure the coasts and waterways of the United States while enforcing maritime law, providing aid to those in need and spearheading search and rescue efforts. As a licensed mariner, it is important to be aware of types of incidents that occur on a vessel and how to mitigate the risk of your vessel or crew being involved in a circumstance that could result in fines, injuries or death. Out in open water, or close to shore, onboard safety should always be a top priority when working on or operating a vessel; any incident could be a threat to your livelihood or maritime business.
How Are Incidents Classified by the USCG?
Commercial vessels are not the only boats on the water–there are more than 76 million recreational boaters that share the United States' coasts and waterways. The mission of the USCG is not only to rescue mariners in peril but to actively promote safe boating practices while enforcing regulations and providing safety instruction to the people who occupy the waters each day. In their line of work, they respond to many types of marine casualties and incidents involving vessels on the U.S.'s coasts. The USCG defines a marine casualty or accident as an event which includes any casualty or accident involving a vessel(s) occurring on the navigable waters of the United States, its territories or possessions.
Maritime incidents are an ever-expanding catalog. They can be anything ranging from unintended vessel groundings, flooding, and fire and property damage to any injury that requires medical treatment, loss of life or an incident that causes significant harm to the environment. There are varying degrees of responses that the USCG can take, including fines and penalties, mandatory drug and alcohol testing, and even arrest. The USCG has a duty to uphold the standards set forth by the credentials or licensure a mariner possesses. By enforcing maritime operational standards for USCG-issued licenses, the USCG comes full-circle in securing the safety of licensed mariners as well as the general public.
The USCG classifies incidents that occur within navigable waters of the United States or aboard any U.S.-flag vessel as reportable–meaning that once an incident occurs, it must be immediately conveyed to the nearest U.S. Coast Guard Sector Office, Marine Inspection Office, or Coast Guard Group Office upon addressing immediate safety concerns. If the marine incident involves significant harm to the environment (such as a discharge of oil of 10,000 gallons or more, or discharge of a reportable quantity of a hazardous substance), the incident(s) must be reported to the National Response Center.
The USCG also heavily encourages responsible parties involved in a marine incident to contact the nearest Officer in Charge of Marine Inspection if there is any doubt that a marine incident is reportable. A failure to report a marine casualty can result in fines of up to $35,000 and can be avoided by contacting the necessary personnel after an incident occurs. In addition to fines for failure to report, the USCG can also suspend or revoke merchant mariner credentials for acts of negligence, violations of law or regulation, and use of dangerous drugs, pending their investigation following a marine incident. Licensed mariners in question have a right to counsel and many cases proceed to hearings in which a judge hands down a final decision. The USCG also has the authority to board any vessel within the navigable waters of the United States that they deem suspicious and conduct a search.
Paying fines and legal fees or having to stop normal operations due to an incident can be devastating to a maritime business and employees. Professional mariners who are not covered by marine license insurance are more at risk for these incidents crippling their livelihoods. It is important that mariners seek comprehensive license and professional liability coverage through an insurance program that has their interests in mind; marine incidents can happen quickly and without warning.
The USCG deals with all manner of maritime incidents each day. The most common incidents involve onboard injuries, vessel occurrences and environmental harm. In any given day, the USCG monitors the transit of roughly 2,557 commercial vessels and assists 117 people in distress. Additionally, the USCG boards and inspects roughly 122 vessels daily, highlighting the importance of good risk mitigation practices.
Overboard Falls, Injuries and Other Casualties
Injuries to people onboard a vessel are some of the most common types of marine incidents that the USCG responds to, with man overboard being one of the most severe occurrences. Mariners may be trained to deal with such incidents, but they can still result in loss of life due to extreme water temperatures, bad weather, heavy seas, or other errors. Onboard, there are numerous other ways that a person can become injured or even perish, including electrical shock, mechanical explosions, falls or even lifeboat testing accidents. The USCG classifies incidents as minor, moderate, serious, severe, and critical. Serious, server, and critical injuries result in hospitalizations and make up more than 94% of cases. It is important to note that even though these incidents must be reported to the USCG, reporting does not need to be instant. If you are involved in a marine incident or are the responsible party, safety always comes first–take care of the injured person or issue, and ensure the safety of others on board before reporting these incidents. The USCG will conduct an investigation to determine the cause of the incident, and depending on circumstances and causation, may make arrests, assign mandatory drug/alcohol testing or suspend/revoke the license of the operator(s) and crew.
Vessel Occurrences
Vessel occurrences are any incident that occurs on board a ship or vessel that warrants intervention by the Coast Guard.
Allisions are the most commonly cited initiating occurrences leading to incidents. While many mistake an allision for a collision, they are, in fact, two different things in the eyes of the U.S. Coast Guard. A collision involves a vessel colliding with another moving vessel, while an allision occurs when a vessel collides with a fixed object(s) and is presumed at fault. Despite navigational tools that have improved over the decades, these incidents happen regularly–and the Coast Guard investigates them to determine the cause. The vessel is almost always at fault unless the fixed object is submerged.
As described above, a collision occurs when a vessel collides with another moving vessel. These incidents are particularly serious because of the potential for the loss of human life as well as the environmental impact of hazardous spills and financial consequences to ship-owners and operators/crew. More congested sea lanes have contributed to the higher risk of a marine incidents involving two or more vessels.
When the bottom of a vessel's hull scrapes the seabed, waterway side, or results in partial or full beaching this is classified as a grounding. The vessels movement will be greatly hindered or it will not be able to move if it is grounded, resulting in a temporary suspension of operations, an impact on the surrounding environment and danger to the workers aboard the vessel. Depending on the size of the vessel, a grounding may warrant serious intervention to rescue those onboard and/or release the vessel from its grounding. In the worst-case scenario, a grounding can also result in loss of life.
There are a myriad of ways which a vessel can become damaged. Vessels can become damaged by any number of perils including environmental conditions such as wind or waves. Severe damage to a vessel can cause it to sink, capsize or break up–which reinforces the importance of immediately reporting a damaged vessel to the USCG so that they can perform the necessary intervention operations. As always, safety is the immediate priority in the case of vessel damage, so it is necessary to ensure the safety of all onboard before notifying the proper authorities.
Vessel flooding is extremely dangerous as it can affect watertight integrity and stability. Vessel flooding can be caused by damage to the hull due to a collision or allision, or contact and grounding. Weather conditions such as hurricanes can also cause flooding, as well as leaks or human error. The USCG will ensure that everyone aboard is safe and secure before conducting an investigation into how flooding occurred.
A stranded vessel is similar to a grounded vessel – meaning that the vessel is aground and cannot remain afloat without assistance. After ensuring the safety of all crew members and passengers, the USCG will conduct an investigation into the cause of the stranding, and salvage operations will begin. Often in a stranding situation, there is considerable damage to the bottom or sides of the vessel.
Foundering is also referred to as tipping or capsizing–when instability results in the vessel falling to its side. If the vessel's openings are not watertight, this can lead to sinking and is extremely dangerous for people aboard. Like most other incidents, foundering can be caused by human error, natural calamities and accidents such as collisions or allisions at sea. Rescue efforts by the USCG must begin immediately in the event of a foundering to get those on board to safety.
Explosions are a major cause of accidents on cargo tankers but also occur on smaller vessels, often initiated by smaller fires. Vessels which tend to transport dangerous and highly flammable material are most at risk, even minor explosions can cause enormous losses. Statistics suggest that the main cause of oil tanker explosions occurring is largely due to crew negligence. Explosions can also occur on offshore oil rigs and vessels that utilize heavy machinery.
Fires can be caused by any number of issues, including an explosion, human error or electrical issues. The USCG has special boats reserved for marine firefighting and should be contacted right away in the event of an onboard fire.
Electrical/Power Malfunctions
Power malfunctions are serious incidents, as they can result in open water stranding if the vessel does not have the ability to move due to electrical issues. The USCG should be called to the distressed location to rescue the passengers on board if the vessel is unable to navigate.
Weather-Related/Other Circumstances that Impair Seaworthiness
Weather events can cause significant damage to vessels that impair their seaworthiness, circumstances described above can also contribute to the vessels ability to safely stay at sea. The USCG is capable of handling a response to all of these incidents when they are reported timely.
Environmental Harm
An important aspect of the USCG's mission is to reduce the negative impact humans contribute to the marine environment. Marine incidents that involve environmental harm (namely oil spills or spills of other hazardous material as a result of a vessel incident) are taken very seriously. The USCG will conduct an investigation into the incident, and the National Response Center becomes involved if the spill is over 10,000 gallons. Incidents of this magnitude often result in fines, imprisonment, and suspension of licenses and seizure of a vessels.
Controlling Risk
Mariners are responsible for reporting any of the above incidents as soon as possible, or they risk fines of up to $35,000 for a non-reported incident. Recurring safety training and access to proper safety equipment, as well as proper vetting of new hires, should always be a top priority for employers so that even if an incident occurs, everyone understands how to properly respond. Crews onboard should get enough rest to prevent fatigue-related accidents, and standard maintenance and repair procedures should also always be followed on a ship to ensure system integrity and safe equipment operations. Some incidents may occur despite the proper precautions, but being prepared is one of the best courses of action in preventing the escalation of maritime incidents.
Safeguarding your business and employees (or yourself) by having a comprehensive marine license insurance plan is a good way to protect against losses resultant of shipping casualties. In addition to USCG investigations, incidents can lead to supplemental criminal or civil litigation and liabilities. If you are a professional licensed mariner, you have worked hard to build a career–and protecting your license, livelihood and assets is of the utmost importance.
360 Coverage Pros offers comprehensive marine license insurance coverage options at affordable rates, and was developed by marine professionals who understand the unique challenges and risks mariners face each day. Coverage is designed for captains and crew of all types of vessels and licensed individuals above or below deck. 360 Coverage Pros offers coverage for legal expenses resultant of USCG inquiries or other outside civil/criminal accusations, coverage for civil liabilities incurred as a result of a shipping casualty, protection for loss of personal property, foreign jurisdiction fees and the payment of fines and penalties enforced by the USCG.
To learn more about marine license insurance coverage for individuals or preferred rates and capabilities for groups such as companies, fleets, unions, or associations, contact 360 Coverage Pros today or set up a consultation with a trusted insurance advisor.
Contact:
Chris Buseman, Account Executive
Phone: (215) 351-4702
Chris joined Gallagher Affinity in November 2019 as an Account Executive within Gallagher's Specialty Insurance Programs division. He currently serves as the Program Manager for the Marine License Insurance Professional Liability Program as well as the Travel Agents Errors & Omissions Program. Before Gallagher, Chris spent five years within Aon Affinity's Healthcare Division, specializing in medical malpractice insurance coverage for dentists and allied healthcare professionals. During his tenure at Aon, he undertook a critical role in program development and managing partnerships with national, state, and specialty healthcare associations. Chris has presented many risk education and insurance-related seminars at various universities and industry conferences and holds a Property and Casualty Insurance License.