Professional Mariner Interests
03/16/2021
Mariners Looking Toward 2021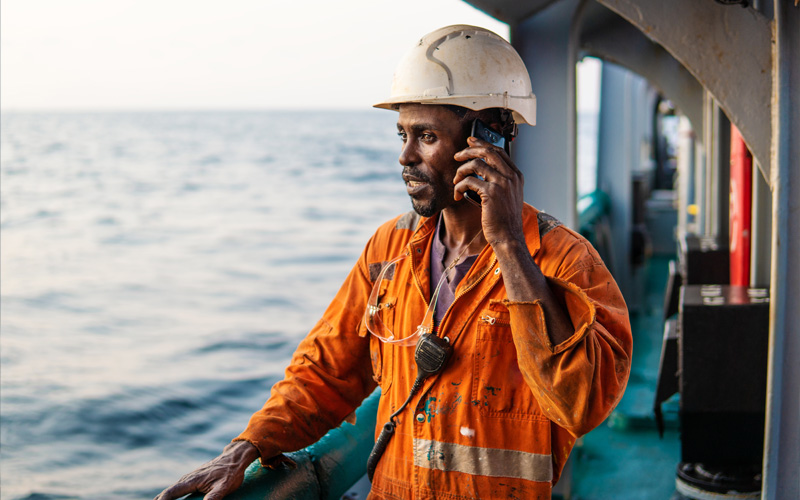 2020 is the year those working in the maritime industry want to forget. But will 2021 be any better? Perhaps. But it will depend on how the industry manages a number of ongoing challenges.
Professional mariners will gladly turn the page on 2020, a year that roiled the maritime industry and careers. But a better year may lie ahead, say industry experts.
All maritime sectors felt the sting and experienced the negative effects of the once-in-a-century global pandemic, COVID-19. The situation sparked unprecedented downstream problems such as the near total shutdown of the cruising industry, the marooning of 400,000 maritime workers between assignments and record-breaking shipping disruptions that damaged supply chains and slashed global economic output.
In addition to intra-industry hardships, shipping disasters continued to fuel the fire; events like the grounding of the Stellar Banner, a massive dry bulk ship, or the fire on the USS Bonhomme Richard also plagued workers still active within the industry. In terms of broad impact, nothing compared to the continual and seemingly endless uncertainty COVID-19 wrought and continues to deliver.
With shipping, cruising, and other marine sectors now experiencing rejuvenation, it may be time to look ahead to a better 2021. The industry can deploy its pandemic "lessons learned" and begin to address a boatload of other challenges on the horizon. Some major developments to watch are:
Modifying marine weather forecasting. The pandemic greatly decreased the number of ships plying the world's oceans. How long it will take for traffic to return to pre-pandemic levels is unknown. What is known is that having fewer ships will negatively impact the ability of weather forecasters to do their jobs. Reduced shipping volume will result in fewer visual observations transmitted from ocean vessels to forecasters. Time will tell if this erodes forecast accuracy. If this does hold accurate, potential safety hazards to vessel operators and crews around the globe will arise. It could additionally spark the development of distributed networks of marine weather buoys. This would replace anecdotal evidence with more rigorous data feeds, which would ultimately make maritime jobs safer.
Getting more serious about lower carbon emissions. Late in 2020, the International Maritime Organization (IMO) of the United Nations voted to reduce the maritime industry's greenhouse gas emissions. The draft regulation from IMO's Marine Environment Protection Committee (MEPC) will mandate a 40% carbon-emissions reduction by 2030, compared with 2008 levels. IMO's regulation comes on top of its 2018 commitment to cut greenhouse gases from the global marine industry by at least half by 2050. The MEPC regulation will likely launch sometime in 2021, triggering fundamental changes in how the industry operates. On the other end of the spectrum, the alternative energy market continues to show promise with stark rises in maritime employment as the public appeal and practicality of offshore wind projects continues to gain more and more traction.
Digitizing port workflows more rapidly. The pandemic made clear just how antiquated many port operations are with limited technology and reliance on paper. The need to reduce COVID-19 transmission among ship and port crewmembers led to the development of digital forms, which improved turnaround. The digitization of customs forms, in particular, will have a strong impact, especially with coming EU regulations that will create millions more declarations. This is yet another example of how the pandemic unleashed creative problem solving that will help the industry solve future challenges.
Enhancing mariner working conditions. The marooning of hundreds of thousands of maritime employees during the pandemic placed a spotlight on the health and safety of the maritime labor force. In the pandemic's aftermath, it became clear that working conditions on many vessels were sub-par and needed remediation. As government and trade organizations react to these revelations, 2021 may become the year when the industry more fully addresses on-ship hazards that produce mariner illnesses and accidents.
Getting a handle on marine cyber risks. The IMO has issued guidelines for maritime cyber risk management. They will safeguard shipping from current and emerging cyber threats and vulnerabilities. The IMO incorporated its rules into existing risk management processes, complementing IMO's existing safety and security-management practices. The guidelines, considered a strong advance for maritime safety and security, resulted from collaboration between shipping-industry executives and IMO member states. It generated a uniform approach for preventing and responding to cyber threats against vessels. During 2021, maritime executives will be required to:
Complete a full cyber risk assessment for vessels under their purview
Implement a risk-management plan to mitigate their most significant cyber risks
Demonstrate the above steps at their next ISM Doc Audit (starting in January 2021)
Addressing the pandemic's economic fallout. 2020 saw sharp contractions in global trade and GDP, which came on top of weak numbers over the prior several years due to trade tensions around the globe. With top-line growth constrained, the maritime industry will continue to look for efficiencies in order to reduce costs. This may affect crew and maintenance budgets. To the extent cuts result in incidents, which will further constrain revenue recovery, the industry may face headwinds to growth in 2021.
Facing the ongoing threats of interrupted cargo shipping. The pandemic also produced service interruptions for a variety of shipping, air freight and transport companies. This heightened cargo risks from fire and weather events occurring while the goods languished in port. Vulnerabilities were even greater for high-priced merchandise and items needing refrigeration. If new strains develop and a virus begins spreading rapidly, ensuing in additional shutdowns, the industry must take steps to protect in-transit cargo. This may involve greater use of "Internet of Things" (IoT) technology to help track goods and prevent perishability due to lack of temperature control.
Preventing a maintenance crisis. The disruption in global supply chains not only affected maritime revenue flows, it also hampered firms' ability to maintain their vessels. When shipping became constrained, it became more difficult to source spare parts and various oils needed for vessel maintenance. Making matters worse, travel embargos prevented specialist engineers from travelling to complete their repair assignments. In 2021, problems with ship engines and other machinery may lead to more breakdowns, potentially increasing groundings, collisions and allisions, injuries, and deaths. If maintenance and repair disruptions continue, maritime crews will need to be more vigilant about monitoring ship operations in order to quickly identify and respond to emerging problems.
Facilitating the re-emergence of the cruising industry. Cruise lines suffered extensive damage due to COVID-19, and sat in limbo for months. The U.S. Centers for Disease Control and Prevention's no-sail order put the industry on ice, where it remained for most of 2020. However, looser restrictions and more consumer bookings later in the year point to a likely recovery in 2021. Efforts to limit the on-board spread of the virus have produced vessels with greater resilience to future outbreaks. Heading into 2021, the cruising industry will face heightened legal liability from crews, passengers, and suppliers for failing to prevent onboard COVID-19 outbreaks.
Investing in U.S. ports and ferries. The election of President Joe Biden has led to the United States re-entering the Paris Climate Agreement. It's also likely to spawn investments in ports and ferries to make them more environmentally sustainable. If Congress fully funds President Biden's Build Back Better program, the country is likely to see thousands of new "green" jobs accompanied by productivity gains from shoring up the country's crumbling infrastructure, especially its maritime transportation system. Professional Captains, Pilots, Engineers, and crews may benefit from sturdier career prospects as black- and blue-water transportation becomes more robust and productive.
Managing the shipping-capacity balancing act. At the pandemic's peak, shipping carriers were able to swiftly reduce capacity to align with plummeting volume. This resulted in shipping rates remaining relatively high despite the bottom falling out of the industry. Further limiting capacity were flat orders for new ships and more vessels being scrapped during the year. However, during 202l, more ships are expected to return to service, creating up to 20% more capacity on some routes. It is also anticipated more new ships will likely face activation, providing a further boost. Where capacity lands will affect the pace of the shipping industry's financial recovery this year and the employment prospects for thousands of mariners. If rates remain high or go higher, mariners will likely benefit financially. Of course, just about anything seems more promising and will be better than the pandemic year in rearview.
Paying too much for your marine license insurance, looking for broader protection? Then compare your existing coverage with that available at 360 Coverage Pros or schedule a consultation to chat about it. Policies cost as low as $25.83 per month.