Professional Mariner Interests
09/16/2022
Mariners: Negligent Preparation Makes Owner Responsible for Hurricane Damage or Loss of Control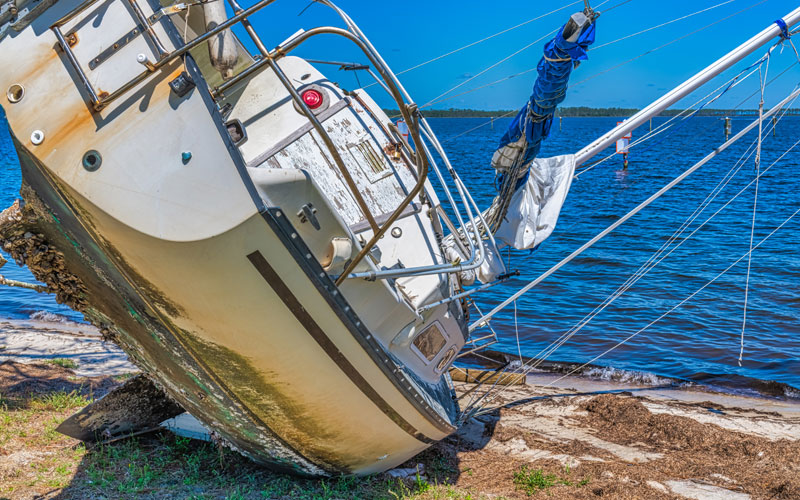 When it comes to marine vessels you own or operate, negligent preparation for a storm could make you responsible for any damage or loss of control. This is an important issue to consider when it comes to your marine insurance; unexpected events happen, but making choices that put your crew, yourself and your vessel at risk can have a detrimental impact on your financial outlook and insurability.
Here are two potentially costly scenarios to avoid:
If you take a vessel out or get caught in a hurricane, you could be accused of negligence. Did you prepare by looking up the weather? Should you have? Could this action or inaction have been prevented? Did you follow protocol? Have you unnecessarily put your crew at risk?
Failing to properly secure marine equipment can result in loss or damage. This is especially important in bad weather when high winds and waves can develop quickly and cause serious destruction.
There is a belief among some that ships are safer at sea than docked during a storm. In some scenarios that may be accurate; however, not all ships or crew are prepared to withstand a hurricane experience. Ship captain, maritime lawyer, and author, Max Hardberger writes, "In 1998, the Windjammer Fantome left the security of Big Creek, Belize, to ride out Hurricane Mitch. Hammered by hundred-mile-per-hour winds and forty-foot seas, she foundered and sank with all hands. The irony is that Big Creek is one of the best hurricane holes in the Caribbean. Protected to seaward by the barrier reef and the tip of the Placentia peninsula, surrounded by flat marsh with nothing to create flying debris, and in a 40-foot-deep waterway narrow enough for good scope on all sides, with proper preparations, the Fantome could have ridden out the storm as secure as a prepper in his bunker." The point of Hardberger's statement is, that just because you can, doesn't mean you should. You are responsible for your crew's safety, and you should resist pressure from others to put to sea when you know you shouldn't. A lawsuit resulting from neglecting to take proper action during a marine event could be very expensive— from legal defense fees to cash settlement.
Instances may arise when you are at sea and unable to avoid a storm. Being prepared during these circumstances can help you save lives and property. Here are a few tips to help you control losses:
Familiarize yourself with preparation recommendations from the National Oceanic and Atmospheric Administration (NOAA).
Properly maintain and inspect your vessel regularly. This will help ensure any potential issues are caught early and can be fixed before they become larger problems.
Have a written plan for how you will handle bad weather or other unforeseen circumstances. This plan should be easily accessible and reviewed and updated regularly.
Make sure your crew is properly trained and understands your procedures for handling different situations.
Have adequate insurance in place to protect yourself and your business in the event of a loss.
These are all important factors to keeping your marine vessels safe, as well as your passengers and anyone or anything in the vicinity.
To ensure you are doing all you can to alleviate risks, schedule an appointment with a loss control manager. Meeting with loss control can help accomplish three things:
Key players meet in person
Your personnel may provide updates on any previously noted shortcomings
Loss control manager has the opportunity to see your location in person
Loss history plays a role in the costs of your insurance— the more claims a company incurs and pays, the higher the premium will likely be. It is always in your best interest to keep claims at a minimum when possible. This is where loss control comes in. Claims reduce the profit from your company's bottom line. Minimize your risk of loss and increase your profitability with ongoing employee training. A safe workspace can save you thousands of dollars between insurance premiums and lost productivity. Use some of the money you save to incentivize your safe and model employees.
An in-person visit can clarify where safety improvements have been made in the past and where they might still be needed. Loss control can help you identify a wide breadth of potential mishaps, such as worn power cords, missing safety guards on machinery, and cluttered walkways.
Generally, a follow-up report will be provided to your safety manager, which will include a request for verification of completion of any safety recommendations within 45 days. There is usually no cost associated with a visit from a loss control manager, and they offer a great chance to remind employees of their role in workplace safety. Most loss control managers are happy to provide onsite safety training as well. These visits can be fitted specifically to your needs.
A loss control site visit is rewarding in its own right, but it's also important to remember the input and involvement of your insurance company can help keep premiums down. If you haven't had one recently, reach out to request one; it's free expert advice designed to help improve safety and save you money in the long run.
So, what are you waiting for? Give 360 Coverage Pros a call today (866) 807-3822 with any questions about your coverage or policy. We're here to help.