Professional Mariner Interests
03/10/2023
Pilot's Liability Insurance in the Context of the Grounding of the Ever Forward in the Chesapeake Bay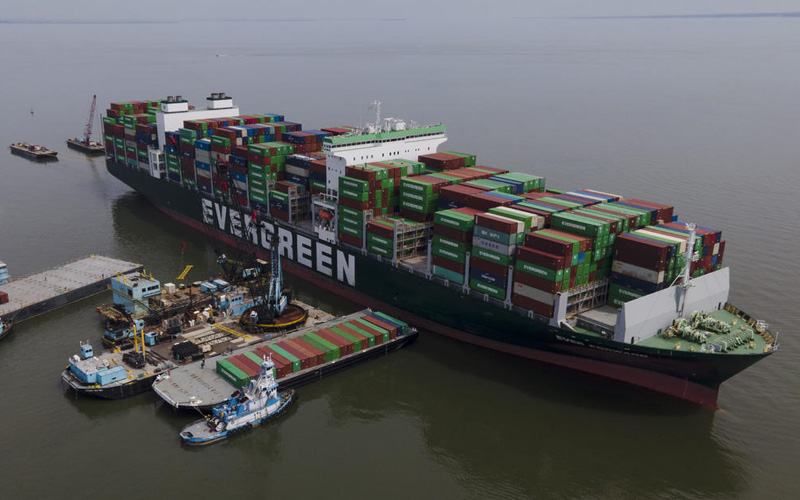 On March 13, 2022, the 1095-foot Ever Forward, a Hong Kong-flagged containership owned by Evergreen Marine Corp, departed Seagirt Marine Terminal in Baltimore, MD, en route to Norfolk, VA. A licensed Maryland State Pilot, known as "Pilot 1" in the report, was in direction and control of the vessel when it left the Craighill Channel and ran aground, where it remained just outside the channel for 35 days.
On April 17, the ship was finally refloated thanks to the work of the U.S. Coast Guard, Maryland Department of the Environment, and Evergreen Marine Corporation, in partnership with multiple state and local responders.
Report of the Investigation
In December 2022, the U.S. Coast Guard Sector Maryland-National Capitol Region completed a marine casualty investigation into the incident and published its findings online.
The Report of the Investigation determined the incident's causal factors to be the pilot's failure to maintain situational awareness and attention while navigating, and inadequate bridge resource management.
Regarding the incident, the report states:
"During the outbound transit, Pilot 1 was solely relying on his Portable Pilot Unit (PPU) to navigate the Ever Forward. Just prior to the grounding, Pilot 1 exited the active navigation of his PPU to view a previous transit. Pilot 1 also made a series of five phone calls amounting to over 60 minutes of time during the course of his outbound transit. He also sent two text messages and began drafting an email immediately before the grounding occurred.."
Following the incident, the Association of Maryland Pilots placed Pilot 1 on administrative leave, and on October 21, 2022, the Maryland Board of Pilots suspended Pilot 1's license.
Pilot's License & Liability Insurance
Resultant of the events following the grounding of the Ever Forward, further implications will likely beset Pilot 1 from a legal and regulatory perspective in addition to the initial licensure suspension and administrative leave. The suspension of the pilotage credential or USCG license directly correlates to Pilot 1's livelihood; if he or she cannot operate a vessel due to temporary or more permanent suspension of a license (or even a reduction in license grade), then the individual cannot go about their daily work or professional services. Pilot License and liability insurance can help safeguard the pilot's licensure by providing admiralty attorney representation before the regulatory board and administrative authorities every step of the way. In the Ever Forward case study, Pilot 1 inevitably suffered a license suspension - pilot's license and liability insurance can also provide income protection via 'loss of income' coverage offered by their insurance provider.
Not only is legal representation paramount in obtaining the most favorable outcome for the pilot from a licensure perspective, but it can also assist the pilot in addressing civil and criminal allegations and demands. The environmental impacts of the Ever Forward grounding are clearly illustrated above, but there was also a large salvage and response plan put into place involving multiple third parties spanning tug and tow companies, terminal(s), regulatory authorities, and more. Demands to be made whole again due to diverted resources, lost service opportunities, and other variables are not out of the ordinary. All of these factors place more risk and exposure on Pilot 1.
State and Federal pilots often have the benefit of very low statutory limits of liability for damages resulting from marine casualties. While these limits generally hold up when challenged, the pilot must often pay very significant defense costs in the course of the litigation, and these costs are not limited. In the event of a casualty involving third-party property damage, pollution, or loss of life / bodily injury, there is a strong likelihood that legal action will be taken against the pilot, regardless of whether or not a liability limitation exists. A pilot's liability insurance policy can be structured to cover the legal costs and resulting damages (subject to the policy terms, conditions, and limits).
Obtaining a comprehensive pilot's license and liability insurance policy is an excellent way for a marine pilot or any USCG-licensed officer to transfer a large portion of their risk to an insurance company. 360 Coverage Pros offers a best-in-class solution for marine pilots seeking coverage. 360 Coverage Pros Mariner Liability Insurance Program is Underwritten by A.M. Best "A+" (Superior) rated Berkley Offshore Underwriting Managers and provides 24/7 access to admiralty attorneys, well-versed in maritime and pilotage law, when needed most. Visit the website to apply for coverage or schedule a consultation today.