Professional Mariner Interests
03/17/2020
Professional Mariners on a Sea of Risk
By Harry J. Lew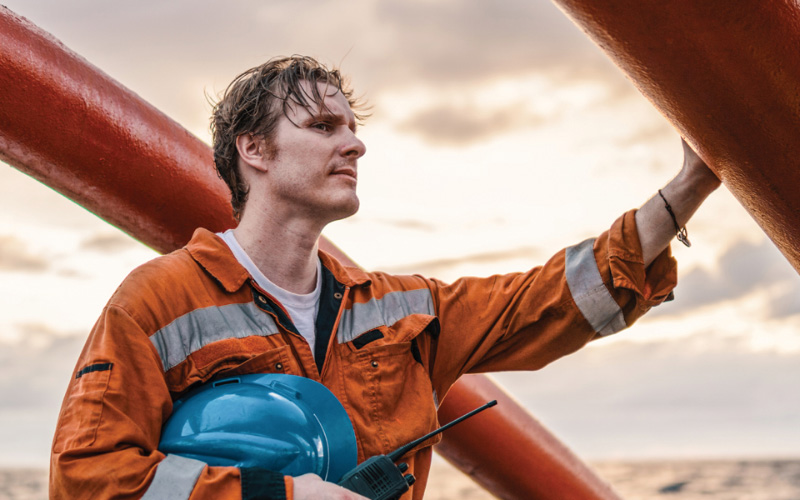 Make one serious mistake and you could jeopardize your career, assets, and personal freedom. Should you buy marine license insurance?
On March 12, 2018, the towing vessel Natalie Jean sank in the Lower Mississippi River, near New Orleans. The towboat had been pushing an empty fuel barge when it got hung up on the port anchor chain of a bulk carrier, then capsized and sank, killing its captain and one other mariner.
Over a year later, the National Transportation Safety Board (NTSB) issued a marine accident brief that identified the probable cause of the accident: the towboat company's inadequate pilot vetting. The company, Creole Chief, Inc., put him in a position of piloting a vessel for which he lacked experience. Additionally, the pilot had not operated a vessel for eight months, having retired before deciding to return to work part-time.
During its investigation, NTSB discovered that not only did the pilot lack vessel knowledge and experience, he was also dealing with high water, strong winds, and a ship that was only traveling at the rate of one to two miles per hour with a five mile per hour current. Making matters worse, the anchorage was busy. Everything pointed to a dangerous assignment for the recent retiree. Although it's unclear whether the U.S. Coast Guard has taken action against the pilot's license, it's remains likely the accident will have a negative impact on his career.
The tragic story of the Natalie Jean illustrates the risks of being a professional mariner. It's a job in which making a mistake can have lethal consequences . . . for you, your crew, mariners on other vessels, and the public at large. And if you survive an accident, you may face serious legal consequences, from both the U.S. Coast Guard, as well as from other state and federal jurisdictions. Finally, civil lawsuits from injured parties may consume your life's savings.
"If I make a mistake in my profession, I may end up losing money for my company," says Brian F. Murphy, CPCU, Vice President, Berkley Offshore, which underwrites a marine professional liability and license insurance program offered through 360 Coverage Pros "But when mariners make a mistake through ordinary negligence, they can be charged and fined criminally and also sued. They can also have their license suspended and/or revoked, which jeopardizes their ability to make a living, perhaps forever."
Mariner insurance mitigates risk
The fact that mariners face a sea of risk every time they report to work, combined with the responsibility of upholding professional standards which are monitored by the U.S. Coast Guard, has sparked the development of insurance to mitigate  exposures. One such offering is the 360 Coverage Pros Marine License Insurance program. It's available on the 360 Coverage Pros online insurance platform, exclusively underwritten by Berkley Offshore Underwriting Managers, a W.R. Berkley company. The program offers up to $2 million in license protection and defense, along with coverage for loss of personal property, foreign jurisdiction coverage, and payment of license defense fines and penalties. It also provides optional coverage for:
Civil and criminal legal defense
Civil legal liability
Loss of income (up to one year)
Insurance, a risk transfer mechanism whose origins trace back to the bottomry (shipping) bonds of ancient Babylon, has always played a key role in protecting commerce and transportation on the high seas (and on inland waterways). It has also focused on allowing professional mariners to do their work without debilitating worry and stress. The importance of mariner insurance has only grown with the application of technology to shipping, mounting political risks and trade sanctions, and more dangerous weather events due to global warming.
For example, although the number of ship total losses in 2018 (46) is the lowest in the 21st century, the number of shipping incidents, largely resulting from machinery damage, is holding steady. Shipping incidents produced $1 billion in insurance claims over the last five years, according to the Safety and Shipping Review 2019, published by Allianz Global Corporate and Specialty (AGCS). Other loss trends suggest mariner risks are unlikely to decrease in the future. According to the AGCS review, these include:
Larger ship capacity over the last half century, which increases the risks of fires, groundings, and collisions.
Errors in declaring and packaging hazardous cargo, which can lead to fires.
The loss of cargo containers at sea due to heavy weather and failure to lash properly.
Increasing incidence of machinery damage and failures, often caused by ship maintenance issues.
More cases of human error due to overreliance on electronic navigation and inadequate safety training and culture.
The officers involved in the above marine losses likely suffered serious professional consequences resulting from their negligence. If they were uninsured, they may have lost not only their careers, but also some or all of their personal assets.
Pilots face criminal prosecution
Pilots, in particular, face more severe risks every time they step on deck. "No other occupation or profession presents such risks to its practitioners in the normal course of their activities," says Paul G. Kirchner, Executive Director and General Counsel of the American Pilots Association in Washington D.C. Writing in Benedict's Maritime Bulletin, Kirchner explains that pilots can be held liable for monetary damages if a judge finds that their negligence was the proximate cause of a plaintiff's injuries (personal and/or financial). What determines negligence? According to Kirchner, that happens when a pilot's actions are found not to be those of a reasonable and prudent professional. This is a high standard of care, increasing a pilot's legal exposures.
In addition to civil liability, pilots face criminal exposures, as well. Kirchner notes "the growing use of criminal prosecutions in high-profile vessel casualties, particularly (those) involving environmental damage (oil spills) and deaths." He adds that in many such cases, mariners have faced criminal charges for allegedly unintentional errors using legal standards more commonly used in civil litigation.
Finally, pilots, like all other USCG licensed professionals, can have their licenses suspended or revoked, something that happens 400 to 600 times a year to mariners of all stripes.
Accidents and the ensuing regulatory sanctions highlight the importance of protecting your livelihood with insurance. Without it, a single mistake could instantly destroy your lifelong career investment. How to protect it? By purchasing an insurance policy designed exclusively for mariners, by mariners, with sufficient coverage for the major risks you face. Also shop for insurance that can be easily customized to your specific job and available online, producing "click and bind" proof of insurance.
Mariners License Protection Highlights
A solution that meets all of these criteria is the 360 Coverage Pros Mariners License Protection program. Introduced in November 2019, it offers:
Coverage in all 50 states for up to $2 million in license protection and defense costs
Protection for all USCG mariner licenses and credentials, for deck and engine departments
Broad coverage against alleged negligence
Coverage for loss of personal property provided on a blanket basis
Foreign jurisdiction coverage
Coverage for fines and penalties
Optional coverage for loss of income during a license suspension, reduction in grade, or a USCG hearing or investigation
Optional purchase of coverage for civil and criminal defense proceedings
Optional purchase of coverage for civil legal liability
Easy set-up of monthly payment option and automated renewals
Instant certificate of insurance (click and bind)
Options for individuals and groups
These features and more combine to produce peace of mind. With 360 Coverage Pros, you can apply online using a streamlined application, allowing for instant proof of insurance. This compares with the traditional method of buying mariner insurance:
Filling out a lengthy application
Listing individual equipment items on a schedule
Waiting days to receive a price quote
Sending in your payment
Receiving your insurance certificate after more waiting
Finally, since your profession is risky by nature, the entities behind the program provide secure ballast. 360 Coverage Pros, a unit of Arthur J. Gallagher & Co., and Berkley Offshore, a W. R. Berkley Company, are both strong and stable insurance organizations, with Berkley receiving an A.M. Best A+ (Superior) rating on admitted paper (i.e., regulated by state insurance departments).
Gallagher, a global insurance brokerage, risk management and consulting services firm, administers 360 Coverage Pros, an online insurance marketplace. Founded in 1927, Gallagher has operations in 33 countries and offers client service capabilities in more than 150 countries around the world through a network of correspondent brokers and consultants.
Since 1967, the W.R. Berkley Companies have provided insurance coverage to specialty industries. Its marine underwriters have spent time at sea and have used that knowledge to design the 360 Coverage Pros Mariners License Protection program.
As a professional mariner, you spend your days on an ocean (or river) of risk. Rather than worry about it, consider transferring your risks to an insurance program that understands the perils of your job: 360 Coverage Pros Marine License Insurance. It's built for mariners by mariners.
Concerned about your professional mariner risks? Then consider buying convenient, affordable license and liability protection from 360 Coverage Pros.