Professional Mariner Interests
01/02/2020
The 5 Most Shocking Maritime Disasters in History
By Susan Wright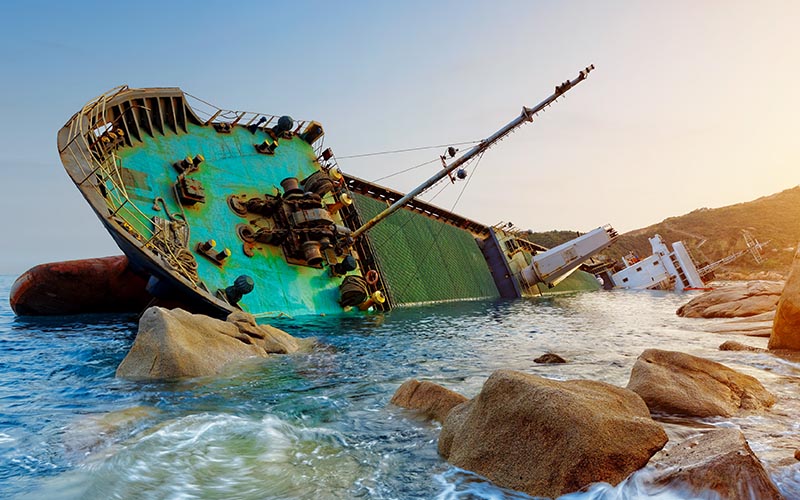 You've worked hard to build your career as a U.S. Coast Guard licensed officer. But, no matter how careful and diligent you may be, accidents can – and often do – still occur. Many of these incidents can even be out of your control.
While most any type of fire, wind, or weather-related events can certainly be devastating, accidents that take place in the ocean or other waterways can often be much worse. Trying to flee from the wreckage in the water can put people in even more danger.
Even if you can't stop a collision, an accident, or even a close call, though, you can protect yourself, as well as your career, from these unexpected incidents—and you can do so with marine license insurance coverage.
Are You and Your Business Covered with Marine Insurance?
Maritime disasters are events that involve one or more seafaring vessels and, because of the nature of marine travel, often lead to loss of life, damage to property, impact on the environment…or all of the above. And, while some of these incidents may happen during wartime, this isn't necessarily always the case.
Some of the worst and most shocking maritime disasters in history include the following:
The Titanic – The sinking of the British RMS Titanic – which was billed as an "unsinkable ship" - in the early 1900s was likely the most famous of all maritime disasters. On its maiden voyage, the brand new Titanic hit an iceberg while it was en route to New York City from Southampton. But even though more than 1,500 passengers and crew members lost their lives in this incident, the Titanic is not the biggest water-related disaster in history.
The Wilhelm Gustloff – Near the end of World War ll, approximately 9,400 people perished when the German ship, the Wilhelm Gustloff, was taken down by a Soviet Navy submarine in the Baltic Sea during a civilian evacuation mission. Based on the number of lives that were lost in this occurrence – which included individuals and military personnel from Germany, Prussia, Latvia, Lithuania, Croatia, Estonia, and Poland - this incident is deemed as being the largest maritime disaster in history.
Branson, Missouri Duck Boat Accident – In July 2018, seventeen people (nine from the same family) were killed on Table Rock Lake in the Missouri Ozarks. A storm came up, causing wind and waves to capsize a small "Duck Boat" and trapping many of the passengers inside as it sank to the bottom of the lake. Soon after the incident occurred, the surviving Captain, Scott McKee, was charged with seaman's manslaughter due to his "misconduct and negligence." In addition to the U.S. Attorney's Office seeking financial compensation in the hundreds of millions of dollars, McGee could face a potential prison sentence of up to ten years for each of the 17 counts of manslaughter.
The Deepwater Horizon Oil Spill – The Deepwater Horizon oil spill that took place in the Gulf of Mexico started in April of 2010, when a BP oil rig exploded, spewing millions of gallons of oil into the water. Considered to be the largest marine oil spill on record – and one of the biggest environmental disasters in American history - the U.S. Government estimated the total discharge to be just under 5 million barrels of oil. Two years later, in mid-2012, the site well was still leaking - and nearly a decade later, the impact on the surrounding beaches, wetlands, and wildlife is continually being felt. The total cost of this disaster is estimated to be approximately $65 billion.
The MV Dona Paz Collision – The MV Dona Paz disaster, which occurred in 1987, is considered the largest non-military loss on the water. This Philippine-registered passenger ferry sank after colliding with the MT Vector. With a possible death toll of nearly 4,400 people, this accident resulted in the deadliest ferry disaster in history during peacetime. While most of the MV Dona Paz passengers slept, the ferry collided with the Vector, which was carrying nearly 9,000 barrels of gasoline. The impact of the crash caused a fire that spread quickly throughout both of the vessels, as well as on the surrounding water. To make matters worse, the ship's life jackets were inaccessible, forcing the passengers to jump into the shark-infested waters to escape from the fire.
While your business may not require you to transport thousands of people on the world's waterways, even a seemingly "small" incident can cost you a substantial amount in terms of property damage, liability expenses, or even your very livelihood. That's where having marine license insurance coverage can help.
A marine license insurance policy can provide you with several key benefits, including an attorney who can work to defend your license if the Coast Guard or other issuing authority should question your competence to continue holding the license.
For many years, the insurance solutions that were available for professional mariners have been limited. Most options require a lengthy ordeal for finding the best protection – and with a cumbersome quoting and application process, it could often take weeks or longer to secure any coverage at all.
But today, 360 Coverage Pros offers the protection that marine professionals need quickly, easily, and affordably. Once you have selected a plan from the company's website, you could even have proof coverage in just a few minutes.
How to Secure Marine License Insurance for Professional Mariners
All ships – including those of the military—can be vulnerable to problems from a wide array of sources, such as:
Weather conditions
Faulty design
Wartime conflict
Human error
So, even in the clearest of conditions, no one is entirely immune to a water-related disaster. You can, however, protect yourself from the cost and the potential liability that may follow these types of incidents.
At 360 Coverage Pros, we offer Marine License Insurance for Professional Mariners. Our program provides complete coverage alternatives at affordable premium rates. We have a wide variety of options, including protection for many license grades, including:
Master
Chief Engineer
100 Ton / Tug Captain / Chief Mate
Second / Third / Designated Duty Engineer
Second Mate / Third Mate
Our marine license insurance plans includes the following coverage options:
Up to $2 million in license protection and defense costs
$10,000 in coverage for fines and penalties
Up to $250,000 in civil legal defense/criminal defense costs
There are also several customized marine license insurance coverage options available that may more closely fit your specific needs, such as protection for:
License Protection and Defense Costs (which includes Foreign Jurisdiction Coverage and Loss of Personal Property)
Legal representation in defense of civil or criminal proceedings that arise from a shipping casualty
Civil damages that you are legally liable to pay for bodily injury as well as property damages that occur due to a shipping casualty
Monthly compensation for up to twelve months, plus a daily allowance for subsistence in the event of the suspension or the revocation of your license (or compensation for the difference in wages should your license replaced by a lower grade license)
Plus, if vessel operators need coverage, this protection can be placed on a group basis for their licensed officers, often at a discounted premium rate.
Marine license coverage is also much more affordable than you might think. Depending on the policy you need, a plan that offers mariners up to $2 million in protection may be secured, starting at just $26 per month.
How to Get Marine License Insurance Coverage Now
Regardless of whether your business takes you on the oceans, rivers, or other types of waterways, you'll have peace of mind, knowing that you have coverage against a wide range of incidents that may occur. At 360 Coverage Pros, our program provides you with comprehensive coverage options at affordable premium rates.
Do you still have questions about how to secure a marine license insurance policy? Need a premium quote? Or, do you want to find out which of our mariners' insurance plans will best fit your specific needs?
If so, visit our website at www.360CoveragePros.com/marine-license-insurance to view all of the additional policy details, to calculate a rate quote, or to start the easy coverage application process. Our fast and secure online application can provide you with the coverage you need quickly—in minutes, not days—from Berkley Offshore, an "A+" rated insurance carrier. So, contact 360 Coverage Pros today.
Or, contact us by phone at (866) 807-3822 and speak to an experienced mariners' coverage representative who can answer any questions that you may have and explain the plan options that are available to you.
We look forward to hearing from you.