Professional Mariner Interests
01/06/2020
Why You Need Marine License Insurance
By Susan Wright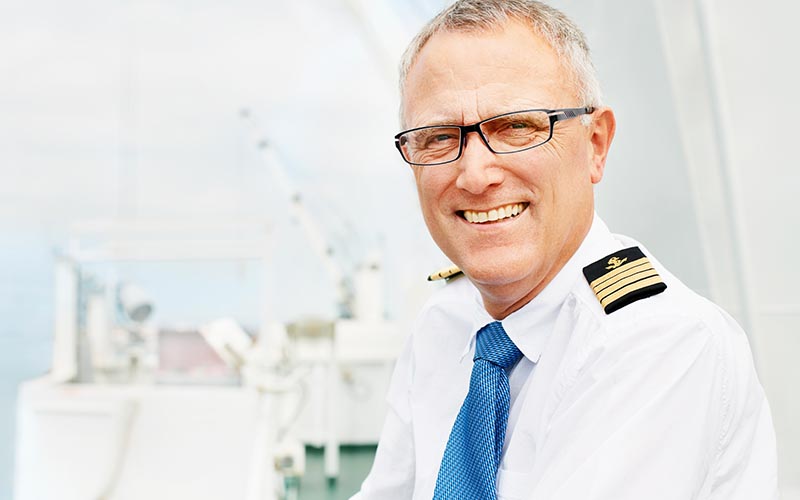 You've worked hard to obtain your marine license. So, you don't want to lose it—or worse yet, lose your reputation, your income, and your career—even in the event of a maritime disaster that is out of your control.
Accidents and incidents can and do happen on the water. Regardless of how careful you may be, there are times when unforeseen circumstances can arise, which can have a significant impact on your compensation and your livelihood.
But, while you can't prevent all potential water-related disasters from happening, you can make sure that you have the financial and legal protection you need through a marine license insurance policy.
How Quickly Your Marine License—and Your Livelihood – Can Change
Since the dawn of water-borne transportation, a long list of risks has been present. In order to help with mitigating this risk, shipping companies will typically purchase insurance coverage on their vessels. Likewise, those who ship cargo overseas will also oftentimes insure the goods that they are moving in case of an accident or a loss that takes place while the items are in transport.
But in many cases, there still remains a "gap" in coverage – that of protecting maritime officers against the suspension – or even the revocation – of their marine license. In addition, today there are some marine license holders who allow the United States Coast Guard to serve as both the judge and the jury, which could result in maritime officers to needlessly surrender their license.
What can you anticipate if you're involved in a maritime accident or incident?
Typically, when the report of an incident reaches the Marine Inspection or Marine Safety Office, an investigation will be conducted by one of the investigating officers in order to determine what official action, if any, is required.1
Just some examples of previous cases include the following:
Turnover Proceedings
One of the more frequent forms of collateral attack on maritime officers has been the so-called "turnover" proceedings. These are statutory actions by seamen who have been logged for desertion and wish to reclaim their wages and effects from the custody of a district court.2
The typical course of action here is for the petitioning seaman to question the efficacy of the master's log entry, which could demonstrate that the desertion logging has not been sustained in a Coast Guard hearing.3
As an example, in the Petition of Sanuiti case, the district judge noted that "[a]attached to the petition was a typewritten copy of finding by the United States Coast Guard Examiner…to the effect that the petitioner was not, in fact, a deserter, but that he violated certain regulations relative to his failure to report to the ship, of which he was a crew member."4
Not Fit for Duty
In another instance, a seaman had voluntarily deposited his document with the Coast Guard pending the issuance of a Fit for Duty slip from the Public Health Service. The examining physician described the man as "permanently not fit for duty" and the mariner commenced an action to recover for the injuries that led to his incapacitation.5
But even so, the court held that the jury's verdict in favor of the seaman was excessive and ordered a partial new trial.6 Given the lengthy court cases, the seaman could have taken a significant financial hit either way – losing his career or protecting himself with legal representation. This is where a marine license insurance policy can come in and provide funds for legal representation and/or fill in the gap with regard to lost (or reduced) compensation.
Possession of a Controlled or Illegal Substance
Another case regarding the revocation of a merchant mariner's document is Ingham vs. Smith. Here, based on the seaman's possession of marijuana, the court directed the Commandant to issue a temporary document to the plaintiff pending judicial review. In this case, the Commandant prevailed.7
In these types of cases, the financial relief provided through a marine license insurance policy could have allowed the seamen to avoid financial hardship, as well as to move forward with fighting their cases with some (or even all) of the funds that were needed to secure necessary legal representation.
What a Marine License Insurance Policy Covers
Marine insurance is considered the earliest, well-developed kind of coverage, with origins in the Greek and Roman marine loans. In fact, this type of coverage is also thought to be the oldest risk-hedging instrument that our ancestors used to mitigate risk.8
Fast forward to today where maritime risk is multiplied exponentially, given much larger vessels, more shipping capacity (and in turn, more room for loss or damage to occur), and many more components of potential liability issues. Given that, it is essential that licensed marine officers secure protection.
Depending on the policy you choose, marine license insurance can provide coverage for a long list of items, including:
Legal defense costs that are incurred as a result of a shipping casualty
Legal representation expenses in the defense of civil or criminal proceedings
Payment of civil damages which you may be legally liable for paying due to bodily injury and/or property damage
Reimbursement of certain civil and criminal fines and penalties
Coverage for lost or damaged personal property (with some exceptions)
Professional equipment coverage
Additional Coverage Options to Consider on Marine License Insurance
In addition to the base policy, there are additional marine license insurance coverage options that you may need to consider, based on your specific circumstances. These optional policy features may include:
Monthly compensation
A daily allowance for subsistence in the event of the suspension or the revocation of your license
Compensation for the difference in wages if your marine license is ordered to be replaced by a lower grade license
Do You Really Need Marine License Insurance Protection?
While we all hope that damaging incidents won't occur, the reality is that motor vehicles are involved in accidents, homes catch fire, and incidents happen on the water. So, rather than hoping for the best, it is essential to prepare for the worst…just in case.
Securing a "custom" marine license insurance plan can actually be easier and less costly than you might think. At Coverage 360, we offer a wide range of marine license insurance policies, based on the status of your license, including those for:
Master
100 Ton / Tug Captain / Chief Mate
Second Mate
Third Mate
Chief Engineer
Second / Third / Designated Duty Engineer
So, ask yourself this: If you were involved in a maritime disaster, how would it affect your income, your career, and your life?
How to Find the Best Marine License Insurance Coverage
Similar to getting homeowners and auto insurance, not all marine license insurance policies and premiums are the same. With that in mind, it is important to narrow down the right marine license coverage for your specific needs.
The first step in finding the best marine license policy is to determine the various risks you may encounter and how they could impact you, your income, and your career. From there, review the various policy options that are available to you, along with the coverage limits, deductibles, and other potential out-of-pocket expenses, as well as premium quotes.
It can also be beneficial to discuss your options with a specialist in marine license insurance. That way, you can better ensure that you're not leaving any potential—and potentially costly—risk(s) uncovered.
Are You Ready to Purchase a Marine License Insurance Policy?
If you're ready to move forward with purchasing a marine license insurance policy and ensuring the protection you need for a wide range of risks on the water, 360 Coverage Pros can help. We offer an extensive selection of marine license policies that are underwritten by a top-rated insurer with a long track record in the industry. Policy renewal and other administrative details are also easy to conduct through our website.
You can review the available policies and apply for your coverage directly online – and, in most cases, the protection—and your proof of insurance—are available right away. So, don't leave your income and your livelihood to chance – especially in the rough waters of potential damage, loss, and legal liability.
Still have questions about marine license insurance?
360 Coverage Pros has the answers!
Our representatives are available via phone, email, and even through online chat. So, feel free to reach out to us directly, toll-free, at (866) 807-3822 and talk with one of our experienced mariners' coverage reps.
Or, visit us on our website at https://360coveragepros.com/marine-license-insurance to chat online or send us an email message.
We can work with you on determining which marine license insurance plan is right for you, based on your specific needs. We will also provide you with premium quotes for a variety of coverage alternatives so that you can secure the protection you need without breaking your budget.