Real Estate Agent Interests
09/09/2019
Attacks on Real Estate Agents Are Increasing Every Day
By Harry J. Lew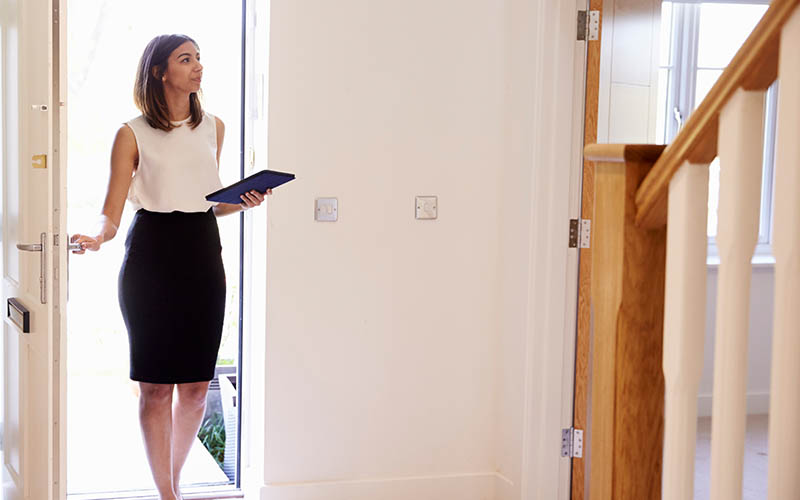 Selling real estate is a risky profession. Every day agents are getting robbed, assaulted, or worse. Are you just running scared or are you doing everything you can to stay safe?
From outward appearances, real estate agents seem to have a safe job. They don't have to work with dangerous machinery or climb trees or telephone poles. They don't deal with hazardous chemicals or dive deep into the ocean. And they certainly don't have to deal with criminals or unhinged people. Or do they?
Sadly, despite outward appearances, real estate agents face significant danger at work. In fact, according to the U.S. Department of Labor's Bureau of Labor Statistics, 48 real estate professionals died while on the job in 2017. Although it's uncertain how many of those incidents resulted from workplace violence vs. other types of injuries, it's clear people who sell real estate are at greater risk than, say, a schoolteacher or retail clerk.
How risky is your job?
Statistics show just how much risk is involved. According to a 2018 Inman survey, 9 percent of agents said they'd been attacked or threatened at work. More than 5 percent said they had to use a gun to defend themselves, while more than 5 percent relied on a cellphone application to stay safe. Meanwhile, according to the National Association of REALTORS® 2018 Member Safety Report, 33 percent of its members said they feared for their personal safety or the safety of their personal data at some point in the year. The number rose to 41 percent for women in the survey.
Even worse, feeling threatened at work is far from an unusual occurrence for real estate agents. According to the NAR survey, 40 percent of REALTORS® said they felt unsafe every few months or more often. Only 5 percent of them said they never felt personally unsafe while performing their job duties.
What's going on? Why do so many real estate agents have safety issues at work? According to Ripple Safety, a professional monitoring service, the real estate business poses four unusual risks:
First, agents normally work alone. They're independent contractors who spend most of their time in the field. They show properties and run open houses by themselves. Criminals know this and single out agents, especially female agents, because they know they're vulnerable.
Second, agents work with people they don't know. When they meet someone at a property (or elsewhere), they have no way of knowing whom they're dealing with. They could be showing a home to a felon, a drug addict, or someone with mental health issues. The person could be packing a weapon or planning to carry out a theft, sexual assault, or worse.
Third, agents can't control where their properties are located. Although they can specialize in selling homes in a certain community, it's hard to predict exactly where those homes will be. They could be in a transitional part of a town or city. Or they could be an abandoned or foreclosed property. Perhaps squatters are in residence. Agents can never be certain what they'll face when they sign on to a deal.
Fourth, agents rely on public advertising to drive traffic to open houses. So if a criminal were looking to find someone to rob or assault, identifying an open house isn't hard to do.
Cases of Life and Death
The bottom line? It's that real estate agents get robbed, assaulted, and even killed because they work alone and are uniquely accessible to people of all types, making them easy targets. When someone needs money or enjoys harming a stranger, finding and attacking a working real estate agent can be child's play. The following cases illustrate just how easy it can be.
Consider the case of a real estate broker working an open house earlier this year in Tinley Park, Illinois. She was alone in the house with "prospect" Stanley Keller, 50, an ex-con. Keller asked the female broker to show him the upstairs bedrooms, basement, and garage. As she was leading the tour, she told police her body began vibrating and that she was having trouble speaking. When she turned to face Keller, she saw he was pointing a stun gun at her. After a struggle, the broker was able to escape and summon help. The police arrived and found Keller sitting in his car with the stun gun and a contraceptive he apparently planned to use on the broker. He was arrested on charges of attempted aggravated criminal sexual assault.
The next case dates back to December 2018 when a suburban Maryland real estate agent, Steven B. Wilson, 33, was working out of a model home in a residential development. After being shot by suspect Dillon Augustyniak, 18, Wilson was able to call 911. But the despatcher only heard heavy breathing, followed by someone asking, "Where is the money? Who are you talking to?" When the police and paramedics arrived, they discovered Wilson had been shot dead. Thirty hours later, they arrested Augustyniak after he sold Wilson's cell phone and attempted to sell the rifle he used in the crime. Augustyniak's was charged with first-degree murder and armed robbery.
In Salt Lake City, David Stokoe, a real estate agent and landlord, was gunned down while trying to evict two tenants from a property he owned. He had rented the apartment to Jessica Miller, 38, who was having hard economic times. Stokoe rented the apartment to her because he felt sorry for her. Eventually, Miller and the person she lived with, Manuel Velasquez, fell behind on their rent payments, and Stokoe was forced to evict them. When he arrived to begin the process, Velasquez shot him multiple times and then stuffed his body into a crawl space. The alleged shooter was charged with murder, obstruction of justice, firearm possession by a restricted individual, and discharge of a firearm. Prior to this incident, Velasquez had been charged with attempted murder in one case and with shooting at someone in another.
Elizabeth City, North Carolina, was the site of another incident involving a man assaulting a female agent. The victim told police she met the man, Nathaniel Jonathan Cox, 20, of Fayetteville, North Carolina, at her real estate office, where he explained he was part of a group looking to invest $24 million into the local real estate market. She decided to show him a nearby property and had him follow her there in his car. When they arrived, he told her he was a male porn star wanting to rent a local Airbnb. Then he touched her inappropriately and grabbed her arm repeatedly. When she tried to escape, he blocked her from leaving. When the police arrived, they arrested Cox and charged him with second-degree kidnapping and assault on a female.
We could go on, but you get the point. Real estate agents are open to attack from thieves, sex offenders, and murderers. And it's impossible to predict which client will decide to prey upon you, where, or when.
So what can you do? Aggressively protect yourself,  safety experts advise. We'll review a variety of steps you can take in the second part of this article. But for now, consider the benefits of:
Carrying a self-defense weapon.
Using a smart phone safety app.
Implementing proactive agent safety measures.
Following proactive measures to lock down client data and personal information.
If you decide to carry a weapon, you won't be alone. According to NAR's 2018 Member Safety Report, 43 percent of its members have opted to carry weapons. The most commonly utilized ones were:
Pepper spray: 16 percent
Firearms: 15 percent
Pocket knives: 7 percent
Tasers: 5 percent
Batons or clubs: 3 percent
Battery-operated noise makers: 2 percent
The weapon of choice often depended on the agent's gender. Women tended to prefer pepper spray (24 percent of women vs. 4 percent of men used pepper spray). Women also preferred Tasers (7 percent vs. 2 percent) and noise makers (4 percent vs. 0 percent).
On the other hand, men favored firearms (19 percent vs. 12 percent), pocket knives (9 percent vs. 6 percent), and batons or clubs (4 percent vs. 2 percent).
Use of a smartphone safety app is growing in popularity, the survey found. The NAR revealed that 47 percent of its members used such an app to track where they are and to request help in case of an emergency. This was an increase of 3 percent over 2017. The most common apps used were:
The Find My iPhone feature: 30 percent
GPS Phone Track for Android: 6 percent
HomeSnap Pro: 3 percent
Life360: 2 percent
SentriSmart: 2 percent
Other apps used less frequently were:
See Something Send Something
Guard Llama
Agents Armor
Wearsafe
People Smart
React Mobile
Safe Fi
Trust Stamp
Bmonitored
CurbCall
bSafe
Find My Friends
Google location sharing
Real Safe Agent
Another common safety precaution was notifying a family member, friend, or spouse before doing a showing or open house. Whether they used an app or a notification procedure, women overall were much more likely to protect themselves in these ways than men were: 56 percent for women vs. 35 percent for men.
Adopt best practices
How can you assure your own safety? Start by knowing and implementing industry best practices for safety.
NAR's safety report found that having a proactive brokerage policy for agent and customer information safety was common in the industry. However, surprisingly, only 46 percent of agents said their office has standard procedures for agent safety. Twenty-seven percent said it had no procedures, and 27 percent said they didn't know if it did or not.
Things were better when it comes to procedures to safeguard client data. Here, 71 percent of agents said their office had policies for keeping customer information safe and for assuring proper disposal of client data. The obvious question: why do brokerages put more emphasis on protecting data than on safeguarding their human sales team?
The NAR report made clear that the industry has a long way to go to better protect its vulnerable agents from rapists, thieves, and worse. For example:
Only 40 percent of the agents surveyed said they insist on meeting prospects they don't know at their office or at a neutral location.
Only 62 percent have personal safety protocols that they adhere to 100 percent of the time.
Only 39 percent have taken a self-defense class
Only 19 percent have taken a REALTOR

®

safety course.
Given the magnitude of the threats real estate agents face each day, shouldn't these numbers be much higher? If you agree, watch for the second part of this article, where we'll provide more specific guidance on keeping yourself self while still accomplishing what you need to at work.
Staying safe also involves protecting your business against customer lawsuits. Visit 360 Coverage Pros to learn more about our industry-leading errors and omissions insurance program.