Travel Agent Interests
10/14/2022
A Strong Social Media Presence Could Mean Dollar Signs for Travel Agents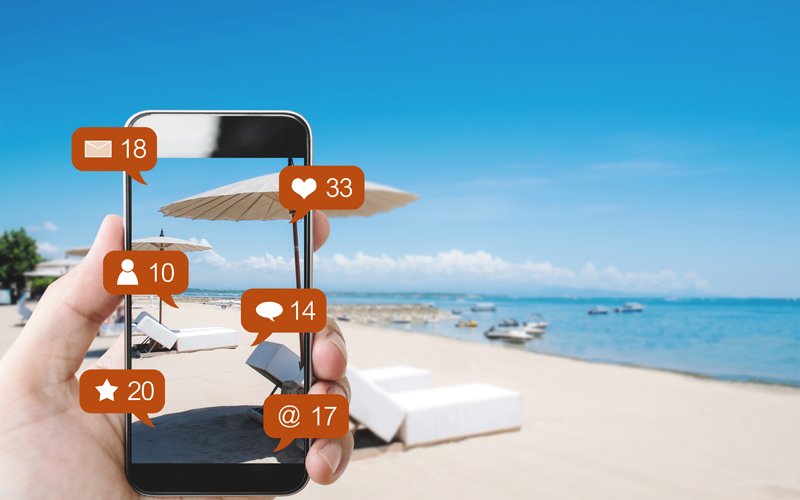 As a travel agent, you know social media is a powerful tool for building relationships with potential and current clients. Some questions you may be asking yourself are: What are the best ways to use social media to win business? Which platforms are travel agents using? And, what types of content are resonating with their clients? Below, we will provide you with tips on how to use social media to stand out from the competition and grow your travel business. So, sit back and relax, and let us teach you how to work social media like a pro!
Connecting and providing personalized service
You can use social media to connect with your clients and provide exceptional service. Social media gives you the opportunity to showcase your personality and connect with your clients on a more personal level. In addition, you are able to share information about destinations, travel tips and advice, as well as special deals, promotions and services. Since you can share photos and videos, social media is a fun way to inspire your clients and prospective clients to take their next vacation. All of this allows viewers to get a better sense of what you can offer them. Furthermore, you also have the chance to give personalized service by responding directly to people's posts and messages. By using social media, you can build relationships with your current and future clients and provide them with the best possible service.
Staying up-to-date on the latest travel trends
Social media can also be used for your professional development by encouraging you to stay relevant and up-to-date on the latest travel trends. By following relevant hashtags, subscribing to related channels and joining travel groups, you can ensure you are always in the know when it comes to new destinations, deals and tips. Additionally, many travel agents use social media to build and cultivate a personal brand. By sharing helpful content and engaging with clients online, you can create a strong rapport that leads to repeat business. In an ever-changing industry, social media is a valuable tool to stay ahead of the curve.
Offering exclusive deals and discounts
In the past, travel agents relied heavily on word-of-mouth and print advertisements to attract new business. However, with the advent of social media, travel agents are now using these platforms to reach a larger audience and offer exclusive deals and discounts. For example, many travel agents are offering special rates for followers who book their travel plans through their social media page. There are endless deals to offer your clients— from a percentage off a hotel stay to complimentary airfare. By providing these incentives, you will be able to stand out from the competition and build a loyal customer base.
Building trust and loyalty
Customers often become return customers because they trust the travel agent's ability to find the best deal on their next vacation. In fact, studies show return customers are worth up to 10 times as much as their first purchase. As such, if you can turn a one-time customer into a return customer, you can potentially increase your revenue tenfold. Therefore, it is in your best interest to use social media to build trust and loyalty among your clients. Return customers will not only come back for more business, but they will also refer their friends and family, which will help to grow your business exponentially.
Keeping your account fresh
By keeping your accounts updated, you can reach a wide pool of potential clients. In order to make the most of social media, it's important to update your accounts on a regular basis. This doesn't mean you need to post dozens of times each day, but you should aim to post frequently enough that your followers remain engaged. It's also important to choose content relevant to your business; posts about industry news, new destinations and special deals are all great ways to show potential clients what you have to offer. By keeping your social media accounts active and informative, you can reach a large number of prospective customers and help your business grow.
Travel agents who are active on social media are seeing great results, and there's no reason why you can't be one of them. Stay current on the latest trends, showcase your best work, offer deals and discounts and build trust with your customers— it all adds up to increased sales and a thriving travel business.
As your company grows, it's important to protect yourself from potential legal issues that could arise from disgruntled customers or former employees. That's where errors and omissions (E&O) insurance comes in. At 360 Coverage Pros, we can provide you with the coverage you need to protect your business from any potential legal problems. Contact us today to get started!