Travel Agent Interests
09/19/2022
Choosing the Right Suppliers as a Travel Agent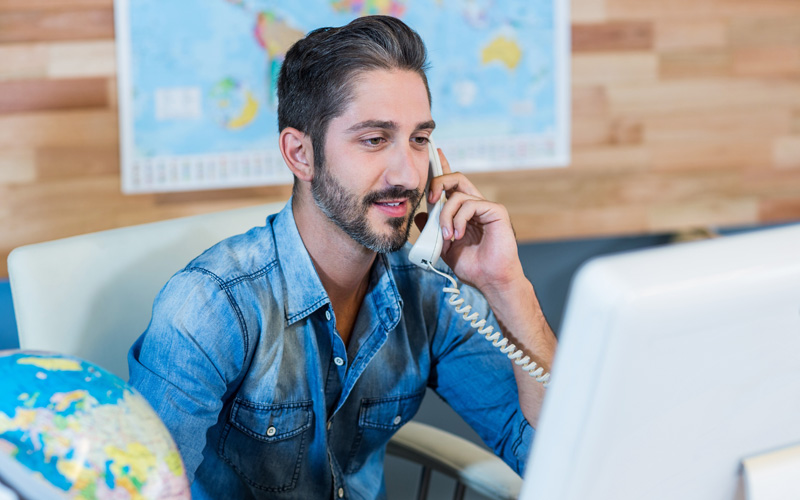 Having a strong travel-supplier network is a key success factor for today's travel agents. Here's what to look for in a potential supplier partner.
No travel agent is an island. By that we mean, that to be successful in this business, you can't satisfy clients by yourself. Instead, you need a network of suppliers who provide the travel experiences your clients desire and are willing to pay for. Without them, you might as well be marooned on a South Pacific atoll . . . with nowhere to go, nothing to do, and no one to share paradise with.
Advantages of Having a Strong Supplier Network
Travel suppliers play a crucial role in the travel industry. They develop, market, and execute the travel your clients crave: resort vacations, Disney stays, adventure travel, and more. In effect, they manufacture the travel experiences your clients want to buy, providing a breadth and depth of services you'd be hard-pressed to create and deliver on your own.
That suppliers play an instrumental role in this business is beyond dispute. The question you face is how to build an effective supplier network that supports your growth ambitions and consistently delivers high-quality service to your customers.
If you haven't begun to establish a supplier network, it's time to consider the benefits of doing so. For starters, having a robust team supporting you makes you a better travel agent. It strengthens your ability to cater to just about any consumer travel need. Whether your clients prefer Disney vacations or Caribbean cruises or wilderness adventures or eco-tours, you'll be able to provide a travel solution that meets their needs at a price they can afford. What's more, having a capable travel network means you can present a range of travel options, from budget to luxury that encourages clients to "stretch" their budget to experience something special the next time they travel.
Once you commit yourself to serving a specific travel niche, selecting appropriate travel suppliers allows you to stock your shelves with compelling choices quickly. And since your suppliers already did the legwork behind their services and have motivating content and photos online to help you sell them, you can immediately begin to promote them to your customer base. Working with skilled suppliers is a great recipe for delighting your customers every time they travel and for growing your business at an optimal pace.
Finally, there's an important marketing benefit to having an experienced supplier network. Because you will likely assemble your network through hands-on research, personal interviews, and FAM tours, you will be able to vouch for every supplier you recommend personally. Can large online travel agencies (OTAs) make the same claim?
What to Look for in a Travel Supplier
Before you begin recommending a supplier's products to your clients, you must do your due diligence on the firm. You want to make sure it has the expertise, track record, and fan base it claims. Rolling the dice on a supplier that later drops the ball will not only harm your customers but can also damage your reputation and future growth prospects.
Here's what your travel supplier research should entail:
Check to make sure a supplier's offerings match your travel-industry niche. You also want to be sure its offerings synch with your customer profile. For example, you wouldn't seek to represent a luxury tour operator if your customer base consisted of middle-income travelers. Similarly, if you have a diverse client base, make sure your travel supplier offers a variety of price points that respond to different client budgets. Finally, give a supplier extra points for offering ancillary services such as travel insurance.
Find out whether the supplier's products mesh well with your other supplier offerings. Your goal: to develop a diverse and exciting portfolio of travel services from which clients can choose.
Review the firm's online reputation, consumer reviews, and media coverage. Make sure it hasn't had service problems or been involved in unethical or illegal conduct.
Research its compensation schedule. Is the commission consistent with what you receive from other suppliers? If not, consider whether it makes sense to do business with the company. Also, check for commission transparency. Its documentation around compensation should be accessible and easy to understand. If it appears to have something to hide, think twice about doing business with the supplier.
See if it provides excellent reservation support. You want to make sure it won't let your customers languish on hold. You also want to know that clients who encounter problems while traveling can quickly get help. How a supplier deals with client emergencies will reveal its commitment to providing quality service. Saying the right words is one thing; delivering responsive service in the heat of the moment is quite another.
Make sure the supplier has a good relationship with your travel consortium. This will translate into higher commissions and greater access to travel perks and value adds. If you don't belong to a consortium, see if your travel host membership and/or travel franchisor provide similar benefits.
Determine whether the supplier has a well-funded marketing department and the ability and willingness to deploy those resources for your benefit. A supplier that brings a lot of marketing strengths to the table, as well as product strengths, will be an invaluable travel agent partner.
Check to see if it will assign a business development management manager (BDM) to your account. Travel suppliers often provide agents in a given region with a dedicated BDM. This person will provide information, service, and other support to help you make good use of the supplier's offerings. Check online and around the industry to see if the firm's BDMs have a good reputation. If they're responsive to agent needs, well organized, willing to share best practices, and open to learning your business, chances are your relationship with your BDM—and that person's firm—will be positive.
Probe to see if the supplier rewards agent loyalty. If you concentrate your business on one or several suppliers in each travel category, the supplier should reward your substantial business volume with a higher commission rate, better pricing, and more amenities for your clients. If the supplier has a reputation of not rewarding agent loyalty, find one that does.
See if the supplier is active in the travel agent community. It should belong to the major agent trade associations, attend trade shows frequently, publish often in travel magazines and websites and host its social-media groups. The greater such involvement, the more likely the supplier will understand the challenges you face and hopefully be willing to help you overcome them.
Finally, before beginning to use a supplier's products, evaluate its credit facility. A supplier that is willing and able to offer you better credit terms will be a more attractive partner, everything else being equal.
The Supplier Bottom Line
At the end of the day, lining up a strong roster of committed and competent travel suppliers may spell the difference between being a successful travel agent in the future and one who struggles to grow. However, establishing your supplier roster won't happen instantly. It will likely take years of nurturing by both parties. But once you reach a point of knowing what your suppliers bring to the table and trusting their ability to serve your clients, you will be in an excellent position to aggressively grow your business.
Enter Travel Agent E&O Insurance
Even if you have the right suppliers, mistakes will happen. If they're serious enough, your clients may suffer financial losses that lead them to take legal action against you. If you don't carry E&O insurance, you will have to pay for your legal bills and claim settlements out of your pocket. Most travel agents today are ill-equipped to shoulder these expenses. To transfer their legal risks to an insurance company, they buy E&O insurance from providers such as 360 Coverage Pros.
E&O insurance covers you when you make a mistake or forget to do something important, which financially injures a client. When this happens, your insurer will:
Supply you with an approved defense attorney at no extra expense to you.
Assign a claims adjuster to handle your claim.
Hire expert witnesses to buttress your case.
Pay for arbitration, mediation, or other forms of alternative dispute resolution.
Pay for court administrative expenses.
The total cost to resolve your case can easily reach five or six figures or more. As long as you keep your policy in force, your insurer will handle these expenses for you. Without insurance, you will be personally responsible for them, leaving your business and personal assets vulnerable to attack. Given the choice between getting insured or failing to protect themselves, most agents make the logical decision.
360 Coverage Pros offers Errors and Omissions (E&O) insurance programs for travel agents, travel agencies, and tour operators. Coverage is available for as low as $29.33 per month. To learn more, visit our website.