Travel Agent Interests
04/21/2021
How and Why Travel Agents Should Use Social Media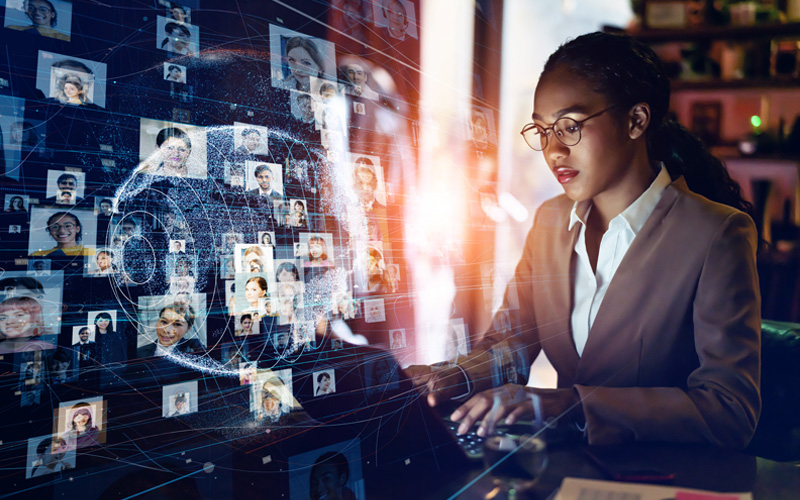 Are you still on the fence about social-media marketing? Then it's time to hop off and start engaging online with your prospects and clients. Learn why and how here.
Once upon a time, travel agents who wanted to grow their businesses relied on newspaper advertising, Yellow Page listings and direct mail. Social media has revolutionized travel agency marketing. Today, you have a world of new promotional options at your fingertips, allowing you to bypass intermediaries and engage directly with prospects at little or no cost.
Why Travel Agents Should Use Social Media
The advantages of using social media to promote your travel business are almost unlimited. Here are nine major reasons to get involved:
The global social-media audience is immense. According to We Are Social's Digital 2020 report, more than 4.5 billion people worldwide now use the internet. Of those, 3.8 billion are on social media. On average, they spend two hours and 24 minutes each day on social media, representing more than one-third of their total internet time (six hours and 43 minutes).
Follow the people. If you are a travel agent looking for new clients, you need to be where they spend much of their time—on social media. Being in the travel business, consumers innately want to engage with your content; travel narratives and photos are among the most popular forms of social-media content. If you can post useful and inspiring content, you are well on your way to generating a sizable audience.
Travel has traditionally been a word-of-mouth purchase. Before the advent of the internet and social media, people asked their friends, family, and colleagues about their travel experiences. They considered their answers when deciding about future travel. Today, social-media platforms have amplified the word-of-mouth phenomenon by an order of magnitude. If you want to become better known as a travel advisor, building a social-media presence is the best way to do it.
People like to see their friends' and families' travel experiences online...and to share their own adventures. They want their stories and photos to delight others now and themselves in the future by triggering their memories
Most people do all or most of their travel research online. They read traveler accounts, magazine features, supplier websites, blogs and Instagram "influencer" posts (from travelers paid to recount their experiences with a supplier's product or service).
When evaluating a particular location or supplier, modern travelers also rely heavily on consumer reviews. These are commonly published on Google and Tripadvisor, among other websites.
Photography is a key reason why travel consumers use social-media platforms. Reading about a destination doesn't convey a full sense of what a place is about. Photography and video are much more compelling and immersive, making them among the highest rated content types online. The quality of today's digital and even cell phone cameras, which also shoot video, allow consumers with little formal photography training or experience to shoot and post photos that rival what professional photographers captured back in the day. In turn, this fuels the wanderlust that leads people to spend big money on personal travel.
Social media, especially Twitter, is a great way to request assistance from travel agents or suppliers. Tweeting a complaint with the right hash tags often sparks a helpful response faster than an email or phone call will. No travel agent or company wants to leave a consumer complaint out there for public scrutiny too long without resolution. The reputation damage will be too severe.
The trend of consumers posting their experiences online has become formalized via social-sharing programs. You can offer to reward clients who share your content or rate the trips you sent them on. You can then curate the responses on your social-media platforms to build your brand equity.
Social media platforms and travel agents are a marketing match made in heaven. You can engage with prospects and clients online, strengthening your relationships with them. In return, consumers get to relive their trips and collect information for future travels. What's not to like about this quid-pro-quo? In a recent survey more than 90 percent of travel agents said that social media involvement was a very important or somewhat important part of their marketing plan. About half agreed it was very important. The Travel Market Report study also found that half of travel agents run paid social-media ads on Facebook—and half receive at least one booking from that network every month.
How Travel Agents Should Use Social Media
For most travel agents, the key question is not whether or not to get on social media. It's how to do so. As with traditional marketing, your initial step should be to develop a plan. First, establish goals for being on social networks. Are you looking to grow revenue, enhance your brand, or both? Do you want to become known as an expert in a certain location or in a specific type of travel? Whatever your objectives, documenting them in writing will help you decide which social-media platforms to join and what to post on them.
Developing a written social-media plan is also an excellent opportunity to distinguish yourself from your competitors. According to Travel Market Report, only 40% of agents develop a formal social-media plan before launching their efforts. Having a plan will put you a step ahead of what most other agents are doing because your program will likely be more focused and sustainable than those of your competitors. You will also provide better content if you post systematically, rather than on an ad-hoc basis.
Part of planning is deciding which social-media platforms to join. With access to so many options, focus on one or several primary channels. Which to choose? Those that complement your travel niche and sync with your desired target market. Most travel agents participate on Facebook because it's the world's largest social-media network, with the most travel-oriented groups in which to involve themselves. Additionally, you have the ability to set up your own Facebook business page, which you can use to build a community of prospects and clients as passionate about travel as you are.
Instagram is probably the second most popular platform for travel agents. Aside from Pinterest, it's the most visual of all social networks. If your goal is to post beautiful travel photos that make your trips come alive, Instagram is your best option. Attracting mostly business people, LinkedIn is a natural if you serve business travelers. It's not as visual of a platform as Instagram, but it's perfect for sharing information that helps your business clients travel safely and economically. Twitter is also a useful platform due to its ability to share late-breaking news and information. If you want to share a hot new travel deal or have important information to put out about your firm or a travel supplier, Twitter is a great option. Joining these three social networks should cover all your bases.
In terms of posting content, start with the end goal in mind. If your objective is to create the impression you are highly qualified, customer-service driven and passionate about travel, then post content that leads consumers to draw those conclusions. Also, publish a mix of content that builds awareness, engagement and action. If you focus exclusively on action—posting trip deals and the like—you might miss out on opportunities to make people more aware of what you do. And you'll give short shrift to what social media excels at: building engagement through an audience. A reasonable mix of these three content types might be 30% awareness, 60% engagement and 10% percent action.
Here are some other tips on how to take full advantage of social media to promote your travel business:
Adopt a content-marketing approach to your social-media publishing. As referenced earlier, don't just push sales offers at your social-media audience. Attract them to your website by publishing magnetic content on your social-media pages. This typically refers to photos and travel narratives that sell the emotional need to travel, not just the features and terms of a specific deal. This approach requires a mind-set change. When travel agents become content marketers, they replace part of their sales hat with one of a publisher. Rather than persuade prospects about buying a travel package, you persuade them to keep visiting your social-media page to hear your insights and hopefully at some future point, buy something. This paradigm shift may not sound like a big deal, but can help ensure you keep prospects and clients returning.
Encourage consumers to review their trips on a social-media platform like Tripadvisor or Google Reviews. This is important because some consumers place more weight on positive reviews than on low prices or special promotions. If you want to encourage people to use your services without having to make price concessions, ask everyone who buys a trip from you to post an online review. Then encourage prospective clients to check out those reviews before making a decision. Since not all reviews will be positive or candy-coated, make it a policy to respond to all negative ones. Thank each person for the honest feedback and then explain what may have gone wrong and how you will prevent it from happening in the future.
Be social on social media. Engage in a give and take rapport with consumers online. That's the point of social media, right? So talk with those who visit your Facebook page, not at them. Like and share what they post. Encourage them to like and share your content. The point is, doing social media isn't about blasting one-way sales messages at people. It's about having conversations that create long-term relationships, which ultimately result in sales.
Think outside the box in terms of making posts. Just as the world offers unlimited travel opportunities, you have just as many ways to post captivating content. You might publish information that showcases popular travel destinations or properties. You can post hot deals and promotions, but in moderation. You might run contests...for example, giving a prize to the person who refers the most prospects to you. Or you might post photos from recent client trips or share hash tags from happy clients' Instagram pages. Sharing informative or inspiring travel articles you've read in the popular or trade press will always be a great idea.
In short, when it comes to social-media marketing, the world is your marketing engine. Post anything you find pleasing and interesting, because if you like it, chances are your prospects and clients will, too. Their enjoyment and liking of your content will hopefully become the start of a long and mutually beneficial relationship.
360 Coverage Pros offers Errors and Omissions (E&O) insurance programs for travel agents, travel agencies, tour operators, and meeting planners. Coverage is available for as low as $29.33 per month. To learn more, visit our website.