Travel Agent Interests
04/01/2020
How to Talk to Your Clients About the Coronavirus
By Harry J. Lew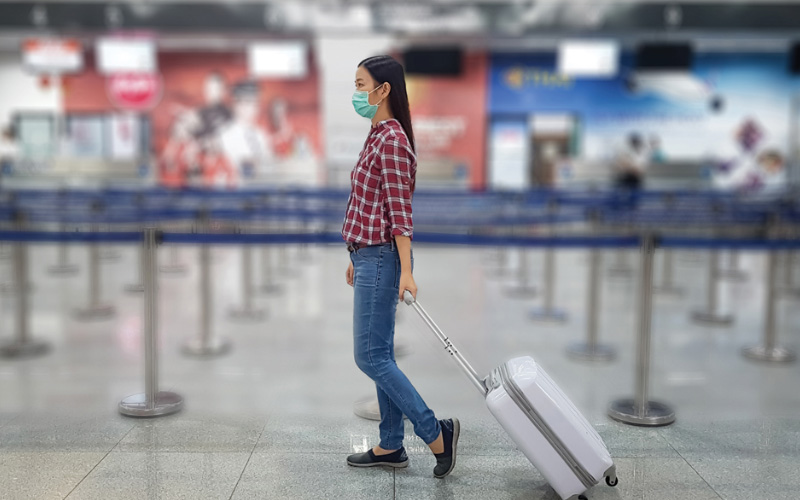 With the travel and tourism industries in free fall due to COVID-19, fear and chaos are now rampant. Here's what to say to calm your clients.
Cancelled flights. Quarantined travelers. Airport chaos. City lockdowns. The coronavirus is creating all this and more in the travel and tourism industry. Result: the business has been turned upside down, harming the livelihoods of most who work in it.
However, its worst impact is the fear and hysteria it creates in the traveling public. Managing these emotions may well determine how you emerge from this crisis . . . with either a viable business or a career in tatters. Read on for guidance on how to calm your customers.
Epidemic of fear
It's no wonder your customers are frightened. As of March 30, 2020, there have been more than 755,591 global coronavirus cases and 36,211 deaths, according to the Johns Hopkins Coronavirus Resource Center. In the U.S., there have been 140,904 cases and 2,405 deaths (likely to grow geometrically in the future). According to the U.S. Centers for Disease Control and Prevention, 54 jurisdictions have reported cases, including 50 states, the District of Columbia, Puerto Rico, Guam and the U.S. Virgin Islands. Of the confirmed cases, 886 have been travel related, 2,351 have resulted from close contact and 137,667 remain under investigation.
But it's not just the documented cases that evoke fear. It's also the fact that cases are likely to spike dramatically in the weeks ahead, overwhelming the U.S. medical system. Also alarming are the steps governments have taken to retard COVID-19 spread. These include shutting public schools and colleges; restricting access to bars, restaurants, movie theaters and gyms; and locking down healthcare facilities such as nursing homes, which have large numbers of vulnerable older patients. Some cities have also strongly urged residents to stay home.
These measures have not only sparked fear, they have also frozen economic activity. Times Square in New York City is a ghost town. The NCAA college basketball tournament has been cancelled, as have professional sports. Disneyland is closed and parades and conventions have been cancelled. All of this has had a chilling economic effect, reducing consumers' disposable income and their ability to pay for discretionary travel. Explicit government travel restrictions have made things even worse.
Not surprisingly, fearful travelers are questioning whether it's safe to travel. If the virus doesn't get them, they worry, the chance of being quarantined abroad or of having to deal with a chaotic re-entry will. What's your role amidst so much anxiety? Many agents suggest the job today is less about planning travel and more about helping clients make rational and safe decisions in an environment of constant change.
However, recent decisions in major cities to shelter in place means travel might not even be possible in the near future. This means soon your job may shift to selling late 2020 and 2021 trips and to help your current clients modify or cancel their current travel with zero or minimal financial penalties.
Plus, with the global travel climate becoming so uncertain, it's crucial to avoid risk exposures for your business. For example, if you tell a client it's fine to take a trip and then the person ends up catching the virus or getting stranded abroad, you might face an errors and omissions lawsuit. If your agency or your employer lacks E&O insurance, you may face substantial personal liability as a result.
Outmoded approaches
Bottom line: many of the standard approaches to reassuring clients might not work with COVID-19:
For example, telling them you're not canceling your personal travel may provide limited assurances when the travel marketplace has bottomed out.
Or saying that "travel and tour companies are still sending people abroad, so how bad can it be?" might be irrelevant, since government advisories have frozen entire travel modes (cruising and flying to certain countries). In fact, it's hard to know which travel destination will erupt next as a COVID-19 hot zone, making staying home the safer and more sensible bet.
Then there's the "you're at risk wherever you go" approach. If a client accepts that and then gets sick while traveling, the travel agent who encouraged the person to go might face legal action at some point.
"There are so many deals out there now" is always a motivating argument. But again, a client's excitement over saving money might turn to legal vengeance if he or she spends several weeks quarantined on a cruise ship or stranded at a foreign airport.
"Seasonable influenza kills people, but we don't shut down the travel industry because of it" might persuade some travelers. The problem is, epidemiologists point to how little they know about COVID-19. They're not sure of its fatality rate because the number of reported cases is far smaller than the actual case count. Until testing ramps up, it will be hard to know exactly how deadly this virus is. But one thing is already certain: it's far more deadly than seasonal influenza.
So what should you tell your clients? The starting point is to make sure you're communicating fact-based guidance. Advise them to check trusted websites for the latest COVID-19 advisories. These include:
But don't just send them to these sites. Help them put the travel advisories into the context of their own goals and experiences. "Every traveler and company has their individualized risk tolerance that is tested in times such as this," says Zane Kerby, president & CEO, ASTA. "Your role is to provide expert advice, point consumers to unbiased resources to weigh in their decision and to provide maximum support to individuals and businesses regardless of what travel decision is made."
Kerby goes on to stress that the key thing is for your clients "to hear your voice directly" as they sort through he torrent of COVID-19 information in the media. They need to know that their travel advisor is their best resource in crises such as these and that no matter what happens, you will be there for them.
It's also crucial to proactively communicate timely updates from tour operators, travel networks and cruise lines. Since the situation is extremely fluid, it's important to funnel the latest information on cruise/tour cancellations and refund policies to your clients. Tracking travel insurance policy changes is important, as well, since insurance availability and provisions might change as a pandemic evolves.
"A prepared travel advisor, knowledgeable about the facts—including notices and recommendations from global health officials such as the CDC and WHO and the status of suppliers operating in the affected areas—is the best way for agents to calm fear," says Nicole Mazza, chief marketing officer for Travelsavers. Quoted in , Mazza further noted, "An informed advisor can help travelers make decisions with confidence."
Four major questions
In counseling your clients, it's wise to anticipate four questions:
"I have a trip planned to ____. Should I still go?" Obviously, this is where the rubber meets the road. You want to provide a balanced answer, discussing the benefits vs. risks of going. However, what you don't want to do is make the decision for the person. Say: "Only you can make this decision," and then make sure the person has all the relevant information in order to make a good one.
Also suggest clients consult with their healthcare provider or travel medicine clinic, as well as review relevant CDC, State Department and WHO information. For example, the CDC has a Level 3 Travel Health Notice (with re-entry restrictions) for China, Iran, most European countries and the United Kingdom and Ireland. A Level 3 Notice with restrictions means there is widespread ongoing COVID-19 transmission in a country, necessitating stringent procedures for re-entering the United States. Because of elevated risk, the CDC recommends travelers avoid all nonessential travel to these destinations.
Currently, a Level 3 notice is in place for all global destinations, without re-entry restrictions. This means the CDC recommends travelers avoid all nonessential travel to all global destinations. But if they do go, they can renter without problems.
Finally, the CDC has implemented a Level 2 Notice recommending special precautions for high-risk travelers. Specifically, it advises older adults and people of any age with serious chronic medical conditions to consider postponing nonessential travel to anywhere in the world.
"If I cancel my flight or tour, will I get my money back?" That depends on the airline or tour operator. Many times, consumers will have to pay a cancellation fee or booking penalty, assuming they didn't purchase a fully refundable ticket or tour. But travel advisors report that their suppliers often try to work with clients. What policies will affect your customers? Check with your travel agency network, supplier websites, or ASTA web page mentioned earlier to confirm their latest cancellation/rebooking guidelines.
"Should I buy travel insurance for this trip?" Normally, this is a good idea. However, due to the scale of the COVID-19 outbreak, Cancel for Any Reason (CFAR) policies might not be as widely available as in the past. Such policy refund up to 75 percent of the customer's purchase even if it were only due to their being afraid to travel in the current environment. Travelers buying less expensive trip cancellation insurance should know that being worried about traveling to a pandemic area is not a covered loss with such policies. Travelers who are already in the middle of a trip and have purchased trip interruption protection will be covered if an illness necessitates their bailing out.
As you discuss these matters, it bears repeating that your role is not to make decisions for your clients, but to help them make informed decisions. Probe for their risk factors, arm them with facts from trusted sources and then help implement whatever decision they make.
"If I must travel, how can I protect myself?" According to the CDC if clients must travel, they should take the following disease-avoidance steps:
Avoid contact with sick people.
Don't touch their eyes, nose, or mouth with unwashed hands.
Wash their hands often with soap and water for at least 20 seconds. If soap and water aren't available, use an alcohol-based hand sanitizer (at least 60 percent alcohol). It is especially important to wash their hands after going to the bathroom; before eating; and after coughing, sneezing, or blowing their noses.
Don't travel while sick.
Plus, after returning from a trip in the past 14 days, clients should pay attention to their health and isolate themselves socially for 14 days after their return. This means avoiding crowded places and group gatherings and maintaining a buffer of six feet between yourself and others, if possible.
Be compassionate and kind
Finally, as you work with clients in these stressful times, do your best to be compassionate and kind. People with travel worries may be irritable and quick to anger. Strive to respond with patience and calm concern.
Also let your ethical values guide your statements and behavior during this crisis. The American Society of Travel Advisors (ASTA) Code of Ethics should be your touchstone, especially its accuracy provision. It states: "ASTA members will be factual and accurate when providing information about their services and the services of any firm they represent. They will not use deceptive practices."
In short, as the COVID-19 pandemic unfolds in the months ahead, it's important to remember there are more important things than selling a trip and booking commissions, as necessary as those things are. Being honest with your customers about their travel risks and helping them make reasonable and safe decisions will always be your best long-term strategy.
And when the pandemic ends, your customers will be thankful for the kind guidance and support you provided . . . and likely to reward you with a lifetime of trust and future bookings.