Travel Agent Interests
09/13/2022
Lead Generation Tips for New Travel Agents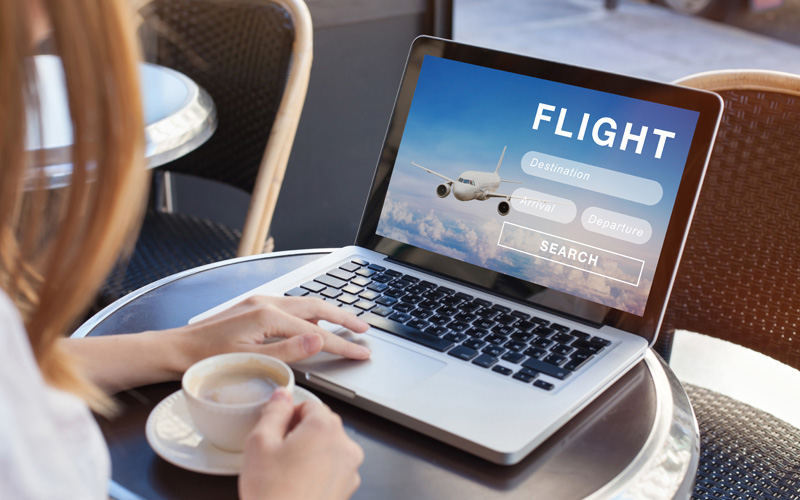 As a new travel agent, finding clients is job one. But how do you begin to generate leads? Learn about your options here.
"Lead generation" is the process of seeking new clients that fit your desired-client profile. It's one of the most important things new travel agents do. Unless you quickly attract customers, your travel-agent dreams might get canceled at the gate.
After you launch your business and develop an initial client base, lead generation must continue indefinitely. That's because you need to keep adding clients to meet your growth target, as well as to replace clients who stop doing business with you. How should you structure your lead generation effort? By creating a mix of tactics that build upon each other to produce the results you want.
There are many combinations of tactics that will produce good results. The key is to develop a program that suits your talents, temperament, and budget. Here are some of the main tactics from which you can choose:
Word-of-mouth marketing: A deliberate effort to seek leads from everyone you know, all the time. This is a highly effective method, especially for new agents. But it eventually peters out as you exhaust your supply of friends, family, colleagues, and centers of influence.
Search-engine optimization (SEO): A technique used to assure that search engines can find and highly rank your website content. When links to your content appear on the first search engine results page (SERP), you increase the odds people will see them and click through to your website, where you can capture their contact information.
Email marketing: One of the most powerful and cost-effective methods of generating leads. It requires having a strong prospect list and the ability to write a persuasive message header and body content. Typically, your emails will encourage prospects to click on a URL that sends them to your landing page, where you provide details about your offer and capture their information.
Social-media marketing: An excellent way to engage with prospects online. Platforms such as Facebook, Instagram, Twitter, and Pinterest are great venues for presenting your travel ideas and offers to prospects. They provide multiple ways to generate leads, either by creating a company page (Facebook) on which you publish your content, with links back to your website, by sharing destination photos from satisfied clients or other sources (great on Instagram), website or by purchasing streaming ads on the feeds of people who meet your demographic criteria. You can also participate organically on these platforms, sharing insights and comments on other people's posts in the hopes of building relationships with them based on a shared passion for travel. As that relationship deepens, a percentage of your "friends" or contacts may reach out to you for assistance with their travel.
Incentive giveaways: Typically involves providing first-time customers with a reward for trying out your services. It doesn't have to be expensive. It can be a spa voucher, a free airport transfer, a gift basket, or any other thoughtful (and relevant) gift. The point is, the specific gift matters less than the fact you chose to do something nice for a new client who entrusted their travel plans to you.
Affiliate marketing: Leverages the relationships online influencers have with their followers. By establishing an affiliate relationship with a travel blogger, for instance, you incentivize the person to speak or write about you or to even go on one of your trips and then write about it. Although there are various compensation arrangements, a common one is to pay the blogger or vlogger a commission for each person the affiliate refers who becomes a client.
Paid ads: This might involve running an ad in a traditional newspaper or magazine. But since legacy media audiences are shrinking and results are difficult to track, travel agents these days prefer to advertise on digital platforms. For example, you could use Facebook Ad Words to bid on your desired search phrase. If your bid succeeds, your website URL will be displayed among the top pages on the Google search results page. Clicking on your URL will take them to your site, where they can learn more about you, sign up for your newsletter or provide their name in return for getting a free travel guide or other content "magnet." Facebook also allows you to pay extra to expand the reach of your posts to desired prospects or to run an ad touting a specific travel offer.
Leads programs: Offered by various intermediaries as a value-added benefit for participating on their platforms. The intermediaries range from travel hosts and franchisors to supplier consortia. Before participating, be sure to understand the nature of the program. For example, how many leads will you receive? How much of your commission must you share with the intermediary? And who owns the lead going forward?
Website landing pages: A page devoted solely to showcasing a travel offer, presenting a powerful call to action, and directing prospects to a form or e-commerce engine to purchase a trip or tour. These pages must be attractively designed, easy to read, and highly persuasive. Because of their importance, many travel agents hire skilled copywriters to build them on their behalf.
Referral program: Similar to the incentive giveaways discussed earlier, except here an incentive is paid when existing clients refer agents to someone they know who then becomes a customer. These can be extremely effective, but you must explicitly spell out which clients can participate and under what conditions they will qualify for a referral payment.
Content marketing: Refers to the practice of developing content "magnets" that are posted on social media with links back to an agent's website. This encourages the inbound flow of potential clients who provide their personal information in exchange for getting access to the content resource. This form of marketing is also known as "inbound marketing," which is different from "outbound marketing." The latter approach involves the agent sending out marketing messages to potential customers, often via email or direct mail.
Creating a Lead Generation Program
It will be difficult for you to use all the above methods at once. Instead, select four or five tactics to start with. For example, many new agents use the following methods together to create a well-oiled lead-generation machine:
A strong, contemporary website, with a pleasing design, cohesive branding, professionally written content, and numerous calls to action.
Powerful social-media marketing, both organic and paid, to build your brand and distribute your content magnets to generate traffic back to your site.
Robust content marketing to create a wide range of marketing assets that prospects find useful for travel planning. These can range from destination guides and activity lists to sample itineraries or FAQs.
Affiliate marketing to provide access to the audience of popular travel bloggers and vloggers.
An incentive program to reward a prospect for becoming a client or a client for referring someone to you who might become a client in the future.
Building out all of these initiatives and running them consistently over the long term will provide you with a steady supply of leads. The key is to keep all the individual elements going, despite not always having time to do so.
Three Exciting Possibilities
In addition to implementing several of the above tactics, consider adopting an approach that uniquely expresses your background and passions. For example, if you're into technology, use virtual-reality videos to generate new clients. If you like to write, then become a travel publisher. And if you're excellent at thinking and speaking on your feet, then aspire to serve as a media source.
Doing virtual-reality video marketing: Today, many travel brands have created virtual-reality programs to inspire people about their properties, tours, or destinations and to promote bookings. This is nothing more than posting beautiful travel photos on Instagram, except powered with unusual and immersive technology. Instead of giving prospects a reprint of a newspaper or magazine article, they provide a 360-degree video and audio that delivers a highly engaging experience. Prospects can view VR content either on their computers, on their smartphones, or with a cardboard headset. One of the leading VR production firms has a downloadable app that allows travel agents and their customers to watch videos in real time.
The beauty of VR is that it grabs people's attention and doesn't let go. If they're wearing a VR headset, they can change their visual perspective by moving their head, just as in real life. Tilting their phones provides a similar experience. Once they experience a dream destination through virtual-reality technology, they'll likely be hooked. Reeling in the sale becomes an afterthought.
How can you get involved in this trend as an agent? Commissioning your program will likely be out of your budget. Fortunately, at least one company Travel World VR actively markets the videos it produces to travel agents. It will supply you with a free headset, which you can then use to screen VR content for your prospects. Or you can share it with them on your computer or email them a viewing link. The point is, that you can give a prospect all the brochures and articles in the world, but nothing will make a destination come alive like a VR video. Using this technique early in your career will boost your closing ratios and position you as a tech-savvy travel advisor. What's not to like about this?
Getting into travel publishing: No, we're not suggesting you should start the next Travel and Leisure magazine. We are saying you can publish electronic travel content that helps clients plan their vacations and be better, safer travelers. This is similar to the content-marketing tactic mentioned earlier, except more robust. It involves changing your attitude about your job. Instead of viewing yourself as a seller of travel bookings, you consider yourself a travel educator and publisher. By creating a large body of informative travel content, you win your prospect's trust and differentiate yourself from your competitors. As a result, you remove friction from the sales process and accelerate the journey from an initial conversation to a closed sale.
The possibilities boggle the mind. As mentioned earlier, you can create travel destination guides and itineraries. Or planning workbooks and curated lists of travel experiences. Or quizzes, checklists, maps, and FAQs. It's all highly useful content for your clients. And when you consistently deliver this information, you will build a strong relationship with them, setting the stage for a lifetime of travel sales.
Where do you want to land with this strategy? You want to provide content that meets the needs of your main ideal client groups (also known as personas), segmented by stage of the sales funnel. That means for each client type, you'll want content that:
Attracts them into the sales process (top of the funnel).
Gets them excited about a specific travel offer and answers their questions about it (middle of the funnel).
Supports them as they decide to buy the travel experience (bottom of the funnel).
Once you've created your content assets, you can then write posts about them on your social media platforms with links back to your website. They also can live on your website, available to anyone willing to provide their contact information before downloading.
Sound good? In theory, yes. But to have all this great content, you first need to build it. For this, you'll need a content calendar that transforms the plan into action.
Becoming a media star: Do you like to appear before a TV camera? Do you savor the possibility of being quoted in a Condé Nast Traveler article? Then consider making media relations a big part of your lead-generation strategy. This involves identifying media outlets you'd like to appear in, developing travel expertise to share with their audience, and persuading the outlet to have one of their writers or producers interview you for a future article or TV program. Or you can write an article yourself and ask them to publish it under your byline.
This is not a pie-in-the-sky idea. All media outlets have an insatiable need for content. If you can persuade them you know what you're talking about and can come across as attractive, articulate, and trustworthy, you'll likely assume your rightful position in the spotlight.
One way to launch this strategy is to visit the Help a Reporter Out website. After signing up, you can read posts from journalists and bloggers who are researching stories or programs about travel. If you have the expertise to help them, simply respond with a pitch. If they like it, they'll offer to interview you, providing full credit to you in their article or program. The HARO program is free, with the possibility of upgrading to three premium service levels.
If you're serious about using the media to generate leads, you'll probably want to do more than just HARO. You can approach the media on your own, educating them about the travel issues and destinations you're passionate about. Or you can hire a PR agency to approach them for you. Whatever your plan—HARO, self-approach, or PR firm—getting quoted in the media is attainable for even new travel agents. Once you appear in print or on video, you can post the article or program URLs on your website, include them on your social media accounts and mention them in your newsletter. Of course, don't forget to have call-to-action links in these posts, so prospects can click through to learn more about you and sign up for your blog or newsletter.
In conclusion, lead generation may well be the most important part of a new travel agent's job. Fortunately, there are many marketing tools at your disposal to make it easy and enjoyable to find new clients. When it comes to this crucial marketing task, the sky is the limit. And fortunately, you won't have to worry about your flight getting canceled.
360 Coverage Pros offers Errors and Omissions (E&O) insurance programs for travel agents, travel agencies, and tour operators. Coverage is available for as low as $29.33 per month. To learn more, visit our website.