Travel Agent Interests
10/13/2022
Ways to Build Your Luxury Travel Business and Offer More to Your Prospective Clientele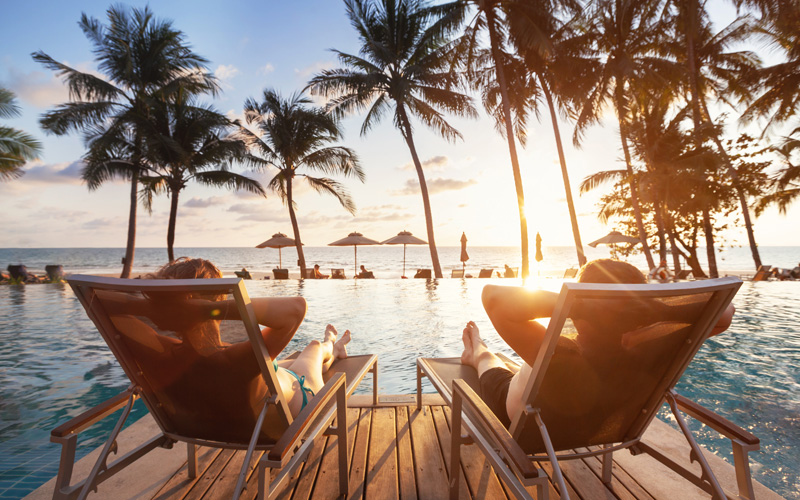 Leisure travel is not a need, yet tourism is one of the largest nonessential industries in the world. Tourism is a high-demand business with consumers willing to spend a great deal of money to maximize their experiences. The basis for being a successful luxury travel business owner is to identify the right clients and inspire them to live out their travel dreams while implementing your know-how to help them make their dreams a reality. The travel industry is gigantic, so finding your niche and sticking to it is imperative for long-term growth. Once you know your specialty, you can dial in on your audience through advertising and send your clients off on amazing trips with all the specialized knowledge you have gained.
To inspire your clients, you must first understand your audience: what their goals and preferences are, what excites them and what is of no interest to them. From there, you must paint beautiful pictures for your clients, illustrating how amazing the view will be, how delicious the food will taste, the authenticity of the culture, and so forth, so they get excited and can practically see themselves there. People make decisions with emotion and beliefs, not necessarily data and statistics, so helping your customers get excited to experience the trip you've planned will greatly increase the likelihood that they will book their travel with you again.
Offer more to your prospects and clients by using luxury techniques to make your travel services more memorable. Here are six tips to get you started:
Offer customized trips – Tailored itineraries are a key feature of luxury travel. If that's too expensive and/or resource restrictive, add supplemental options to a largely fixed tour.
Add concierge services – These services help customers find unique shopping opportunities, off-the-beaten-path attractions, or restaurants that cater to their unique tastes.
Surprise them – Surprises always make people feel special. Offer complimentary beverages or snacks, small gifts, or even a free brunch on the first or last day of a trip.
Celebrate them – Offer personal celebration add-ons for birthdays, anniversaries, graduations, and more. These increase the value for your customer and can be offered at an additional premium cost.
Include child-friendly services – Help parents traveling with their children feel safe while enjoying their alone time or simply provide family-friendly entertainment options.
Seek out educational opportunities – Affluent buyers seek rewarding, authentic experiences that will live forever in their memories. Consider offering an urban photography walking tour led by a local street photographer or adding a wine-tasting seminar specific to the region's offerings.
Protect Yourself and Your Business With Errors & Omissions (E&O) Insurance
Even with a luxury travel tour, you can't satisfy all customers all of the time. To protect yourself, make sure to buy E&O insurance from a trusted insurance provider.
What is E&O insurance? It's a form of insurance that protects you when mistakes occur that financially injure a client. When this happens, your insurer will:
Supply you with an approved defense attorney at no extra expense to you.
Assign a claims adjuster to handle your case.
Hire expert witnesses to buttress your case.
Pay for arbitration, mediation, or other forms of alternative dispute resolution.
Pay for court administrative expenses.
Pay for legal settlements and judgments against you should you lose your case in court.
The total cost to resolve an E&O claim can reach five figures or more. As long as you keep your coverage in force, your insurer will pay these expenses for you. Without insurance, you'll be personally responsible for them, potentially putting your business and personal assets at risk.
If you currently don't have tour operator E&O insurance or your insurer isn't meeting your needs, consider doing business with 360 Coverage Pros. As E&O specialists for travel agents, agencies, and tour operators, we provide coverage for as low as $29.33 per month. To learn more, visit our website.