Travel Agent Interests
04/06/2023
What Is a Travel Host Agency?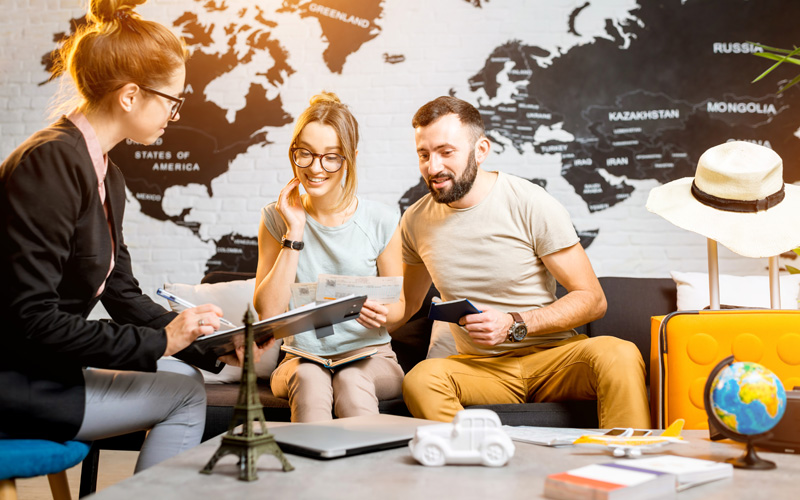 Travel host agencies affiliate with home-based agents through independent contractor agreements. Travel host agencies partner with home-based travel agents to achieve mutually beneficial business goals.
Through this modality, travel agents are 100% owners and operators of their businesses. Agents are not employees of the host agency but still receive support, marketing, and education benefits.
Home-based travel agents pay fees, commissions, or both in exchange for being part of the host agency.
When working with a travel host agency, agents might have liability insurance. However, you still have to find out what the insurance covers, whether you are protected as an independent contractor, or whether it's the agency that's covered. Regardless of what's covered, having supplemental insurance is always a smart way to ensure you are fully protected.
What Are the Benefits of Affiliating to a Travel Host Agency?
Host agencies give independent agents different resources to grow their businesses. Host travel agencies provide training, tech support, and even commission payment processing that helps agents expand their business. In exchange for these services, independent agents pay the agency either by fees or commission split — in some cases, both.
Access to top-tier suppliers. Host agencies have connections with hotels, airlines, and other travel providers that most independent travel agents wouldn't have. Joining a host agency allows agents to provide their clients with the best offers and services.
Low-risk and low barrier to entry. Joining a host agency is inexpensive and may lead to great potential for growth for your travel agency. Additionally, many host agencies are out there, so if you join one only to find it may not be suitable for you, you're not out much money and can quickly switch to another.
Support for home-based businesses. From marketing to education and technical support, host agencies provide travel agents with the support they need to grow their businesses. Many host agencies will also help with client management, on-call support, entrepreneurship training, and more.
Supporting services. Some host agencies will offer bookkeeping and sales tracking services to help travel agents spend more time growing their business rather than day-to-day operations.
Networking opportunities. One of the most valuable features host agencies offer is the ability to network with peers. They do this by providing access to exclusive online groups, conferences, webinars, and in-person events,
Marketing strategies. For most travel agents, getting new leads can be challenging. Some host agencies offer sales leads to their agents to help them grow their businesses and improve the sales experience.
Errors & omissions insurance. Errors & omissions (E&O) insurance protects travel agents when they're sued for unsatisfactory work. Many host agencies cover their independent contractors with E&O insurance.
How to Choose a Travel Host Agency?
Finding the right host agency for you is a process that requires some patience and the willingness to take notes. Ideally, the host agency you join should provide at least all the above benefits.
Although host agencies are trending in 2023, you still have to consider whether the idea works for you. There are many host agency lists to help narrow down your search. To determine whether you should join the agency you're considering, explore its benefits and services with the following questions:
What's the cost of signing up? Are there other costs besides the sign-up fees?
Do they provide bookkeeping and financial reports? Is it part of the base fees, or does it come at an additional cost?
How do the commissions work? Ask for specifics about the vendors (cruise lines, airlines, hotels, etc.) you book for the most.
What tools do they provide for new agents? Which tech and marketing tools do they prefer? Do these tools cost extra?
Do they provide education and training for newcomers? And what about experienced agents? Do they have further training for them? What are the costs of these programs?
Will they cover you with an E&O policy? How much coverage does it provide? Is there an option for additional paid E&O coverage?
Do they have a SOT license for the required states?
Do they host networking events or manage online groups for their agents to connect?
These aren't the only questions to ask, but they give you a broad idea of what it's like to affiliate with them. Over time, you'll learn what good host agencies are like and recognize them during your searches.
How to Join a Host Agency?
Joining a host agency is easy! They're all designed to attract talent and have contact forms on their websites. It'll generally be on the website's front page, but you can also look for it in the "Contact" or "Contact Us" section.
You'll likely have to fill in basic personal information and some additional information about your experience as a travel agent.
After that, you'll have to wait for them to contact you. They'll probably arrange an interview with them to explore your experience (or lack thereof) and determine whether you need training or can start immediately.
Host Agencies Can Boost Your Career
Now that travel is back, joining a host agency can help you connect with providers and travel agents to expand your professional network and further your career.
When searching for a host agency to join, thoroughly explore what they offer and determine how well you can help each other close deals and connect clients with their dream travel spots.