Travel Agent Interests
03/03/2023
Will Travel Agents Become Obsolete?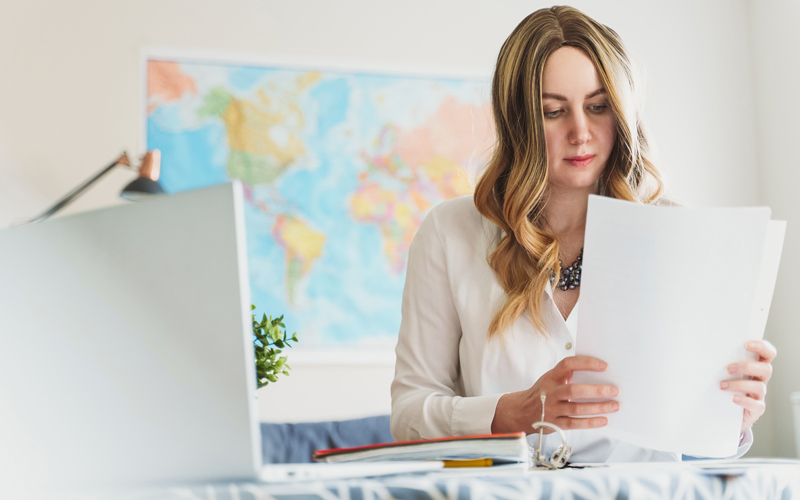 The travel agent business has shrunk markedly over the last few decades. Will it continue to lose ground in the years ahead or make a comeback?
Travel agents have hit turbulence over the last several decades. Before the advent of the web, they booked flights, helped people select cruises and resort vacations, sent newlyweds on dream honeymoons and served the travel needs of business executives.
The airlines created significant disruption to the travel industry by reducing the commission paid to travel agents. Then along came online booking sites like Travelocity and Expedia. These and other web platforms gave consumers the ability to plan and purchase their own trips. Losing clients to online providers and reduced commissions hurt brick-and-mortar agencies, leading many to downsize or leave the industry altogether. Fueling the fire, global events over the recent years have limited travel possibilities.
As online travel agencies (OTAs) become more sophisticated, the travel industry suffered another financial shock—the 2008 economic crisis. This sparked a recession-inspired revenue hit, leading agents once again to flee to more perceptually stable careers.
Sharing Economy Wreaks Havoc
Over the last ten years, the emergence of the sharing economy further empowered DIY travelers. Instead of using a travel agent, prospects began booking rooms directly from property owners via services such as Airbnb.
The impact of all these external threats? A significant reduction in the number of travel agents. According to the U.S. Bureau of Labor Statistics, full-time agents declined from a peak of 124,000 in 2000 to 82,000 in 2019. From 1997 to 2013, retail travel agency headcount fell by 59 percent—from 22,938 to 9,387, said Skift, a travel media and events company.
The travel agent/agency business feared extinction. As the future loomed, many experts wondered whether travel agents would become obsolete and replaced by online travel agencies (OTAs) and DIY travel planning.
Travel professionals refused to pack their bags. The survivors regrouped as independent home-based freelancers or small agencies with individual offices. Without the support of a large travel agency, they began affiliating with host agencies. Hosts kept agents' product coffers well stocked and provided them with the education, marketing and networking needed to thrive in the new travel marketplace.
Then it happened: a once-in-a-century global pandemic. Starting in March 2020, global travel shut down to reduce the threat of COVID-19 transmission. A McKinsey/Skift report speaks of six decades of travel progress being lost almost instantly.
"The launch of the Boeing 707 in 1958 had marked the start of the Jet Age and the beginning of mass tourism. Jet aircraft and the rise of the modern visa system made international travel so commonplace one could almost take it for granted," the study noted. It also revealed that in the pandemic's wake, the world openness score, a measure of travel between countries, fell 65% to historic lows.
Travel agents, now preferring to be called travel advisors, spent the better part of 2020 slashing expenses, tapping alternative income streams and helping their customers with trip cancellations, refund requests, and rescheduling. Much of 2020's work was unpaid. Yet, it had the benefit of increasing client goodwill and long-term loyalty. The travel advisors left standing at the end of 2020 were poised to experience a rebound once world travel reopened.
Today, despite multiple threats to their business model, travel advisors appear to be here to stay. Many expect a surge of 2022 bookings, with clients ready to travel again after a year and a half of pandemic lethargy. With so much opportunity on the horizon, worries about industry capacity have replaced extinction talk. The combination of pent-up demand and the baked-in advantages of the travel agent function have largely reframed the debate. If your travel-advisor business survived the pandemic, there is every reason to expect the start of a rebound and recovery soon.
The Resilience of Travel Advisors
Another lesson from recent history is that travel advisors have competitive advantages over OTAs and DIY travel planners. Here are eight of the major advantages:
Providing specialized travel services. Consumers planning luxury, corporate or group travel—or trips with unusual or complex itineraries—would be foolish not to use a travel advisor. Why spend weeks learning about a destination, researching the travel packages available and piecing together a complicated itinerary when they can outsource the whole project to someone who can do it faster and better? "Logistics can be simple or complicated, but they almost always induce a headache," says Ryan Geist of Burner Air, quoted in a Nomadic Matt blog post.
More consumer-friendly business practices than do OTAs. According to Host Agency Reviews, the bloom is off the OTA rose. OTA inventory and price discounts are more limited today than during their heyday. Plus, their algorithms adjust pricing based on current demand and knowledge of when and how the traveler is booking. There are the tax and fee surprises at check out. Dealing with travel advisors involves fewer pricing games and gotchas. For these reasons, experienced travelers are less enthusiastic about OTAs than they used to be—and more willing to work with flesh-and-blood travel agents.
Help consumers save money on group travel bookings. OTAs typically display the lowest available prices on no more than four tickets. But what if you're making travel plans for a group of 15 family members? Identifying the best prices means you'd have to segment them into groups of four, making for an online booking nightmare. On the other hand, travel agents don't have artificial constraints on their ability to find the best prices for large groups. Using their years of wisdom, they can quickly sort through available inventory and put together the best package in terms of features, price and value.
Knowledge and connections to get their clients better deals. Because advisors often send large volumes of business to their suppliers, they often get access to preferred rates. They also can tap into reserved ticket blocks or perks such as better airline seats or VIP treatment at vacation resorts.
Insider information about travel destinations. OTA websites might have destination information on their blogs. But travel advisors are more likely to have personally visited tourist destinations and attractions. This equips them to provide beneficial advice to their clients. What's more, even if they've never been there themselves, advisors likely have sent many customers to a location. This makes them valuable receptacles of client feedback.
Better position to help clients address emergencies. People who book a trip through an OTA are on their own if something goes wrong. However, those who work with a travel advisor can receive immediate help. This prevents glitches from ruining their vacation. Travel advisors may also intervene proactively, rebooking flights or ground transportation as soon as they hear of a problem. By the time customers discover a problem, their advisor may have already fixed it.
Address COVID-19 complications. Customers with knowledgeable agents will be able to travel confidently despite Covid disruptions. As the pandemic experiences flare-ups, clients may face cancellations or rebooking or refund applications. With a travel advisor, they will have someone back home to get them home safely while minimizing financial losses.
Produce a better travel experience. The biggest reason for consumers to work with a travel advisor is that they will likely experience a better trip. "They know more than (travelers) do," says travel writer Larry Olmsted. "They are better connected, they have access to benefits (consumers) can't get yourself, and they can match and often beat any prices (clients) find. They plan a better trip and then provide a safety net. Having a top travel agent can make (people) an instant VIP and will certainly save them time and hassle, and quite possibly money."
With Growth Comes Risk
If you effectively utilize the above advantages over OTAs to prospects, your sales will likely soar through 2021 and beyond. However, with higher business volume comes more significant risks. As a travel advisor, you are opening yourself to additional liability every time you send a client on a trip. Here are some of your main exposures:
Failing to deliver the promised travel experience. When travel clients fail to receive a service they paid for and lose money as a result, they might resort to litigation to recoup their losses.
Not honoring agreed-upon pricing. If you sell a service at one price, but a service provider insists on charging a higher price, travelers might end up stranded mid-trip. Guess whom they will blame—and sue—for this disruption?
Misrepresenting tour or trip features. A travel agent might incorrectly describe a hotel, attraction or excursion. Expectation gaps often produce client unhappiness and lawsuits.
Failing to research and communicate hazards. As a travel advisor, you're not responsible for negligent supplier acts. But you must fully disclose all known hazards and risks of any travel experience you recommend. If you don't and a client suffers a personal or financial injury, you might find yourself in court.
Not sharing details. You're required to inform your clients about needed travel documents, limits on reservation changes, entry requirements for foreign nations and the availability of travel insurance. If you don't and your omission creates a travel disruption, financial penalty or personal injury, you will be at high risk of litigation.
How to mitigate these risks? First, educate yourself about the activities that subject you to the most risk. Once you're aware of them, avoid them if possible. If you can't, act with prudence to minimize the odds of experiencing an incident. Then purchase travel advisor errors and omissions (E&O) insurance to reduce the risks of providing travel advice and services.
The Value of Travel Agent E&O Insurance
Maintaining an errors and omissions insurance policy can help prevent you from paying attorney's fees, settlements, or damages out of your own pocket.
If you get sued, your E&O insurer will:
Provide a defense attorney(s) every step of the way
Claims adjusters to handle your case
Expert witnesses to support your decisions and adherence to duty of care
Payment for court administrative expenses, records and other documents
Expenses for legal settlements, judgments and damages against you should you lose your case in court
The total cost to resolve your case can easily reach six figures or more. Without insurance, a travel agent or agency is creating a situation where they are gravely exposing their livelihood, leaving business and personal assets vulnerable to out-of-pocket expenses.
What to Look for in E&O Insurer
Given the importance of protecting your travel business against client lawsuits and the perception of negligence, it's crucial to pick an insurer that will stand behind you. Here are some things to consider:
Easy, online application processes with instant certificate of insurance issuance
Competitively priced coverage from an insurance provider with a presence at professional travel conferences and industry events
Access to a 24/7 risk management hotline and attorney to course-correct potential incidents before they escalate into litigation against you
Best-in-class customer support
Established carrier strength with at least "A" (Excellent) ratings from insurance analysts like A.M. Best
Comprehensive coverage for your business name and all employees or independent contractors working for you
Risk management content to promote safer business practices
It is highly unlikely that travel advisors will become obsolete in the future. However, it's more likely that mistakes can and will be made, which can land them in court or facing client accusations. Don't let client litigation dim what would otherwise be your bright future in the travel industry. Protect yourself today with comprehensive, affordable E&O insurance.
360 Coverage Pros offers Errors and Omissions (E&O) insurance programs for travel agents, travel agencies, tour operators and meeting & event planners. Coverage is available for as low as $25.67 per month. To learn more, visit our website. Travel agents can also schedule a one-on-one consultation with the Program Manager.