Travel Professional Interests
09/13/2022
Earning Repeat Business for Your Travel Agency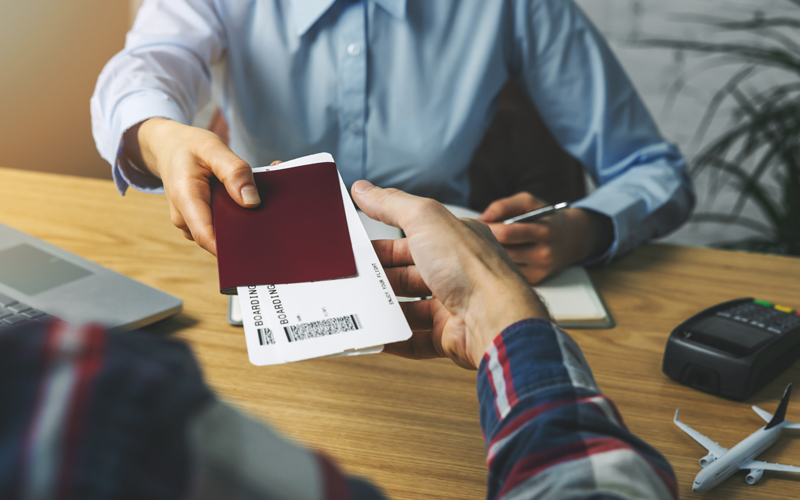 Want to give your travel agency a financial shot in the arm? Then increase the number of clients who give you repeat business each year.
Given the choice, would you rather add a new customer to your travel business or sell another trip or tour to an existing customer? Many travel professionals, enjoying the thrill of the chase, might say new customers. But selling another trip to an existing customer might make more sense financially. If you'd like to learn how to pursue more repeat bookings, keep reading this article.
The Advantage of Having Repeat Customers
Repeat customers are the financial life's blood of every travel agency and agent. They are already clients, so you don't need to incur more marketing expenses to convert them. And since they already know and like you, the sales cycle for their next purchase will likely be shorter and easier than if you targeted a cold prospect. Finally, each time you make a sale to existing customers, the chance of them buying again increases. This means their lifetime financial value to your business grows steadily with each additional sale.
In short, if you focus more on adding new customers than on transforming first-time clients into lifelong ones, you may be missing out on a big opportunity to increase your firm's long-term profitability.
How to Add More Repeat Customers
Start by becoming more strategic in how you approach customers. One possibility is to wait until they contact you for assistance. This is a reactive and transactional selling mode. Another possibility is to contact existing clients with new travel ideas based on what you know about them. This is a proactive and holistic selling approach and one that will generate more repeat customers than transactional selling will.
Of course, selling strategically is more challenging. That's because you need to learn a lot more about your customers. You must fully understand what they hope to get out of traveling, how they've traveled in the past, and how they want to do so in the future. But once you develop this insight, you'll be well positioned to anticipate your customers' needs over your entire relationship with them.
When you move to a long-term sales model, you'll also benefit from selling less based on price and more based on value. If you're able to provide a high-quality turnkey experience, most clients will be willing to pay a higher price.
Once you begin creating repeat customers, try experimenting with different marketing and sales tactics. There are many possibilities. The challenge is to select a mix of activities that suits your temperament, experience, and objectives. Here are some possibilities to consider:
After clients purchase a trip or tour from you, try to lower their cost. You can do this by providing value-added coupons or discounts or ideas that will make their vacation more efficient and/or enjoyable than they expected at purchase.
Keep in touch during client trips and immediately after they return: To become a repeat-business travel advisor, avoid appearing transactional in how you treat your customers. Once you close a sale, contact them at least once during their trip. This will allow you to uncover and resolve issues that might detract from their travel experience. You can also do something nice for them while they're traveling. For example, you might add an extra resort credit to their account or send them a gift card they can use locally. Since they won't expect it, anything extra you provide will surprise and delight them. By keeping in touch with clients who are in the middle of a trip, you'll demonstrate you care about the quality of their experience, as well as their safety.
After clients return, schedule a debrief session. When you meet, thank them for their business and ask for feedback on the quality of your recommendations and service. To thank them, consider giving them a small gift that relates to their destination. For example, if they went to a Disney property, give them a photo frame with the Disney logo. To get feedback, you can either ask them to complete a survey or reward them when they complete it. Or you can seek feedback over the phone or on a videoconference. The personal approach is better. In your debrief, try to uncover what went wrong, what went right, and how things played out while they were at the destination. Also, probe to get a better understanding of what they did while traveling and what they especially liked doing. Use this information to plan better vacations both for them and other clients. Then ask about how your recommended travel suppliers performed. Did they live up to expectations or did they leave your customers high and dry? This will help you revise your suppliers as needed for future trips. At the end of this conversation, ask clients where they'd like to travel next and when. Avoid a hard sell at this point. But make sure they know you stand ready to help them when they're ready to start planning their next trip.
Take advantage of client trip photos. Consider asking customers for several of their favorite photos from the vacation you planned. Then get permission to share them on social media. You can also frame a photo and give it to the client as a small, but meaningful, souvenir. An alternative to a traditional picture frame is a refrigerator magnet frame. This has the advantage of being highly visible in a client's home . . . and also visible to visitors. Finally, once a client shares a photo with you, also ask them to post it on social media, with your agency's hashtag. This will make it available to their contacts, yours, and anyone who searches using your agency's hashtag.
Always strive to exceed expectations. Never miss an opportunity to remind clients you're not just a transactional agent. One way to do that is to ask questions to uncover what they expect and then deliver something that exceeds their expectations. For example, if just want their trip to include the itinerary items, surprise them by adding an extra resort credit. Or if they just wanted you to make a reservation, amaze them by offering a stream of articles about their destination after they book the trip. The point is, there are countless ways to delight your customers. Strive to do this every time, because it's one of the best ways to create a repeat customer.
Connect with clients in the real world vs. virtually. As a travel agent, you can't do your job without the internet. Researching travel products and destinations are much easier today thanks to the ubiquity of travel information online. What's more, the internet has made client dealings much more efficient compared with the good old days of paper correspondence or landline telephones. A great way to make a strong impression on clients is to break out of the virtual bubble and occasionally interact with them in the real world. Consider inviting them to a local travel exhibition or out to lunch. Of you could ask them to attend a film documentary about a destination you think they'd enjoy visiting. If you have a friend in the restaurant business, you might plan a special client dinner featuring exotic cuisine. Or you might ask them to attend to a mini-fashion show featuring resort wear from a local boutique. The possibilities are endless. Let your imagination run wild as you plan a special event for clients you'd like to become lifelong customers.
Position your travel-planning services. Before attending a travel conference, tell your clients you have an opportunity to serve as their shopper. In other words, ask them what they'd like their next travel experience to be so you can research possibilities at the conference. Once you know what they're interested in, collect relevant brochures and other handouts to begin laying out options for them. This also will get them excited about booking the trip shortly. After the conference, touch base with them to schedule a phone or Zoom meeting to discuss what you discovered on their behalf. At this point, be prepared to recommend trip options for them to consider and then get their commitment to the next steps.
Communicate regularly with clients. To transform one-time clients to repeat customers, you need to stay top of mind. Fortunately, today's social media platforms are tailored to help you do just that. Start by inviting new customers to join your preferred social media sites. Chances are you have a Facebook page for your business, so invite them to join you there. If you have an Instagram account to share beautiful travel photos you find on the internet, as well as those your clients take while on one of your trips, encourage customers to also join that platform. Once you set up your social media accounts, post to them once every few days, if possible. Daily would be even better. Publishing a client newsletter and sending out email blasts are two additional ways to stay visible with customers. If your newsletter is quite short, consider doing a weekly edition. Sending emails is important, as well, since it lets you give clients unique codes or exclusive offers or discounts. Another idea: create a loyalty member-only section of your website and publish special articles and offers there.
Leverage technology to facilitate sending relevant information. During client onboarding, learn as much as you can about your new customers. This includes their birthdays, anniversaries, family member names, and the like. Also, ask about their prior travel experiences and current preferences. Import this data into your customer relationship management (CRM) software and/or your marketing automation application. This will allow you to simplify the process of sending birthday and anniversary greetings, as well as relevant travel, offers that synch with their interests.
Build a customer loyalty program. Customer loyalty programs have become a staple of the travel industry. Rip a page out of airline or hotel/resort marketing and develop your loyalty program to encourage clients to use your services more often. These programs have several moving parts, so you'll need to do some planning before you launch yours. For example, first, define your objectives. Are you looking to increase your customer base or business volume by a certain percentage? Will you establish eligibility requirements? Perhaps customers need to purchase from you at least three times before becoming eligible for travel rewards. Do you know how much you'd like to spend? Determine how many customers you'd like to belong to your loyalty programs and then how much you're willing to spend per customer. Exactly how will you incent clients to buy another trip? Will you waive fees, provide free transfers or offer gift certificates to use while at their destination? Finally, once you establish the specifications for your loyalty program, how will you communicate them to your client base? Using your existing social media platforms, your client newsletter, and your email will be effective ways to promote your program.
Capitalize on your repeat customers. Once you've created a sizable number of repeat customers and/or loyalty club members, consider them your raving fans. You can now use them as brand advocates with other customers who are less frequent users of your services and with people who have yet to work with you. Encourage them to post about the trips you planned for them. If you know they enjoyed themselves, ask them to share a testimonial, ideally with a trip photo and your agency's hashtag. You can also use repeat customers as a referral source. Giving them an incentive is a great way to assure a steady flow of referrals from happy repeat customers.
Manage Your Travel Agent Risks with E&O Insurance
If you do your job well, it's likely many clients will become repeat customers. But some won't have a good time and others will feel you failed them somehow. When the gap between what clients expect and what they believe they received is large, they may end up blaming you for the shortfall. If they're upset enough, they may use the legal system to get financial relief. 
Why would clients want to sue you? Because they believe you hurt them physically, emotionally, or financially. And because you will often send clients on once-in-a-lifetime "dream" or "bucket-list" trips, they may get upset when even minor things go awry.
Fortunately, having errors and omissions (E&O) insurance mitigates the risks of providing travel services to clients. It's a type of insurance that covers your legal expenses when sued for professional negligence. It generates funds to hire a lawyer as well as to pay for financial judgments or settlements if you lose your case. Not only does E&O insurance shield your personal and business assets against client claims, but it also pays attorneys to make nuisance lawsuits disappear.
In conclusion, it's important to work hard to build your base of satisfied repeat clients. But for those few unhappy customers, buy and keep E&O insurance in force to protect your assets and reduce worry and stress. With your liability risks fully mitigated, you'll be able to devote yourself to fully delighting your large base of repeat customers.
360 Coverage Pros offers Errors and Omissions (E&O) insurance programs for travel agents, travel agencies, and tour operators. Coverage is available for as low as $25.67 per month. To learn more, visit our website.