Travel Professional Interests
04/22/2022
Growing Your Travel Business With Networking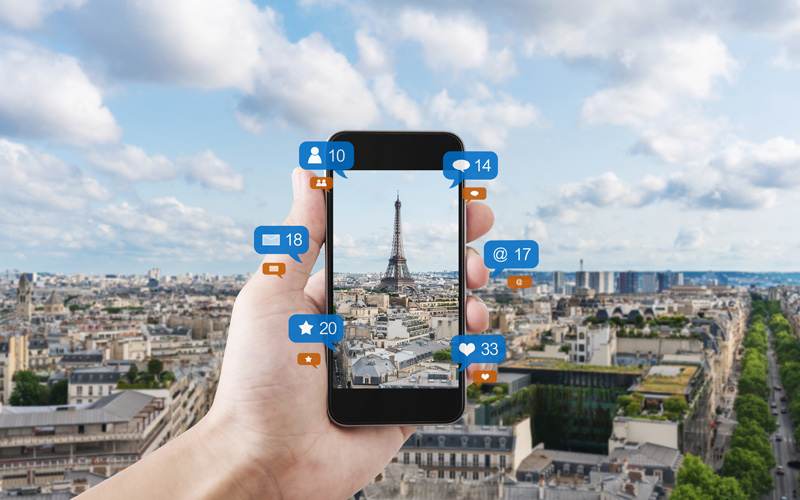 Networking is a key travel agent marketing tactic. Here's how to do it more effectively.
No person is an island, especially travel agents who must stay on top of developments in an ever-changing industry. Fortunately, there are plenty of opportunities to do so through online and offline networking.
Whether operating for a host agency, running your own business, , or working as an independent travel advisor on the side, all professionals need help running their businesses. This includes marketing assistance, technology guidance, and emotional support. Professional networking helps you find the answers you need to do an excellent job for your clients.
Here are some reasons to polish up your networking game:
Networking helps you stay on top of the rapid changes in your field. This has become especially important during the pandemic, which spawned frequent regulatory shifts and adjusted the duty of care you owe to your clients.
It helps you resolve logistical problems affecting your clients' personal or business travel.
It lends way to learn from other agents' successes and share your problem-solving techniques.
It provides a conduit for you to vent about supplier issues and receive support from peers.
It can uncover the names of people who need help with their travel planning.
Networking also puts you in touch with suppliers or experts who can help educate you about a destination or provide services to your customers.
If you want to build a successful travel business, be prepared to use networking as a key marketing and operational resource. Without it, you may find yourself marooned on an island with no rescue in sight.
Networking Methods
There are five main ways to network:
Participating in online social media platforms such as Reddit, Facebook or Instagram
Joining a professional travel agent association
Attending a travel conference or trade show
Connecting to a business networking group
And by reaching out to people in your community
Let's take a look at each technique.
Online social media: Joining social-media groups or communities is an excellent way to connect with other agents and travel suppliers. If you need help with a specific problem, you can easily find someone who faced—and resolved—it. All platforms provide robust search capabilities, so you can find dozens of communities devoted to your travel interests. Once you find them, get involved. Introduce yourself to the group and then watch for opportunities to help out a colleague. Sharing your expertise will make people more inclined to assist your own tricky situations.
Here are some travel-agent groups on Facebook you might want to check out.
Also available online are host-agency sponsored communities, along with those established by travel consortia and vendors. Similar to the aforementioned groups, these offer sharing and problem-solving but are limited to agents working within the sponsoring entity. For example, agents affiliated with a specific travel host can share ideas with fellow host members but not with agents belonging to other hosts. The same holds true for consortia members or vendors. This is one of the many appeals joining a host agency's network offers.
Trade Associations:
Joining a professional travel-agent association makes a lot of sense. It gives you access to the association's online and offline content, which will help you stay current in your industry. From a networking perspective, it also gives you access to every group member, either through direct email or phone contact or on the group's internet forums. Many associations also host annual in-person conferences, learning seminars, and other events which foster a great opportunity to expand your professional network. Before joining a travel-oriented trade association, do your research. Make sure it provides meaningful content and provides specialized offerings for your interests within the industry. Here are some associations you may want to consider joining:
Other associations of interest include:
Before spending money to join an association, check with your host agency to see if you can access the association's resources through your host membership.
Travel Conferences or Trade Shows
A travel conference or trade show is a one or multiple-day meeting in which industry buyers and suppliers can network and learn about each other's needs. Many shows offer appointments where buyers can sit down with suppliers and actually do business. If you're a travel agent looking to send clients to a new destination, attending a travel trade show can be an invaluable way to find and evaluate suppliers.
Trade shows aren't just for new business opportunity. They also encourage networking at every turn. Some schedule formal networking sessions to engage with multiple agents or suppliers. Attending other events, such as training seminars, cocktail hours, and meals, provide countless opportunities to chat with colleagues and share contact information and trade ideas.
Because these shows can attract hundreds, if not thousands of participants, it's essential to plan your attendance carefully:
First, make sure to stay at the right hotel to maximize your exposure to event attendees. Suppose you pick a hotel across town in order to save money. In that case, you may lose money when you factor in the extra time of traveling back and forth and the opportunity cost of not being able to network with as many people.
Second, try to secure an attendee list and then schedule meetings before the show. If you leave appointment setting to when you arrive, you may find that the people you want to speak already have full calendars.
Third, practice your elevator pitch before you arrive so you can quickly and clearly describe what you do to people who can help you. Conversely, when you meet other travel professionals, make sure to uncover their needs and see how you can help them.
Fourth, use social media to facilitate future contacts. When you're speaking with people, input their contact info into your smartphone in real-time. Also, send Facebook and LinkedIn invites to facilitate future networking.
Finally, follow up with everyone you met as soon as possible (ideally within a day or two) after the event. If you wait a week or longer, you'll likely forget to do so.
Business Networking Groups
Long ago, business networking often took place at local Chamber of Commerce meetings or local business trade shows. You'd have a chance to meet entrepreneurs at such events. But whether you secured leads or not depended on how adept you were at qualifying people and then asking for follow-up meetings. In recent decades, business networking has become more structured. Groups such as Business Network International sponsor local sessions designed explicitly for lead generation. Online platforms such as Meetup also grew in popularity, allowing anyone with interest in travel to get together for coffee or a meal to discuss their shared passion.
BNI has more than 250,000 global members, generating more than 9 million business referrals during its history. The company says that BNI meetings have led to more than $11 billion in new business. If you decide to join a BNI group, you will be the only travel agent in the group. This is by design. Your role? To give a brief "elevator talk," after which group members will provide feedback or leads. Conversely, you'll do the same for the other members. As the only travel agent, you'll also serve as the group's subject matter expert on that topic. So be prepared to advise your fellow members about their travel-related goals and concerns.
You'll likely find dozens of local meetings devoted to travel on the Meetup website. Some will be for aficionados of specific travel locations. Others will be devoted to travel industry professionals. The Meetup websites provides full information about the mission, membership and activities of each group. This lets you determine in advance whether it makes sense to get involved.
Personal Networking
Thus far, we've discussed networking through organized in-person meetings or on internet platforms. On the other hand, personal networking involves meeting people on the fly during your daily life. These efforts convert strangers or casual acquaintances into leads, customers and centers of influence who can benefit your company for decades to come.
The key to personal networking is to do it relentlessly. View every social setting, work-related or not, as a networking opportunity. Listen for cues that people are interested in travel and then engage with them. You don't need to impose your business on them. But make sure they know what you do and where to find you. Also, add the people you meet during personal networking onto your social media platforms. This will expose them to your travel content, especially photos and reviews your customers post online.
Travel Agent Errors and Omissions (E&O) Insurance
If you're successful at networking, you'll sell more business. More business means more risk and exposure to a potential lawsuit against you. Given the importance of protecting your travel business against client or other third party lawsuits due to negligence or the perception of negligence, it is crucial to pick an insurer that will stand behind you. Here are some things to consider which 360 Coverage Pros offers with its Travel Agent E&O Program :
Easy, online application processes with instant certificate of insurance issuance
Competitively priced coverage from an insurance provider with a presence at professional travel industry conferences and events
Access to a 24/7 risk management hotline and attorney to course-correct potential incidents before they escalate into litigation against you
Best-in-class customer support
Established carrier strength rated "A" (Excellent) from insurance analysts like A.M. Best 
Comprehensive coverage for your business name and all employees or independent contractors working for you
Risk management content to promote safer business practices
If you're looking for an E&O insurance provider who meets the above criteria, consider 360 Coverage Pros. We offer a strong value proposition for travel agents and agency owners; experience serving travel professionals, comprehensive protection, and a convenient online policy purchasing platform. If you're paying too much for your current policy or are in the market for your first policy, check out your options offered by 360 Coverage Pros.
360 Coverage Pros offers Errors and Omissions (E&O) insurance programs for travel agents, travel agencies tour operators, and meeting & event planners. Coverage is available for as low as $25.67 per month. To learn more, visit our website. Travel agents can also schedule a one-on-one consultation with the Program Manager.