Travel Professional Interests
10/07/2022
Reshaping the Landscape of Travel in 2022 and the Impact on Corporate Travel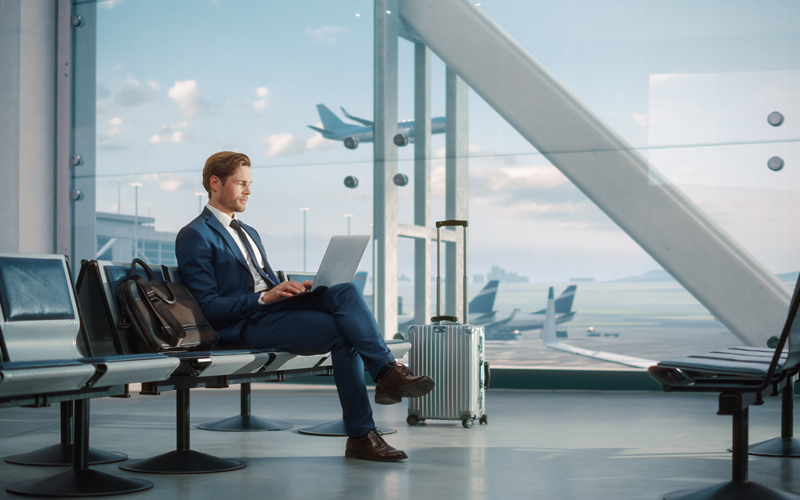 The travel industry is steadily rebounding from the global pandemic. But the business-travel sector has been slower to recover. What are its prospects going forward?
The global travel business has rebounded to a degree in 2022. That includes the corporate travel segment. But, it hasn't returned to its pre-pandemic levels, leaving professionals to wonder if and when a full recovery will occur.
The uncertainty arises because there are so many unknown factors at play. For example, no one knows how many more COVID-19 variants will emerge, possibly forcing authorities to reinstitute travel restrictions. The severity and duration of the Ukrainian war are unknown, potentially casting a pall on European travel.
Plus, no one knows how badly the war, energy shortages, and rampaging inflation will affect the world economy. If they spark a major recession, economic activity— and business travel— will likely suffer a serious blow.
Finally, the degree to which corporations fully reinstitute office-based work— if they ever do— will determine the volume and type of travel that ensues. If they never return to the status quo— a likely prospect— the industry will see more "bleisure" (business/leisure) and "return-to-base" travel to accommodate new work styles.
What business travel trends will unfold in 2022? Read on for details:
Prospects for corporate travel are getting significantly better. According to a white paper from accounting firm Deloitte, long-postponed employee meetings are finally happening, giving workers "face time" with peers and superiors. More employees are also attending business conferences and going on international business trips.
Deloitte predicts that the corporate travel spend will reach 55% of the 2019 total by year-end 2022. However, the longer the gap between current sales and 2019 results persists, the more travel companies will deploy measures to capture lost revenue. For example, suppliers will target leisure or vacation travelers, a segment that is rebounding more rapidly than business travel.
The shortage of travel-supplier staff will likely persist through year-end 2022, Deloitte predicts, forcing corporate travel buyers to build desired amenities into their future contracts.
Another expected trend is that travel buyers will experiment with alternative lodging to save money and bridge the supply gap. For example, instead of booking traditional hotel rooms, they might tap private rentals listed on websites such as airbnb.com.
Deloitte also believes sustainability concerns will continue to have a major impact on business travel throughout 2022 and beyond. The 2021 UN Climate Change Conference (COP26) increased pressure on travel companies to reduce their carbon footprints.
Employers are seeking the right balance between compelling employees to return to the office full time, allowing them to show up a few days a week, or letting them work virtually permanently. People who have enjoyed working virtually will continue to resist corporate return-to-work mandates. If virtual work styles get baked into corporate life, business travel will evolve substantially. For example, instead of commuting to the office, employees might travel to their corporate offices or some other site instead ("return to base"). This represents a strong future opportunity for the business travel industry.
Virtual work has increased the number of employees who book vacations either before or after their personal travel or who pair a week of paid time off (PTO) with a week or more of working from the road. The rise of so-called "bleisure" travel has implications for supervisory practices. Leaders must feel confident their employees are engaged professionally during the working leg of their trips, not to mention safe from malicious actors who are keen to steal their data while they access their corporate networks from a charming Parisian bistro.
Corporate travel buyers will also have to deal with the ongoing rental vehicle shortage due to the constrained global chip supply. Automobile rental prices will also keep inflating, perhaps offset to a degree by the growing supply of electric and hybrid vehicles.
"Boomerang" sessions, defined as one-day travel to have a one-hour, in-person meeting, will diminish in frequency over time. Many observers believe this type of business travel will disappear entirely over the next few years.
Finally, in 2022, travel suppliers will be forced to address their revenue shortfalls. Bill Gates famously claimed in 2020 that 50% of business travel and more than 30% of days worked in offices would vanish because of the pandemic. Based on Gates' prediction, the $334 billion business travel industry, which supports 2.5 million jobs, would lose more than $160 billion in value.
How to travel suppliers respond to this prospect will determine the nature of the business over the medium and long term. One thing is clear, though: The travel industry will ultimately find a way to replace its missing revenue, develop new offerings and continue to serve business travelers with skill and flair. It's always rebounded from crises in the past. There's no reason to believe it won't do so again.
Looking to save money on your errors and omissions (E&O) insurance? Then learn more about our travel agent E&O program on the 360 Coverage Pros website.