Veterinarian Interests
08/16/2022
Considerations for Offering Telemedicine as a Veterinarian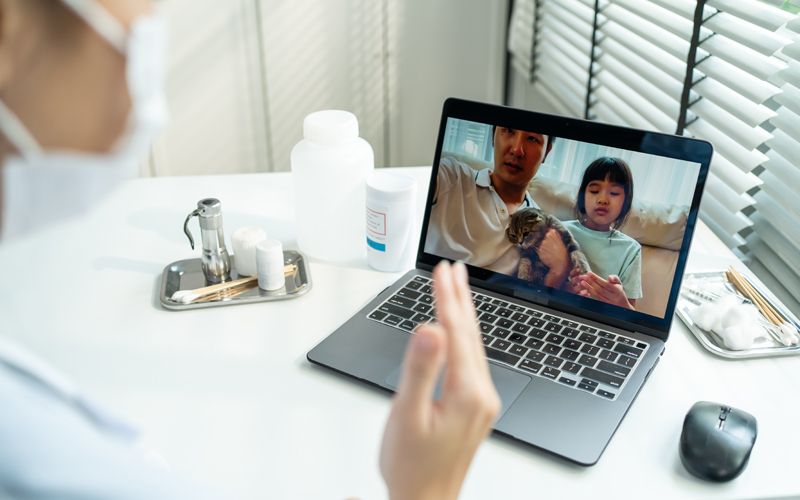 VCA Animal Hospitals defines telemedicine as, "…the act of practicing medicine at a distance. Any time that a veterinarian diagnoses a condition, recommends a particular treatment, or provides a prescription without the patient in the hospital for an in-person physical examination, that veterinarian is practicing telemedicine," (VCA Animal Hospitals). The three pillars of telemedicine are composed of improving the level of care for pet patients, increasing access to veterinary care in underserved populations and improving utilization of all members of the veterinary healthcare team.
You've likely heard about or even taken advantage of the benefits of telemedicine for your own health. Recently, it is becoming more popular in the veterinary profession. If you don't already offer telemedicine services to your clientele, then here are some considerations for you to think about:
More structured tele-advice– Instead of interacting with your client for free over the phone, more involved questions and care recommendations can be made over a telemedicine consultation or checkup. This not only benefits you but the client too. The client will feel satisfied that all of their questions were answered and comprehensive care was provided.
Expanded access to care– Many clients experience barriers to receiving sufficient veterinary care for their animals, including long travel distances, lack of transportation, disabilities and affordability. The ability to connect with a veterinarian virtually can alleviate the stress of managing pet care.
Care available 24/7– This service is a more efficient and practical way to offer 24/7 care. Clients and on-call veterinarians can connect during an emergency situation to discuss immediate treatment and next steps.
Accurate progress assessments– The use of videos and photos makes telemedicine such an important tool. Compared to a standard phone call, modern telemedicine expands the number of senses used to evaluate the animal to include sound and sight.
Reduced stress and palliative care– By avoiding an in-person or in-animal trip to the veterinary office, there is less stress on the client and patient. This is especially true for an animal with poor health or those that get very stressed by a car ride or office visit.
In addition to these considerations, it's also helpful to understand all the benefits your clients will experience from a telemedicine offering:
Appointment scheduling via messaging
Pet health checkups, expert advice and treatments available online
24/7 veterinarian support
Easy and affordable subscription fee
Exclusive discounts on veterinarian-recommended products
Video chat appointments
A positive benefit when choosing, or staying with, a veterinarian
More comfortable at home
No unnecessary trips to the veterinary office or emergency room
The benefits to offering telemedicine to your patients are overwhelming, but there are also some rules and technicalities to be aware of when deciding to implement this service at your practice. A good place to start is understanding the state and federal veterinarian-client-patient relationship (VCPR) requirements. In general, you'll recall a VCPR is to ensure veterinarians know enough about their patients to be able to diagnose and treat their medical conditions. The same rules apply to telemedicine, and telemedicine can only be conducted if a VCPR already exists. If there is no established VCPR, a veterinarian may provide non-patient-specific advice and must avoid diagnosing, prognosing or treating patients. However, there are two exceptions: The first is that the state may allow for VCPR to be established virtually, and the second is in an emergency situation. There are more stipulations when considering treatment across state lines and consulting specialists. It's best to consult your local government's regulations when in doubt.
Another important factor to evaluate when considering offering telemedicine is if your professional liability insurance would protect your virtual appointments as it does your in-person ones, in case if you're ever in violation of any of these guidelines or have a malpractice claim filed against you. The Indiana Veterinary Medical Association states, "In most instances there are no special requirements for liability insurance when it comes to offering telemedicine services. Veterinarians are expected to provide the same level of care whether veterinary services are offered in person or through telemedicine. However, we recommend that you ask your professional liability carrier for a recommendation." Some policies could have limitations with certain telemedicine services, tools, equipment or software. Things may also get tricky when different members of a veterinary team are delivering telemedicine services. If you obtained your liability insurance through us and are curious about telemedicine coverage, please contact us to discuss your policy. We'll make sure you have the best coverage for your situation.
Protect Your Veterinary Practice
360 Coverage Pros offers unparalleled Veterinary Professional Liability Insurance for veterinarians and veterinary practices offering companion animal veterinary-inspired services. These include lizards, rabbits, birds, small rodents, dogs, cats, sheep and more exotic species. Protect your practice, employees and interests— whether in your office, outside during various field visits or via telemedicine. Safeguarding yourself against accusations of negligence and malpractice has never been easier. The 360 Coverage Pros Veterinarian Professional Liability Program provides peace of mind while you focus on running your practice. With one of the easiest click-and-bind coverage processes in the industry at extremely affordable prices, the choice is easy! If you have any questions about how you should apply for coverage, please schedule a consultation with an expert.
360 Coverage Pros can provide you and your business many benefits, which includes:
A program specifically designed for veterinarians working exclusively with companion animals, which covers the business entity, independent contractors/employees and additional insureds.
24/7 access to a legal advisement hotline, exclusively for insured policyholders.
No deductible.
Monthly payments starting at just $17.50.
A fast and easy online application.
Instant proof of insurance.
A painless, automatic renewal process.
First-class customer care professionals.
Looking for non-companion animal coverage? Get a custom quote.