Veterinarian Interests
03/17/2023
How Long Does It Take to Become a Veterinarian?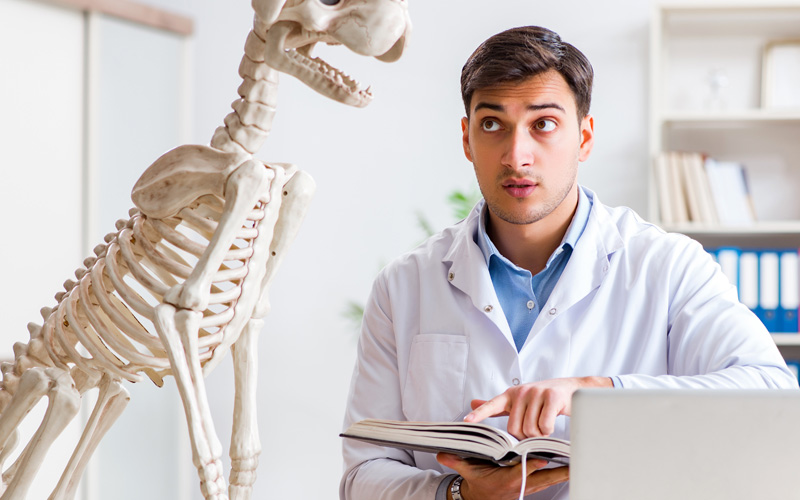 Becoming a veterinarian isn't a walk in the park. But, for the right person, the long journey pays off in substantial personal and financial rewards.
Becoming a veterinarian is the dream of many animal lovers. To make it come true, you need to earn a degree from a school of veterinary medicine and pass your vet boards. It's a long road, but achievable if you understand the process, work hard and stay focused.
The Veterinarian Journey
Here's a general overview of the steps you'll need to take to enter the veterinarian career:
Complete an undergraduate degree– As part of this work, you should complete the prerequisites of your desired veterinary medicine schools. These typically entail courses in biology, chemistry and animal science.
Engage with activities demonstrating your potential to become a successful vet. These include volunteering with groups, such as 4-H, Future Farmers of America (FFA) and other animal-oriented organizations. Volunteering at shelters and local veterinary hospitals or working at a pet store can also demonstrate the ability to help animals and their owners.
Apply to veterinary school– Researching and selecting an appropriate school is a crucial step. You'll want to visit the facility, talk to people on campus and read as much as possible about its programs. Submitting a solid application is important, as is presenting yourself well during a personal interview. Some veterinary schools require an interview, but others don't. You also want to demonstrate that you have an exemplary academic background and personality traits to become a successful veterinarian. These include having scientific curiosity, empathy, flexibility and the ability to solve problems. Being engaging and psychologically balanced are also desired characteristics. You may have to provide GRE General Test scores as part of your application.
Complete an accredited veterinary medicine program– This typically takes four years, although some programs may be shorter or longer. At veterinary school, you'll take classes on the anatomy and physiology of various animal species and study subjects such as microbiology, infectious diseases, general medicine and surgical medicine. Not only will you study cats, dogs and domestic animals, such as horses and cows, but you can also study exotic species, such as rare birds and iguanas.
The academic rigor of veterinary medicine programs is intense. That's because you have to learn about many species, male and female animals and diagnosing and treating numerous diseases. For most students, attending veterinary school is more than a full-time job. It can be stressful for those who don't manage their time well or take a long time to learn new topics. But, if you were a strong high school and college student and are highly motivated, there's no reason to believe you'll have trouble completing veterinary school.
Pass the Veterinary Medical Licensing Examination (VMLE)– Students who complete a veterinary school program emerge with a Doctor of Veterinary Medicine (D.V.M.) degree. You likely will have completed eight years of post-secondary education to reach this point. After completing your degree, you must also pass the VMLE to work as a vet. State boards of veterinary examiners administer the test, which most states require for licensure.
Once you've passed the VMLE, many veterinarians pursue advanced training in a specialty such as surgery. This requires taking a one-year internship and a one-year residency. Some post-graduate programs may be longer or shorter, depending on your area of specialty.
After completing your internship and residency, take the Veterinary Specialist Examination (VSE)– The American Board of Veterinary Specialties (ABVS) administers it. Once you've passed the VSE, you'll be a certified specialist veterinarian.
Specialties include small animal care, equine medicine, emergency and critical care, zoological medicine and more. Talk to your veterinarian about what they love most about their job and see if it sparks an interest in you too. If you have the passion and drive to help animals, becoming a veterinarian may be the perfect fit.
By the time you finish an internship and residency, you likely will be ten years older than when you entered veterinary school. That's a long time, but the rewards at the end of the journey usually make it worthwhile. Helping animals and their owners is a truly gratifying experience most of the time. If you're passionate about animals and want to make a difference in their lives, veterinary medicine should be the perfect career for you.
Is the Veterinary Journey Hard?
Becoming a veterinarian is hard because it requires significant time and dedication. As we mentioned, completing an accredited veterinary medicine program typically takes four years. After that, you still must pass the VMLE and complete a one-year internship at an accredited animal hospital.
Besides making a significant time investment and committing yourself to the process of becoming a veterinarian, you also must balance your veterinary education with your personal life. Most vet students spend almost all their time working toward becoming a vet. Friends and family often take a backseat. Hobbies can become a distant memory. Some worry the personal price of becoming a vet may be too high.
The good news is that most veterinary students learn how to manage their studies and personal interests. After facing adversity, they emerge after a decade of veterinary education as a skilled animal healer with good income potential, as well as a stronger and better human being.
A Matter of Values
Given the challenges of becoming a veterinarian, the ability to work hard, stay focused, learn new things and surmount obstacles is essential. So is having the right values. These include loving all creatures under your care, experiencing empathy for their owners, having a desire to serve people and animals and believing in humane treatment. Finally, successful vets love science and value evidence-based medicine. If you live these values during vet school, you'll position yourself for a long and successful veterinary career.
Is Becoming a Veterinarian a Good Investment?
Becoming a vet is a serious investment. The cost varies depending on the school. For example, the average cost of tuition at public veterinarian schools is $22,000 per year, while at private veterinarian schools the average annual tuition is $40,000. According to the American Veterinary Medicine Association (AVMA), 2019 vet school graduates who found jobs before graduating carried about $150,000 in debt.
Do veterinarians earn huge salaries that facilitate fast debt payback? No. According to the Bureau of Labor Statistics, the median annual income for veterinarians was $88,490 in 2016. However, veterinarian incomes can vary greatly depending on location, private or group veterinary practice and years of experience. For example, veterinarians working in rural areas or small towns usually earn less than those in urban areas or large cities. Similarly, those working in private practices make more than those working for government agencies or non-profit organizations.
The point is that new veterinarians graduate with much debt and with lower pay than human doctors earn, meaning that it may take them longer to pay off their loans. However, most people become vets because they want to help animals, not because they want to get rich. For that reason, the veterinary career remains one of the most rewarding in America despite the debt burden and malpractice risks involved.
Protect your career investment with veterinarian malpractice insurance from 360 Coverage Pros, which is available for as little as $17.50 per month. Learn more on our website.