Veterinarian Interests
07/08/2022
No-Cost Email Services for Veterinarians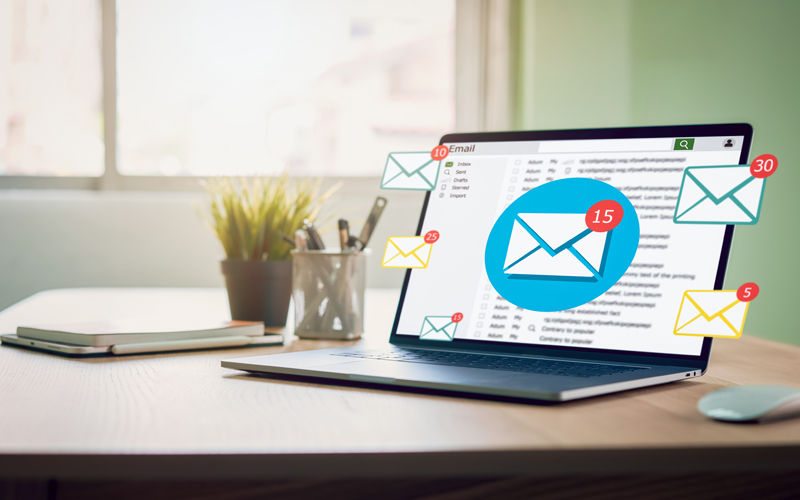 Are you taking full advantage of email marketing, using no-cost email services? If not, the time to start is now.
Email marketing is the beating heart of most vet marketing programs. It uses personalized emails to engage with prospects, convincing them to make appointments for veterinary services.
Why Email Marketing?
This technique has been a marketing mainstay for many years. That's because it effectively identifies and nurtures leads and then converts a portion of them into customers. Most importantly, email marketing is a relatively inexpensive tactic, especially if you rely on low- or no-cost email services to execute your campaigns.
If you're not already doing email marketing for your veterinary practice, here are three reasons to begin doing so:
First, emailing allows you to directly engage with prospects without having to go through an intermediary. For no or relatively little money, you can send messages to their home computers or mobile devices. Once they open them, prospects can easily click links within your messages to visit your website, learn more about your practice, request helpful pet-health content, ask a question, submit their contact information or make an appointment.
Second, unlike using a third-party platform such as Facebook or Instagram, email marketing lets you control the volume of messages your prospects see, as well as the names in your email database. You don't have to worry about a social media giant changing the rules of the game, throttling your promotions or blocking you from accessing your prospect database.
Third, people who become customers via email do so at a greater rate than those who convert through social media. Plus, the return on investment (ROI) for email marketing is an order of magnitude higher than that of social media.
Email marketing also has the benefit of simplicity. It only has two elements: your list, which can be segmented into sub-groups such as clients, non-clients, former clients and the like and your email service provider, which handles the tasks needed to maintain your list and send messages to your contacts. Ideally, your e-mail service should integrate with your other marketing tools so data can flow smoothly between them.
Role of Email Marketing Services
Email marketing is easy and effective to implement. But it depends on having a strong email marketing service to distribute your messages. Fortunately, there's no shortage of great services from which to choose, including free and low-cost options. With free services such as Mailchimp and Moosend, along with paid providers such as Constant Contact and HubSpot, the issue is not lack of choices, but rather selecting the platform that's right for you.
Where to start? Begin by fully researching features and benefits. Here are some things to consider before selecting your email service:
Access to graphically appealing templates that will integrate well with your practice's brand
Many ways to customize your desired template
Ability to format emails using an easy email builder
Ability to create drip series and other automated processes
Support for bulk and broadcast emails
High rate of delivery to prospect inboxes, not spam folders
Ability to segment prospects based on their subject-matter interests
Robust email reporting and analytics to drive message refinement
Email and phone access to customer support
Design Your Email Campaigns
A key goal in email marketing is to create and optimize a contact database. One possibility is to segment your contacts into prospective, existing and lost clients. Each group should receive email messages tailored to their interests.
For prospective clients you might showcase your town or city, things to do with pets, an upcoming practice event (e.g.: a free nail clipping clinic) or a great pet "success story."
For existing clients, you could showcase a "warm tail" from your practice or a testimonial from a satisfied pet parent.
For lost clients, you might promote upcoming pet adoption events or highlight an article about managing the bereavement process or deciding on which breed to select for your next dog.
You can also expand your database by visiting your town or city municipal office and requesting the pet licensee list. This is often available for free or for a nominal fee (usually under $30).
The potential articles to include in your emails are endless. However, always customize your content to the specific interests of your audience segments and keep your emails coming every two weeks or month so people expect it. You might even link your content to the time of the year.   In the summer you could write about the dangers of hot sidewalks or of leaving animals in closed cars. At other times, you might discuss preventing heartworms or dealing with fleas and ticks. In short, always publish content that is truly useful to your audience. This will make your readers more receptive to the occasional promotional article that focuses on you, not them.
Bottom line: using a low- or no-cost email service will help you remain "top of mind." People will look forward to opening and reading your fun and informative content. The longer you keep sending out emails, the more positive people will feel about your veterinary practice. This will make them more likely to click through to your website to ask questions or to make an appointment. Driving conversions in this fashion will generate new clients and help you retain existing ones. What's not to like about that?
For information on 360 Coverage Pros veterinary malpractice insurance, review our coverage information.