Veterinarian Interests
07/27/2022
Pet Family Members Are at an All-Time High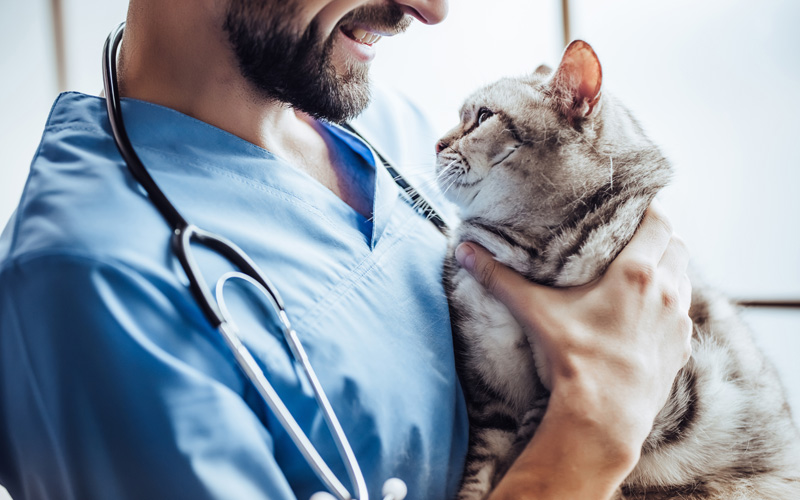 Demand for veterinary services are high, as are vet fees. Help your clients pay for them by recommending pet insurance.
The landscape of pet ownership has been shifting rapidly. In fact, recent changes have been earth- shattering.
For example, in 2020, 45% of households owned a dog. That was up from 38% at year-end 2016. Meanwhile, the pet dog population numbered 83.7 million to 88.9 million in 2020, up 9% to 16% from 2016.
The cat statistics tell a similar story. The vet association found that 26% of U.S. households owned a cat in 2020, compared with 25% in 2016. The feline population equaled 60 million to 61.9 million in 2020, compared with 58.4 million in 2016.
COVID-19 is a big factor behind these growth trends, industry experts say. For example, people who worked remotely were eight times more likely to acquire a new pet in 2020. Getting a dog, cat or other pet helped isolated Americans cope with pandemic lockdowns.
Related to the pet surge was an uptick in veterinary appointments. Another survey found that the average number of booked vet appointments grew 4.5% from 2019 to 2020. They increased another 6.5% between January and June 2021 compared with the prior-year period.
Pull the camera back and the implication isn't hard to see. More people have become pet owners in the past few years than ever before. Plus, they're taking their pets to the vet more frequently. This means they've incurred new or higher pet-related financial expenses in large part because of the pandemic.
According to the American Kennel Club (AKC), the average lifetime cost of a medium-sized dog is $15,782, based on a life expectancy of 13 years. The American Society for Prevention of Cruelty to Animals (ASPCA) projects a lifetime cat ownership cost of at least $12,500, assuming a life expectancy of 15 years. This covers food, supplies, toys and other items, not just veterinary care.
These statistics illustrate the heavy financial burden of having a pet. More people are volunteering to shoulder these costs today because they need emotional support. But they're likely unaware of the financial implications involved.
Veterinary Cost Inflation
The pet surge during the pandemic and the care backlog afterward has pushed veterinary clinics to the brink of, if not beyond, their capacity limits. The ongoing vet and vet tech shortage compounded this trend, further constraining the supply of veterinary professionals, leading to higher fees. Pharmaceutical and technology cost inflation has pushed veterinary costs even higher. As a result, pet owners, both new and existing, often experience sticker shock when they open their vet bills, especially when serious injuries or chronic diseases are involved. Fortunately, pet insurance has become a well-accepted and accessible solution to rising vet costs for most U.S. pet owners.
Pet Insurance Is Coming of Age
Years ago, veterinarians weren't big believers in pet insurance. Nowadays, most recommend it to their clients. It's easy to see why. When pet parents are forced to choose between caring for their children and saving their pet's life, the emotional stress can be overwhelming. Being forced to euthanize a pet rather than provide life-saving veterinary care is devastating, not just for them but also for their vets. Knowing that a pet insurance policy would have paid for it adds insult to emotional injury.
For this reason, now more than ever, pet owners should consider purchasing pet insurance for their beloved animals. The product has gained both credibility and market traction over the last decade. According to the North American Pet Health Insurance Association's (NAPHIA) State of the Industry Report, 3.45 million U.S. pets were insured at the end of 2020. In addition, pet health insurance sales have been increasing at an average annual growth rate of 23.4 percent over the last five years.
Furthermore, pet insurance is highly affordable. NAPHIA says the average dog accident and illness policy has an annual premium of $594.15. This breaks down into a monthly payment of $49.51. Thus, for well under the cost of a daily coffee-shop beverage, your clients can sleep well at night knowing financial support will be there if their pet gets hurt or seriously ill and needs your care.
From your perspective as a vet, the benefits of pet insurance are compelling. Pet owners with insurance provide nearly three times the amount of care than owners without coverage. Not only does this increase practice billings, but it also leads to a better and longer life for covered animals. That's a strong win/win/win for your pet owners, their animals and you.
Do you recommend pet insurance to your clients? If so, consider the coverage available from 360 Coverage Pros. It's an excellent way to make sure veterinary care is affordable when pets need it most.
Don't forget the importance of having malpractice insurance for your veterinary practice or hospital. To learn about 360 Coverage Pros veterinary malpractice insurance, visit our program information page.