Veterinarian Interests
10/18/2022
The Business of Running a Veterinary Office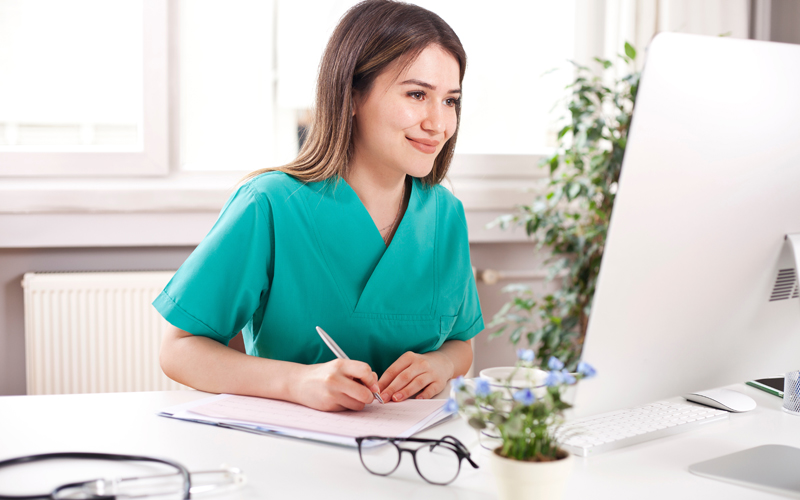 A lot of work goes into running a veterinary office. It's not just about taking care of animals— it's also about managing a business and making sure everything runs smoothly. Below, we will discuss the different roles and responsibilities of veterinary practice team members, as well as the best way to manage your office so you can run a successful business!
All staff members are involved in the operation of a veterinary office, though roles and responsibilities may vary from clinic to clinic based on experience level and accreditation. Keep in mind that when a team works together, it delivers greater patient care, provides better client care and develops a more positive work environment for all employees. When a team environment is built, all roles are rewarded.
Building a successful team
The Veterinarian
The veterinarian is the captain of the ship. They are responsible for making sure all patients are seen and treated in a timely manner, and they need to be able to promptly handle emergencies. The veterinarian should have a good relationship with all staff members so they can work together to provide the best care possible. Whether your practice has one in-house veterinarian or multiple, they all need to be leaders for the rest of the staff.
The Veterinary Technician
The veterinary technician is second in command. They are responsible for assisting the veterinarian with all procedures and should also be trained to handle emergencies. The veterinary technician should have a good relationship with all staff members so they can work together to provide the best care possible. Here are some of the different roles for veterinary technicians, some of which require specialized training:
Operating room specialists
Dental service technicians
Laboratory animal research support specialists
Pet nutrition specialists
Parasitology lab technicians
Medical office assistants
Feline and canine specialty vet techs
Equine specialist vet techs
The Administrative Specialist
The administrative specialist is the heart of your business— they keep good blood flowing between your clients and the whole staff. As the first point of contact for your current and prospective clients, they need to be able to answer basic questions and remain friendly and empathetic at all times. The interactions the administrative specialist has with a client can determine how that client perceives the quality of medical services you offer. A good administrative specialist must be personable, have excellent communication skills, be able to schedule appointments and keep track of all patients.
The Veterinary Assistant
The veterinary assistant is responsible for a variety of tasks. They need to be able to assist the veterinarian and the veterinary technician with procedures. Credentialing is not required for veterinary assistants, but formal training is available. Here are some of the different roles veterinary assistants might be tasked with:
Feed and exercise animals
Clerical work
Maintain and sterilize instruments
Restrain animals during examinations and procedures
Collect samples for lab testing
Administer injections and medications
Provide post-operative care
The Practice Manager
Having a good practice manager can greatly improve your team's efficiency. They are responsible for managing the business functions of your practice. This should free up the veterinarians to focus on patient care. A good practice manager will have a background in business and understand the financial aspects of running a veterinary practice, and they should also be able to handle personnel issues and inventory management.
Veterinary medicine is a challenging and rewarding field. It takes a lot of hard work to keep everything running smoothly, but the benefits are clear. Patients receive better care when teams work together, clients appreciate the extra effort put into their pets' care and staff members who feel appreciated are more likely to stick around for the long haul.
360 Coverage Pros offers unparalleled Veterinary Professional Liability Insurance for veterinarians and veterinary practices offering companion animal (lizards, rabbits, birds, small rodents, dogs, cats, sheep and more exotic species) veterinary-inspired services. Protect your practice, employees and interests both in your office and onsite field visits. Safeguarding yourself against accusations of negligence and malpractice has never been easier. The 360 Coverage Pros Veterinarian Professional Liability Program provides peace of mind while you focus on running your practice. 
For more information or to schedule a free consultation, visit 360CoveragePros.com/vets.