Tour Operator Interests
02/15/2023
Tour Operators Share the Top Destinations of 2023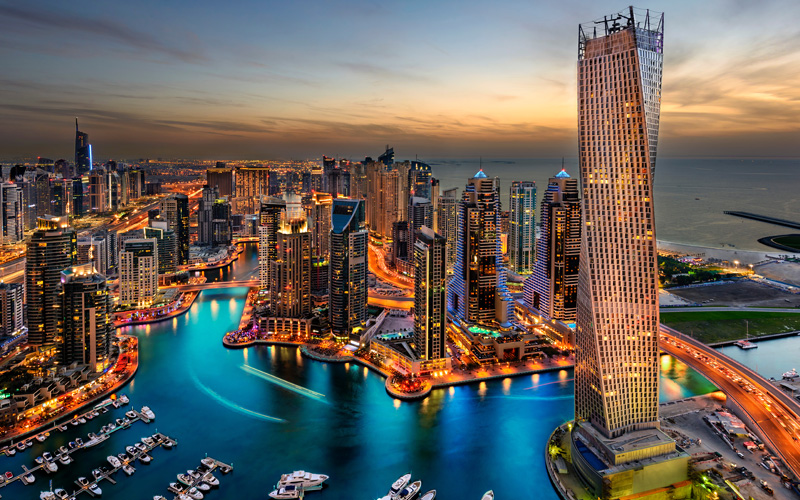 In 2022, American travelers helped the travel industry rebound, and that wanderlust doesn't seem to wane. Members of the United States Tour Operator Association (USTOA) recently named some of the hottest tourist destinations for 2023, from family-friendly locales to luxury escapes.
Luxury Dubai: Beach and Desert Trips
Dubai encompasses the best of the city, beach, and desert. Audley Travel, for example, offers an eight-day "Luxury Dubai: Beach & Desert" tour that includes sunset camel rides with champagne, horseback riding through a desert oasis, and more. Travelers can opt for tours focusing on cultural attractions and luxury tours offering access to exclusive golf courses, yacht clubs, and high-end shops.
Desert adventures: Travelers looking for a desert experience in Dubai can book tours that include 4WD tours of dunes, meals with Bedouins, and overnight stays in tents.
Beach vibes: Some tour operators provide opportunities for guests to relax on a private beach, book a yacht cruise, or participate in activities such as scuba diving, parasailing, and jet skiing.
Many tour operators give their guests a customizable experience, allowing travelers to experience Dubai on their own terms.
Tailor-Made Brazil: Rhythms of Rio, Iguazu, and Bahia
This South American jewel is renowned for its beaches, street festivals, stunning landscapes, and the wonders of the Amazon rainforest. Travelers have many tour options. For example, Abercrombie & Kent's 10-day "Tailor-Made Brazil: Rhythms of Rio, Iguazu, & Bahia" tour includes popular destinations such as Rio de Janeiro, Iguazú Falls, and the state of Bahia.
Rio de Janeiro: Rio boasts several beaches, from the popular and lively Ipanema and Copacabana to quieter, less crowded stretches of sand. But tourists don't just come for the beaches. Many come to experience Rio's famous Carnival or to tour Sugarloaf Mountain, Christ the Redeemer, and other breathtaking landmarks.
Iguazu: Straddling Argentina and Brazil, Iguazu National Park is known for Iguazú Falls, the world's largest waterfall system. Travelers can book guided tours of the Brazilian and Argentinian sides, get close to the falls on a boat tour, or take a safari-style ride through the surrounding jungle.
Bahia: The city of Salvador is a major draw to this Brazilian state, with its history and colorful architecture. Popular tour experiences include city tours of Salvador, Bahia Lighthouse, the Jesuit Basilica Cathedral, Bahia Fortress, beach trips, and schooner cruises.
France's Finest: Culture, Scenery, Wine, and Fine Dining
France is one of the most visited European destinations among Americans. Popular guided tours typically start in Paris and take visitors through breathtaking landscapes, cultural highlights, and vibrant cities throughout France. The "France's Finest" itinerary by Viking River Cruises includes luxury accommodations and visits to 12 cities.
Tour companies offer trips that include Loire Valley's chateaux and vineyards, Lyon's architectural riches, Avignon's history, the French Riviera's beaches, and Normandy's cuisine. Visitors to France are bound to have an unforgettable experience, especially with the right tour guide.
Thailand Escape: Bangkok, Krabi, and Phuket With Singapore
Lush jungles, street food, fascinating landmarks, white-sand beaches, and deep-blue seas — Thailand offers something for every type of traveler. And the tours available in Thailand are just as diverse, including Affordable World's 13-day "Thailand Escape: Bangkok, Krabi, and Phuket with Singapore" tour, which includes the Temple of the Golden Buddha, a floating market cruise, an elephant sanctuary, and snorkeling.
Bangkok: Thailand's capital is a bustling metropolis, and tours here often explore the traditional markets, the city's stunning temples, and the street food scene. Day tours are usually available from Bangkok to Ayutthaya, a UNESCO World Heritage Site, and nearby historical landmarks.
Krabi: Krabi is known for its islands and lush jungles. Travelers often book snorkeling and boat tours to explore the coastline and islands. Jungle tours are also popular and may include visits to Emerald Pool, Hot Spring Waterfall, and the meditation center at Tiger Cave Temple.
Phuket and Singapore: Tropical Phuket offers endless options for exploration and adventure, including the elephant sanctuary, Phuket City tours, and excursions by canoe, ATV, speedboat, zipline, or raft. Many more extended tours include Singapore, where visitors can experience a city tour (including Merlion, Singapore Botanic Garden, and the National Orchid Garden), Sentosa Island, and a Night Safari, among other attractions.
Orlando, Florida: Fun for Families
Orlando is a perennial favorite with families and a popular destination for business travelers. Of course, theme parks are a big draw, but Orlando offers fantastic dining options, ecotourism adventures, museums, art galleries, public gardens, sporting events, shopping, and entertainment. And the great weather year-round is a bonus!
In addition to city tours, visitors to Orlando can book various day tours to popular Florida attractions such as The Kennedy Space Center, manatee encounters, airboat rides, Clearwater Beach, and Safari Park. Numerous tour options and adventures await in Orlando!
We all celebrated when travel restrictions in the U.S. and abroad were lifted, and the demand for leisure, sports, conventions, and corporate travel is back to pre-pandemic levels. Whether you offer day tours or longer, multi-city excursions, you will see an uptick in bookings in 2023. There is plenty of optimism.
Professional Liability Insurance Protects You
You follow the latest travel trends and take pride in helping guests have the best experience possible as a tour operator. But no matter how careful you are, unforeseen circumstances can occur that may put your livelihood at risk. Tour operator liability insurance, also known as errors and omissions (E&O) professional liability insurance, protects you, your business, and your staff from claims that may arise when tours don't go as planned.
360 Coverage Pros Tour Operator E&O Insurance is specialized coverage that includes, but isn't limited to:
Professional liability coverage for bodily injury and property damage
Errors and omissions coverage
Legal fees
Employee theft
Reimbursement for uninsured medical expenses
Contact us today to learn more about 360 Coverage Pros Tour Operator Liability Insurance. We will work with you to ensure your tour operation is protected so your business can thrive and you can keep providing travelers with an experience of a lifetime.